Switzerland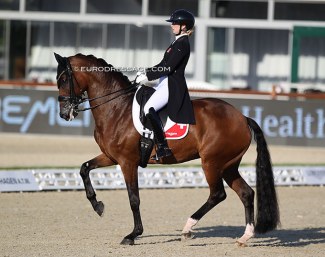 The dressage selection committee of the Swiss Equestrian Federation has announced the dressage squads across the levels for 2022. 
Top 10 at WEG 2022
Ruth Haas, the brand new Swiss dressage team captain who took up her post after the 2021 European Championships in Hagen, has marked the World Championships Dressage in Herning, Denmark, on 6 - 10 August as competitive highlight of the year 2022.
"The riders are highly motivated and are very well supported by our national team trainer (Oliver Oelrich), both in training sessions and at shows. At the World Championships we strive for a team place in the top 10," Haas commented. 
Smaller Squads
The squads of 2022 has diminished in size so that the team trainer can focus on more intense one-to-one training with the squad members. 
"The door is always open," said Oelrich who was hired as team trainer in December 2020. "With good performance a squad submission can happen mid season. We want to be transparent about it. We will also invite a type of "reserve combinations" to the trainings to view and support them. With small squads we can be more flexible."
Pony Riders - A-squad
Daphné Bigan 
Valentine Bineau 
Sarah Demmler 
Mia Sanna Walser 
Junior Riders - A-squad
Robynne Graf
Tallulah Lynn Nater
Chiara Savaris
Layla Schmid
Junior Riders - B-squad
Eliane Bähre
Valentina Bona
Sabrina Rietiker
Amélie Wagner
Emily Weseloh
Young Riders - A-squad
Cosima Lehr
Meilin Ngovan
Renée Stadle
Milena Sulzer
Noemi Zinde
Under 25 - A-squad
Under 25 - B-squad
Carl-Lennart Korsch
Laura-Maria Grunder
Senior - A-squad
Carla Aeberhard
Elena Fernandez
Antonella Joannou
Charlotte Lenherr
Gilles Ngovan
Estelle Wettstein
Birgit Wientzek Pläge
Senior - B-squad (perspective group)
Simona Aeberhard 
Philine Brunner 
Delia Eggenberger 
Markus Graf 
Mélanie Hofmann 
Jessica Neuhauser 
Andrina Suter
Photo © Astrid Appels
Related Links
Schmid, Ngovan, Sulzer, and Lenherr Win 2021 Swiss Dressage Championships
Aeberhard to Replace Joannou on Swiss Team for 2021 European Dressage Championships
Swiss Team Selected for 2021 European Dressage Championships
Swiss Teams Announced for 2021 European Youth Riders Championships
Olivier Oelrich Appointed Swiss Dressage Team Trainer