2022 Aachen Dressage Days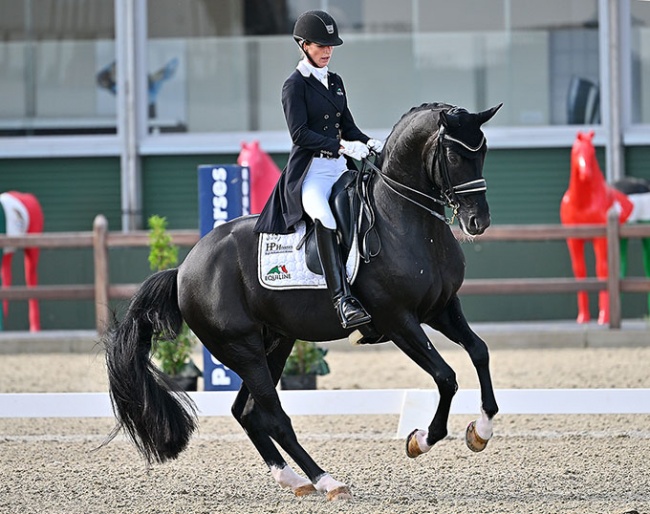 Norwegian Isabel Freese and British Olympian Laura Tomlinson were the winners of the two big tour classes held at the first CDI 3* of a series of two titled "Aachen Dressage Days"  hosted by the Dahmen couple at Hof Kasselmann in Hagen, Germany on 18 – 20 May 2022. 
The Aachen Dressage Days were originally held at the Aachen showground in 2018.  The event returned to the FEI calendar for 2022 but Aachen had no availability, so the location changed to Hagen, where the 2021 European Championships took place last September.  Renate and Franz-Jozef Dahmen organized this event with as goal to allow as many flags as possible to compete at a high quality international show. 
Freese in Front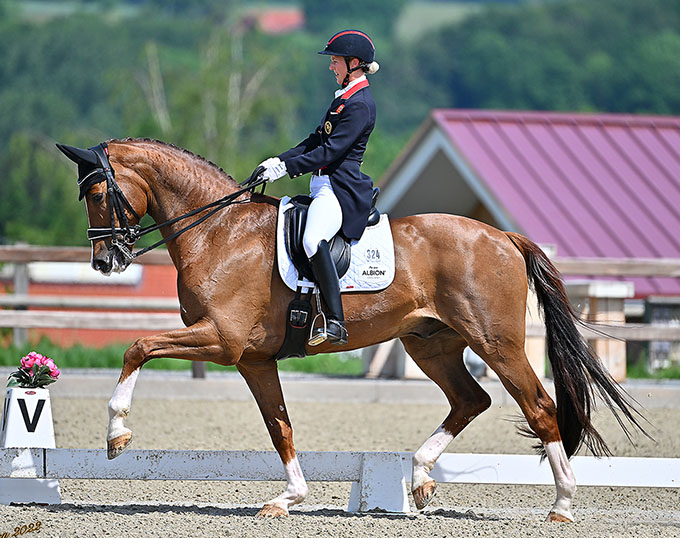 A field of 26 competitors gathered for the big tour of which the Grand Prix was won by German based Norwegian Isabel Freese (née Bache) aboard Paul Schockemöhle and Lone Boegh Henriksen's Oldenburg stallion Total Hope (by Totilas x Don Schufro). The pair scored 74.543% for the victory and edged out Tomlinson and Fallatijn, who were second with a personal best of 72.717%.
Total Hope was the winner of the 2021 Louisdor Cup Finals for Developing Grand Prix horses in Frankfurt and has made the jump into the classic big tour in 2022. The 10-year old licensed stallion celebrated his CDI debut in Mannheim grabbing the trophy on a 75.956%. The pair has now obtained its two necessary qualification scores to be eligible to complete at the World Championships Dressage in Herning (DEN) in August. 
"My little Hope made me very proud again and really worked with me so well," said Freese. "We were able to win the Grand Prix and probably also the Grand Prix Special if I hadn't gone off course. That was expensive. I know that this will bother me for a long time, but life goes on. We qualified for the World Championships and I'm so grateful to Total Hope, the owners, my team who will support us on this journey."
Fallatijn To the Fore
In the Grand Prix Special, Laura Tomlinson and 12-year-old KWPN gelding Fallatijn (by Vivaldi x Cabochon)  staked out their claim with a winning round, on another personal best score of 73.617%, to raise the Union Flag, whilst Lara and Ursula Bechtolsheimer's 17-year-old home bred Kristjan (Polarion x Napoleon Quatre) were second with a PB of 73.447%. 
"It was a really nice step in the right direction," said Laura about her performances with Fallatijn, the exciting chestnut talent who is known at home as Finn. "There's still lots of progress to make, and both tests weren't faultless, but I'm very happy that the things I've been working on are now bearing fruit in the arena.
"He's a lot of fun to ride and in the past he's almost given too much… a little like Alf (Mistral Hojris, Laura's London 2012 team gold medal partner) but now, I can temper that enthusiasm. The more relaxed he is, the more I can ride and take control and the judges can appreciate the picture more. It was in a different arena to the last Hagen (Horses & Dreams in April) – this time the main showjumping arena – but he was super-relaxed."
Together with Lara Butler's successes, it was great achievement all round for team Bechtolsheimer. "It was lovely for Lara and Kristjan to do so well. Kristjan is like a fine wine, he just gets better with age, and it was lovely for mum (Ursula Bechtolsheimer) to see him do so well as he's a home-bred.
"Lara and I have worked together for over ten years now, so it was rewarding for us and also for Carl Cuypers who trains us," commented Laura. "It was good for the soul to hear the National Anthem on German soil!"
Photos © Pferdefotografie Mhisen
Related Links
Scores: 2022 CDI Aachen Dressage Days
2022 Aachen Dressage Days in Hagen - Two Boutique CDI's for Riders from All Nations
Aachen Dressage Days Return on FEI Calendar in 2022, Taking Place in Hagen