France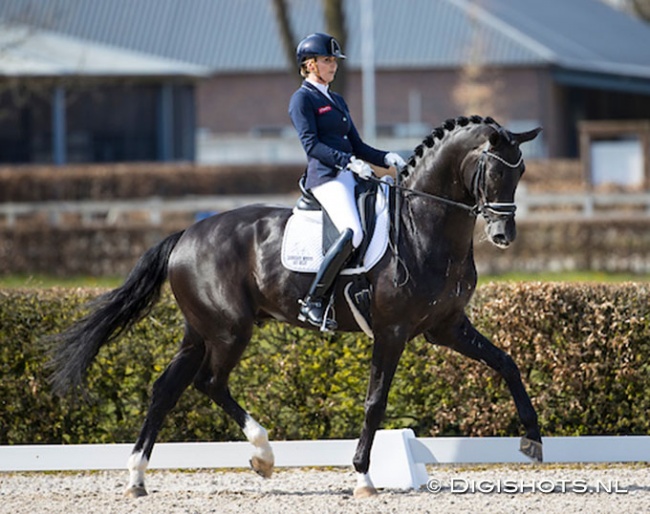 French Grand Prix rider Stephanie Brieussel has welcomed her fourth future talent in the barn, sponsored by Dominique Degueldre, in less than a year. 
After the duo purchased dressage stallions and sport horses Quaterhit, Don Vito de Hus and Devonport, all sourced at Helgstrand Dressage, this time they turned their heads to The Netherlands for their next purchase. 
The French rider-sponsor duo purchased the 6-year old KWPN stallion Koning in Emmelie Scholtens' barn.  He is by Governor out of Gucci Boa T (by Bretton Woods x Florencio). He was originally named Kontender DSD.
Roller Coaster Licensing
Him getting licensed with the KWPN society was a roller coaster. Initially he was rejected in the second phase of the licensing, but owner Ad Valk disputed that and represented the horse at the "re-licensing", where he got accepted.
As a 3-year old he then failed the stallion performance test, scoring only 72 points. Owner Ad requested an official re-examination of the results, as he believed the walk (which scored a 6) showed improvement. Koning scored 6 for walk, 7.5 for trot, canter, suppleness, self carriage and balance, 8 for rideability and temperament, and 7 for potential as a dressage horse
The horse ended up getting accepted and got full KWPN licensed status. Koning became the second stallion with the KWPN society who ended up licensed with less than 75 points. The other one who got accepted with insuffificient points is elite KWPN stallion Painted Black. 
Sport Career
Koning has been trained by Emmelie Scholtens so far. In 2019 Theo Hanzon briefly took over the ride for one stallion competition show, but Scholtens was his regular rider. Emmelie and Koning finished 17th in the 2019 Pavo Cup Finals. 
This year the pair was in the running for Dutch team selection for the 2021 World Young Horse Championships in Verden, but ended up not being picked. At the 2021 Pavo Cup Finals, Scholtens and Koning were second in the semi-finals but withdrew from the final round a few days later.
Koning has now been sold to Degueldre for Brieussel to prepare towards the 2024 Paris Olympics. 
"It's always difficult to see a talented horse go," a pregnant Scholtens wrote on her Facebook. "We always believed in him and I have confidence that he's have a beautiful future with Stéphanie Brieussel en Dominique Degueldre."
Photo © Digishots
Related Links
My Precious, Las Vegas, Kadiene Win 2021 Pavo Cup Finals
Horses Picked for Third Dutch Trial for 2021 World Young Horse Championships
2021 KWPN Stallion Competition Finals Replaced with Suitability Test at Licensing
Taminiau, Johnny Depp, Imposantos Win First Leg of 2019-2020 KWPN Stallion Competition
Keano RS2, Johnny Depp, Imposantos Win 2019 Pavo Cup Finals