F.O.C.U.S.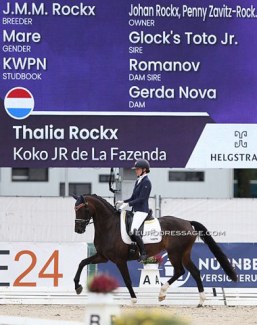 - by Bettine van Harselaar for WBFSH
The WBFSH stand at this year's FEI - WBFSH World Breeding Championships for Young Dressage Horses provided a meeting point for breeders, owners, riders and studbook representatives from all over the world to enjoy a glass of wine, network and celebrate the return of the competition after its cancellation in 2020 due to the Coronavirus. On the stand, we caught up with the Rockx Family, who shared their story of generations of successful breeding, training and competing all under one roof. 
One of the success stories of this year's World Championships for Young Dressage Horses in Verden was the 20-year-old Thalia Rockx who finished in 5th position with her family's home bred six-year-old mare Koko Jr de la Fazenda, receiving many compliments about her nice way of riding. Perhaps the most special thing is that the mare is the fifth generation from their successful breeding programme, whose foundation was laid in 1988 with the purchase of the filly Gerda.
Father Johan Rockx explains: "We want to keep it small-scale, but we do focus on the complete picture: breeding, training horses and the ultimate goal, the Grand Prix."
Thalia Rockx is not only riding Koko Jr, but is competing her dam Gerda Nova de la Fazenda in U25 classes and she also rode her grand dam Cenda de La Fazenda in the international Junior division. With Verdi de la Fazenda, who was bred out of Koko Jr's great-granddam Piroshka de la Fazenda, she competed at Grand Prix at the age of 15. With the Toto Jr daughter Koko Jr Thalia has a new prospect for the top of the sport in the stable. After a sixth place in the Pavo Cup, the duo now finished fifth at the World Championships in Verden.
Thalia: "Koko did so well in Verden. She learned a lot and gained a good experience. We competed in the Pavo Cup this year mainly because we were able to do so few competitions last year due to Corona. In terms of attendance, that comes close to Verden. It fit the schedule just right. We are now going to train and see if we can also go for the seven-year-olds next year."
Emphasis on Training
The breeding and competition operation of the Rockx family in Roosendaal, The Netherlands, is a family business in many respects. Mother Penny Zavitz-Rockx and father Johan both competed at international Grand Prix and can still be found in the saddle every day, passing on their dressage genes to daughter Thalia. Son Alexander has no interest in horses. Together with the family they run their stable and breeding farm, where they have 18 boxes.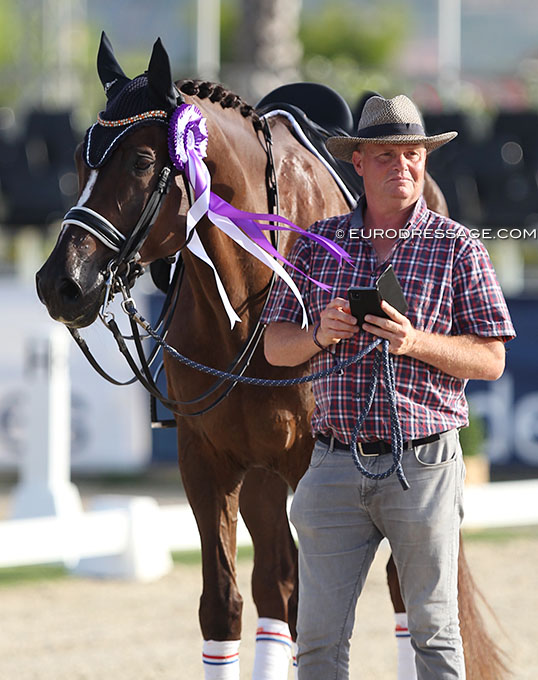 "The training of a horse is central to us," says Johan. "We don't try to present a horse as spectacularly as possible at a World Championship for young horses, for example. We want to make sure the contact is as good as possible, the balance and everything we do has to fit into the training of the horse."
Johan has already bred and trained quite a few Grand Prix horses, but he does not know exactly how many.  "Numbers don't mean much to me," he said. "We try to do one thing, and that is to do the best we can. We want to keep it small for ourselves so that we can give the horses here the attention we think is right. We also want to do well in breeding and always try to find stallions that match the dam line. Koko's line has always had a very good hind leg, which is really anchored in it."
The Burggraaf Mare Gerda
The current mare line was begun with the late Burggraaf mare Gerda, from the Karla line. Johan bought her as a foal in 1988. He already rode at international Grand Prix then and bred horses, but was looking for a young sport horse for himself. He went to look at a four-year-old gelding, but when he entered the stable his eye fell on a foal.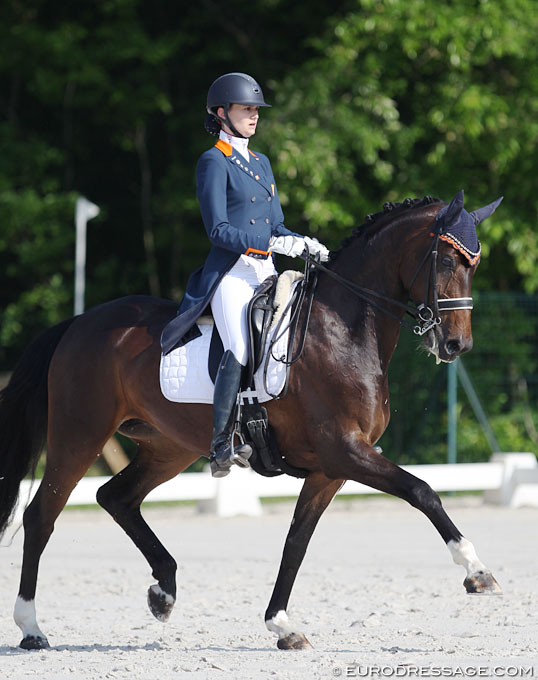 "That was Gerda, who had just been weaned. She immediately attracted me, she had such a look! The four-year-old I actually came for didn't suit me, but I told the man: 'I want to see your foal'. He didn't really want to take her out of the stable because she was just weaned and very skittish. Finally I persuaded him, and it worked. Gerda walked three steps and immediately thought: that one is for me. She was actually jumping bred, but that doesn't really matter to me. She had so many ways of moving, great reach and use of her body. I still see that in the entire line of offspring, in Piroshka, and especially in her daughter Cenda, her daughter Gerda Nova and then Koko."
Gerda's daughter Piroshka de la Fazenda (by Sandro Hit) is now 24 years old and is still in top condition at Rockx's stables.  "There was sometimes criticism of Sandro Hit because of his use of the hind leg and so forth, but I thought Gerda would improve on that. That's how Piroshka came about, I've always been very happy with that mare." Penny added with a smile: "She is still being ridden, still dances around the arena and has super clean legs. If you don't know how old she is, you'd still buy her."
Moving in the Right Direction
This mare line is very important to Rockx. He bred two foals from Piroskha's daughter Cenda (by Blue Hors Don Schufro), Facendo, who has since been sold to America, and Gerda Nova, who are both competing extensively.  "We like to keep it small and we want to keep it that way. This year we had four foals, but there are also years when I only have 1. We want to keep it small enough that we can do everything together as a family, we enjoy that."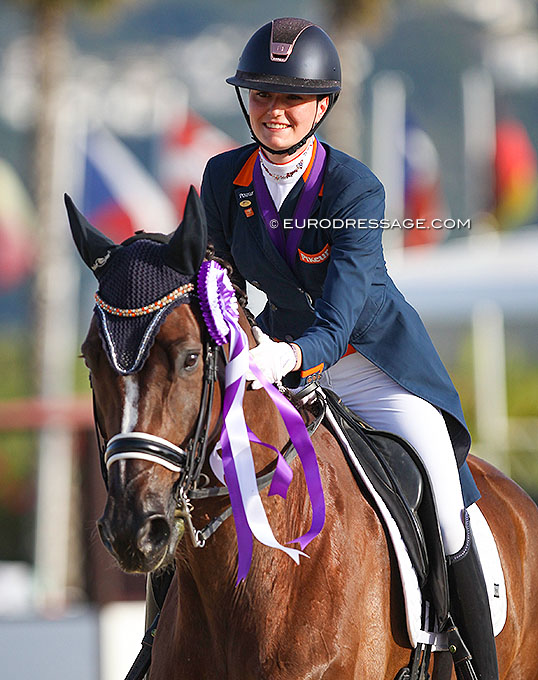 In breeding, Johan has a vision where he wants to go. "I always look at the whole picture: what do I like about my mare, and what do I like less. The ideal horse does not exist, every horse has weaker characteristics. But we do strive for the ideal horse. So we look at how we can turn the lesser qualities in the right direction and anchor the good. At the moment I think height is important, I have to keep that in mind. And where I want to go a little more is the right uphill connection. The descendants of Cenda have such a gigantic strong hind leg, it can't get any more expressive. We must continue to convert this to more uphill movement and carrying capacity." Thalia: "The horses from this line are all very rideable, they always give everything."
In addition to Gerda's line, Rockx breeds with two more mare lines. He has a Negro x Lord Leatherdale x El Corona mare, from the same damline as Everdale. "She has already brought some very good horses, I expect a lot from her." And there is also a half-sister of the stallion Valverde in the stable, a Johnson x Ampere x First Final mare, from whom Rockx also bred some good foals. He also breeds with a Cennin x De Niro mare, which eventually also goes back to Piroshka and Gerda.
Sport comes first
As important as the Rockx family's breeding seems, sport comes first. The mares that are also still in sport do not have many offspring to their name and embryo transplants are also treated with care. "It's great that that's possible, but we only want to do that if it doesn't interfere with our competition schedule." Nevertheless, the Rockx family was already dreaming about a possible partner for Koko Jr. on their way back from Verden. Thalia also thinks more and more about breeding choices: "But we have not yet decided on a stallion. Although we would like to have a foal by Koko, of course."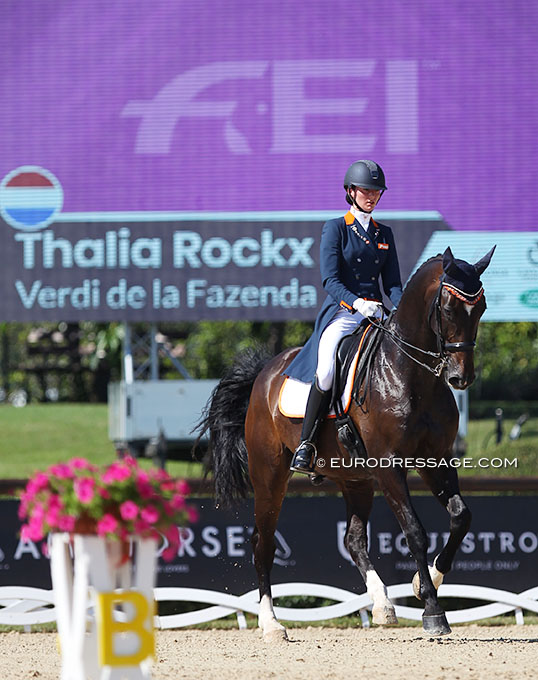 Every day Penny rides about two or three horses and also takes on a lot of the organisation and accounting. Johan rides three to five horses a day, and Thalia four or five. "And that is also enough", says Johan. "We want to keep the feeling with our horses. It should not be: next, next, next, next… This way we can focus optimally on the training of every horse."
Johan, who briefly served as Dutch national team trainer after the passing of Wim Ernes, does not only put his qualities as a breeder and trainer into practice, he also passes them on to his daughter Thalia, who trains the horses herself from a young age to Grand Prix and is increasingly involved in breeding.
"The entire process is my passion. That may be a bit of our 'problem', but in addition to teaching, all three aspects of breeding, young horses and the entire progression in the sport up to and including Grand Prix riding are super interesting," said the young rider.
Text by Bettine van Harselaar - Photos © Astrid Appels
For more information and news about the World Breeding Federation for Sport Horses, go to wbfsh.com
Related Links
Johan Rockx Appointed Hungarian Grand Prix Team Trainer
Johan Rockx' Dutch Team Trainer Position Not Extended
Johan Rockx Appointed Assistant to Dutch Team Trainer Wim Ernes
Johan Rockx' Tango to Sophie Baetens-Van Lent
Johan Rockx Back In the Picture with Tango
Johan Rockx' Dakota Sold to California
Johan Rockx' Surprise Act in Ksiaz, Poland
Dutch Horses Selected for the 1999 World Young Horse Championships