U.S.A.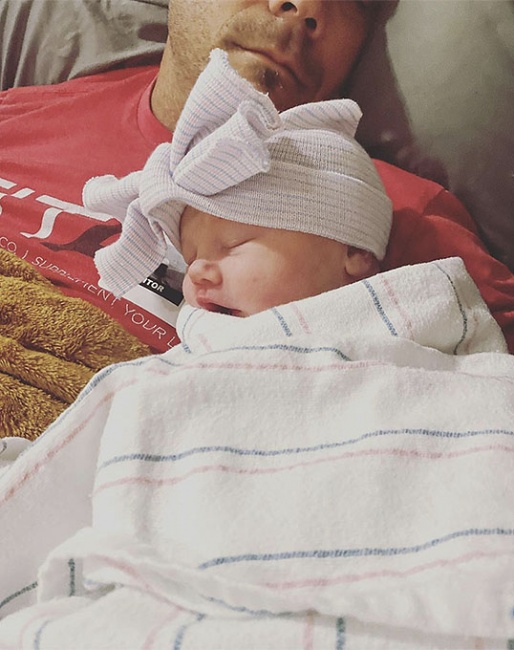 Kasey Perry-Glass, a U.S. team Olympic bronze medal winning rider, and her husband Dana Glass have welcomed a baby girl into the world on 19 November 2021. They named her Tru Lynn Glass. 
"We had a hard and long delivery process to bring her into this world but Dana and I worked as a team and got it done," Kasey expressed. "Tru is absolutely perfect!" Tru is a "a happy, healthy and beautiful baby girl 6 lbs 10 oz 20" long."
Kasey continued, "I can't tell you how amazed I am with how Dana took care of me throughout this process! Not one second did I feel alone or not taken care of. This experience made me love him even more as if that was possible."
Aboard Gorklintgards Dublet, Perry-Glass won team bronze at the 2016 Rio Olympics. She won the 2017 U.S. Grand Prix championships. At the 2018 World Equestrian Games in Tryon, she won team silver and was 6th in the Grand Prix Special. In 2019 they were fifth at the 2019 World Cup Finals in Gothenburg, the pair's last competition. Dublit was officially retired from sport in 2020.
In June 2021 Kasey announced her pregnancy. She was third of three female members on the U.S. team in Rio which were all pregnant in 2021. Alison Brock gave birth to a son four months ago, Laura Graves' baby is due in December 2021.
Related Links
Hutopia van Bergsham, a Rising Talent for Kasey Perry-Glass
Kasey Perry-Glass Retires Gorklintgaards Dublet from International Top Sport