Danish Warmblood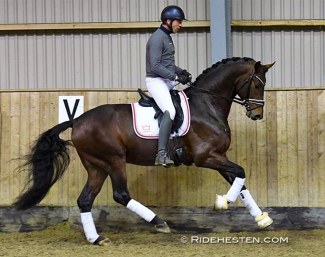 The Westfalian bred For Real became the high scoring horse in the 2021 Danish Warmblood 35-day Stallion Performance Test which concluded on 28 November 2021. 
In Numbers
The Danish Warmblood society holds its performance test traditionally at the Tørring Riding Center.
In this autumn testing 20 young stallions participated and 19 concluded the testing; eleven of them are already Danish warmblood licensed, six three-year olds and one four-year old that were not yet licensed and one four-year old Trakehner.
Thirteen (!!) of the 19 participating dressage stallions were presented by Helgstrand. Fire Jazz (by Furst Jazz x Sir Donnerhall) was entered for the testing, but did not participate as he sold to the U.S.A.  Zico (by Zackerey x Tomahawk) was also entered, but there was no result for him. 
For Real
The best scoring stallion was the Westfalian bred For Real (by Blue Hors Farrell x Lord Loxley x  Damon Hill). The bay stallion scored a total of 874,5 points. He got 9s for rideability, 7.5 for walk, 9 for trot and 8.5 for canter and 9 for potential. 
For Real is bred by Karl-Aug. Schulte-Varendorff in Germany and sold at the 2020 Westfalian stallion licensing auction for 250,000 euro to Andreas Helgstrand.  This year he won the 2021 Bundeschampionate for 3-year old stallions. 
Vitalos
The runner-up on the score board is the 4-year old Vitalos (by Vitalis x De Niro). The liver chestnut scored 869 points in total and got 9 for character, 8 for walk, 9.5 and 10 for trot and 8.5 for canter. His potential score was between 8.0 and 9.0. 
Bred by Josef Bramlage in Germany, Vitalos is owned by Paul Schockemohle in partnership with Andreas Helgstrand.
Testing results
Stallions have to score over 800 points to be fully licensed with the Danish warmblood society. Stallions scoring between 750-800 points can apply for a two-year breeding permit.
The 2020 Oldenburg Licensing Champion Fortunate (by Foundation x Quaterback) ended in the middle of the pack with 806,5 points. 
The ranking of the stallion is as following:
1. For Real (by Blue Hors Farrell x Lord Loxley) -  874,5 
2. Vitalos (by Vitalis x De Niro) - 869,0 
3. Be Sure (by Benicio x Scuderia) - 868,0 
4. Zoom in (by Zoom x Waterford) - 866,0 
5. Hesselhoej Donkey Boss (by Hesselhoj Donkey Boy x Zack)- 841,0 
6. Franzé (by Franklin x Sezuan) - 838,0 
7. Zanetti (by Zoom x Furst Romancier) - 837,5 
8. Rosebank Vh (by Revolution x Dalwhinnie) - 836,0 
9. Straight Horse Finest Hour (by Franklin x Zack) - 835,5 
10. Forever Love (by Fair Game x Destano) - 830,0 
11. Bonjour (by Bon Coeur x Furst Nymphenburg) -  828,5 
12. Zaunkönig (by Zack x De Niro) - 814,0 
13. Fortunate (by Foundation x Quaterback) - 806,5 
14. It's Easy (by Ibiza x Sunny Boy)  - 804,0 
15. Lordswood Bernstein SL (by Bonds x Quaterback) - 802,0 
16. Hallifax Lyng  (by Schwarzgold x Aston Martin) - 800,0 
17. Homerun (by Henkie x Sir Donnerhall) - 787,5 
18. Heaven Dancer (by Kentucky x Kaiser Wilhelm) - 750,0
Complete results here. 
Photo © Ridehesten
Related Links
My Vitality, High Scorer of the 2020 Danish Warmblood Autumn Performance Testing
Atterupgaards Barcelo, High Scorer of the 2019 Danish Warmblood Autumn Stallion Performance Test
So Unique, High Scorer of the 2018 Danish Warmblood Autumn Stallion Performance Testing
Springbank II Wins 2017 Danish Warmblood Autumn Stallion Performance Test
Revolution Wins 2016 Danish Warmblood Autumn Stallion Performance Testing
Hesselhoj Donkey Boy Wins 2015 Danish Warmblood Autumn Stallion Performance Testing
Adrenalin Firfod, Dressage High Scorer of 2013 Danish Winter 35-day Stallion Performance Testing
Sezuan, Winner of the 2012 Danish Warmblood Autumn Stallion Performance Testing
Berlusconi Stands Out at 35-Day Stallion Performance Test in Denmark