Piaff Forderpreis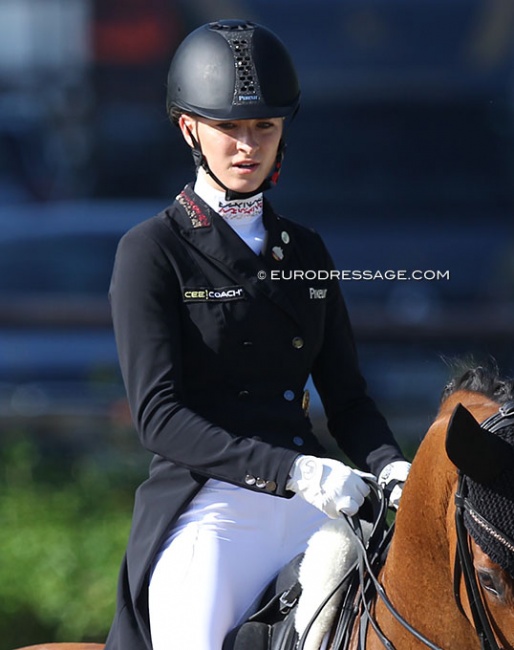 Helen Erbe and her sister Hannah's Hanoverian gelding Carlos became the winners of the Piaff Förderpreis selection trial, where a panel of judges and trainers determine which group is eligible to compete on the German Under 25 Piaff Förderpreis show circuit.
Forty Combinations
No less than 40 combinations competed in the 2022 Piaff Forderpreis selection trial held at the DOKR headquarters in Warendorf, compared to 33 in 2021.
The combinations for each annual Piaff Forderpreis are decided at this special training and selection seminar with German team trainers Monica Theodorescu and Sebastian Heinze. They are originally held in February, but were postponed this year to 23 - 24 March 2022.
Biggest absentees were Alina Schrader (winner of the selection trial in 2021 and third placed in the Finals), Alexa Westendarp (in quarantine) and Rebecca Horstmann.
German Under 25 squad members Semmieke Rothenberger and Raphael Netz did not have to appear at the trial and are automatically qualified. 
Erbe on Catch Ride Carlos
Helen Erbe and the 15-year old Carlos (by Carabas x Weltmeyer) dominated the pack of forty in the Short Grand Prix, which they had to ride on 24 March in front of judges Katrina Wüst, Henning Lehrmann, and Ulrike Nivelle.  The brand new pair scores the highest marks with all three judges and topped the leader board on 74.535%.
Helen took over the ride on Carlos from her sister Hannah just less than three months ago, in January. She trains with Christian Wendel. Hannah was the European Junior Riders Champion in 2015 and 2016 and Europeans Young Riders Champion in 2017 and has been competing Carlos at Under 25 Grand Prix level since 2018. That year Hannah also sustained a knee injury when she got kicked by a horse coming off the trailer. She underwent her fifth operation to her knee on 23 March and can't ride for the moment. 
"Helen is doing an amazing job with him, I'm so proud" Hannah told Eurodressage. "Hopefully this was the last surgery. I required a cartilage transplant and the recovery time is quite long. I hope that it will be fine after this."
U25 Rookies to the Front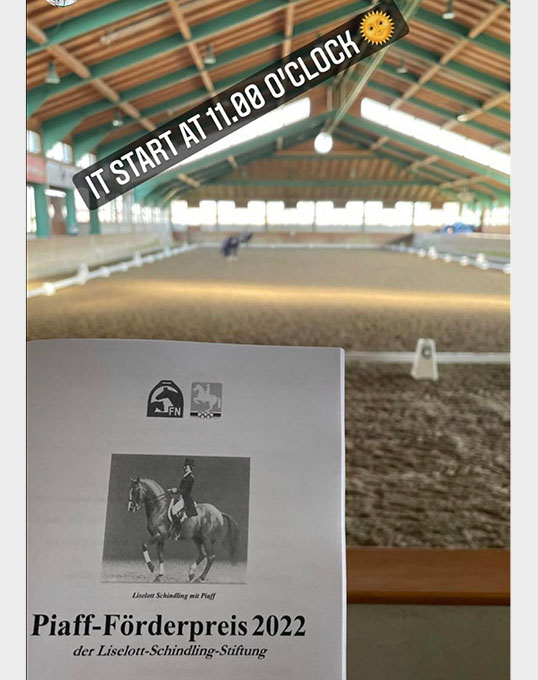 Rookie Under 25 combinations rode themselves to the front of the pack at the selection trial. 
Selina Söder became the runner-up on Jessica von Bredow-Werndl's 18-year old Dutch warmblood mare Zaire E (by Son de Niro x Jazz). She scored 72.364% to place second.  Selina, who is the daughter of Markus Söder, the Minister-President of Bavaria, came close to a break through at the highest youth level of German dressage sport when she was selected on the German team for the 2020 European Young Riders Championships in Budapest. Unfortunately she had to withdraw due to an injury of her top horse Rendezvous. With Zaire E she can now stake her claim in the Under 25 division. She has been riding Zaire E since the summer of 2021.
German youth team routinier Lia Welschof has two irons in the fire for U25 this year. Aboard the 10-year old Swiss warmblood GB Dolcino (by Don Index x De Niro), she placed third with 71.938%. With the 11-year old Brandenburg bred First class (by Furst Romancier x Wind Dancer) she was 8th with 70.310%. After a multiple medal winning career as a junior/young rider, Lia Welschof took a step back in 2021 and disappeared from the forefront as she got her feet wet at U25 Grand prix level last year. Trained by her mother Barbara and Oliver Oelrich, Welschof now seems ready to make her mark in the Piaff Forderpreis. 
Young Professionals at Work
The top 10 at the Piaff Forderpreis selection trial contained many young professionals, who currently work as assistant riders to established German trainers or are well connected in the horse sport world.
The fourth placed rider on 71.628%, Henriette Hachmeister with the 16-year old Baden Wurttemberger Grafit (by Grafenstolz x Ganymed), works at Ingo Pape's stallion station.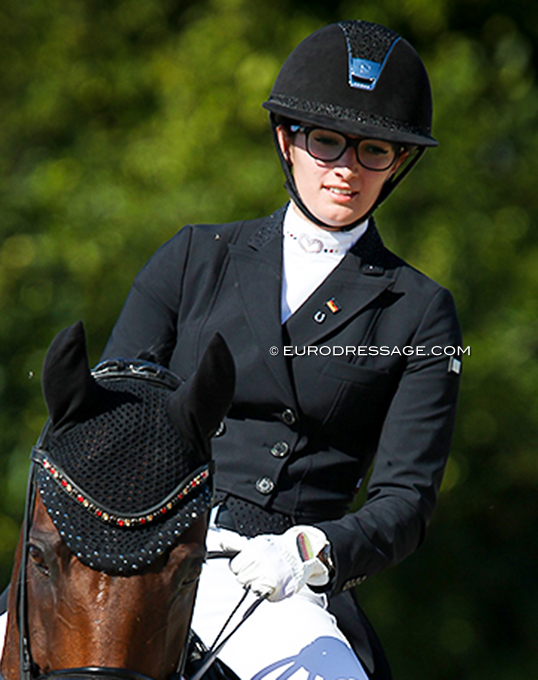 The fifth placed pair on 71.085%, Felicitas Hendricks with the 11-year old Oldenburg bred Drombusch (by Destano x Dimaggio), is the niece of former German team rider Christoph Koschel. Last year she campaigned Faible As on the circuit. Felicitas, who eight years ago moved from Düsseldorf to Hagen to train with her uncle, is in her last year as a Bachelor studying Business Management at the University of Münster but aiming for a professional career as a rider.
Anna Schölermann, who works for Hubertus Schmidt, placed sixth on Andreas Müller-Lammers' exciting 10-year old Westfalian stallion Triple A (by Totilas x De Niro). They scored 70.504%.
Kirstin Biermann, daughter of Gestut Sprehe's owner Albert Sprehe, saddled two horses. With Queensland (by Quaterback x Davignon II) she was 7th on 70.465% and with Wantana (by Destano x Mon Dieu) she was 9th with 70.233%.
The top 10 was completed by Victoria Schönhofen on the 14-year old Oldenburg gelding Zack Zack VS (by Zack x Donnerhall). The pair trains in Luxembourg with Danish born Fie Skarsoe. Schönhofen posted 70.232% on the board. 
Pony Power
This year history will be written by Victoria Rohrmuss who will be competing the first pony in the German Under 25 circuit!   The 20-year old Rohrmuss saddled the 13-year old German riding pony gelding Corelli de Luxe (by Champion de Luxe x Brillant x Nemo) and scored 69.535% for a 12th place and a spot on this year's Piaff Förderpreis circuit. 
Corelli de Luxe has been in Victoria's family from the start. He was first competed as a 5-year old by Heike Rohrmuss in 2014, before a 13-year old Victoria took over the ride. The duo competed at L level until 2018 when they moved up to S* level. In the autumn of 2020 they did their first national Grand Prix test in Ludwigsburg. A year later, at the same venue, they rode in their first international Under 25 test and placed fourth twice. Rohrmuss had only once show at a CDI before, in 2020 in Hagen at junior level on Fox on the Run (by Fornsbacher x Lauries Crusador xx).
Qualifier Combinations for 2022 Piaff Förderpreis Circuit
The 15 combinations that have qualified to compete on the 2022 Piaff Förderpreis show circuit are:
Kristin Biermann - Queensland / Wantana
Anna Casper  - Donna Clara
Helen Erbe - Carlos
Henriette Hachmeister - Grafit
Felicitas Hendricks - Drombusch
Ann-Kahrin Lachemann - Fransje
Joana Peterka - Davidoff ter Kwincke
Victoria Rohrmuss - Corelli de Luxe
Anna Schölermann - Triple A
Victoria Marie Schönhofen - Zack Zack VS
Selina Söder - Zaire-E
Lia Welschof  - GB Dolcino / First Class
Semmieke Rothenberger - Flanell
Raphael Netz - Elastico / Exclusive BB
Results - Short Grand Prix 
1.  Helen Erbe - Carlos FRH - 74.535%
2. Selina Söder - Zaire-E 72.364%
3. Lia Welschof - GB Dolcino - 71.938%
4. Henriette Hachmeister - Grafit - 71.628%
5. Felicitas Hendricks - Drombusch - 71.085%
6. Anna Schölermann - Triple A - 70.504%
7. Kristin Biermann - Queensland - 70.465%
8. Lia Welschof - First Class -  70.310%
9. Kristin Biermann - Wantana - 70.233%
10. Victoria Marie Schönhofen - Zack Zack VS - 70.232%
11. Anna Casper - Donna Clara - 70.000%
12. Victoria Rohrmuss - Corelli de Luxe -  69.535%
13. Ann-Kathrin Lachemann - Fransje - 69.380%
13. Joana Peterka - Davidoff ter Kwincke -  69.380%
15. Helen Erbe - Serano - 68.954%
16. Evelyn Eger - Table Dance  - 68.915%
17. Paulina Holzknecht - Entertainer Win T - 68.643%
18. Lune Karolin Müller - Seal - 68.605%
19. Lea Windhausen - Real Magic - 68.566%
20. Niklas Brokamp - Greenwich Park - 68.411%
21. Thomas Trischberger - Liverpool - 67.675%
22. Lisa Breimann - Aida Luna OLD -  67.597%
23. Susanna Schmaus - Heartbreaker - 67.326%
24. Celine Geissler - Scubidu - 67.054%
25. Charlotte Rühl - Dante - 67.015%
26. Theresa Friesdorf - Quotenkönig - 66.899%
27. Felicitas Hendricks - Faible AS - 66.744%
28. Ophelia Shalom - Dolce Fita - 66.279%
29. Julia Rohmann - Genuine -  66.008%
29. Cosima von Fircks - Nymphenburg's Easy Fellow - 66.008%
31. Anna Friederike Noack - Feiner August - 65.930%
32. Sophie Delaunay-  Don Peron - 64.690%
33. Fabienne Weiß - Forlan - 64.263%
34. Nane Grunwald - Don Casati - 64.186%
35. Sophia Funke - Quindale - 63.450%
36. Lena Backes - Fioretto Festival - 63.411%
37. Lea Luise Nehls - Friends Forever - 62.054%
38. Anna Casper Birkhof's Zalando OLD - 61.667%
Jeannine Merit Pelzer -  Sammy Davis - RET
Cosima von Fircks - Nymphenburg's First Ampere - ELI
2022 Show Circuit
This year's Piaff Forderpreis show circuit will also the be the team selection trials for the 2022 European U25 Championships
6.- 10 May: Piaff Förderpreis and European U25 Championship Team Selection in Mannheim
9 - 12 June: Piaff Förderpreis, German Championshipand European U25 Championship Team Selection in Balve - Longlist announced
28 - 31 July: Piaff Förderpreis and European U25 Championship Team Selection in Elmlohe (with Kür) - Shortlist announced
24 - 28 August: European Under 25 Championships in Pilisjaszfalu, HUN
22 - 25 September: Piaff Förderpreis qualifier in Ludwigsburg
9 - 13 November: Piaff FörderpreisFinals in Stuttgart
Photos © Astrid Appels
Related Links
Semmieke Rothenberger Wins 2021 Piaff Forderpreis Finals for German U25 Riders
Alina Schrader Surprises and Wins 2021 Piaff Forderpreis Selection Trial, Thirteen Qualified for 2021 Show Circuit
Ann-Kathrin Lindner Wins 2020 Piaff Förderpreis Finals for German U25 Riders
Fuchs Wins 2020 Piaff Forderpreis Selection Trial, Sixteen Riders Qualified for 2020 Show Circuit