2022 Dutch Dressage Championships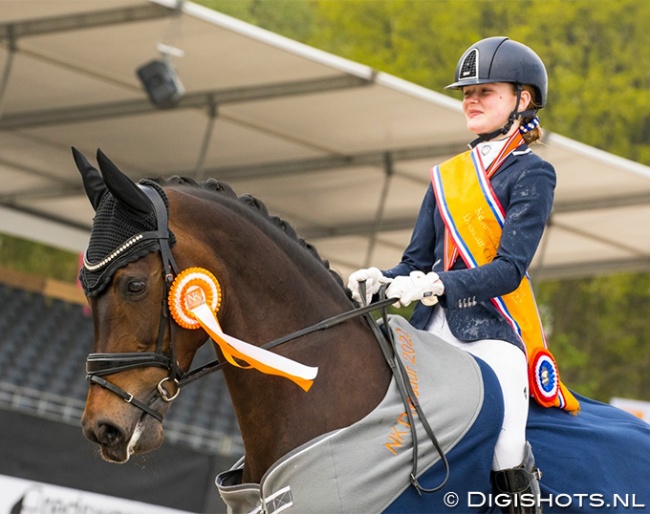 Children rider Sophie van Norel, junior rider Lara van Nek and young rider Marten Luiten became the winners of the 2022 Dutch Dressage Championships in the youth divisions. The Dutch Nationals were held at the KNHS headquarters in Ermelo on 5 - 8 May 2022.
Especially Marten Luiten stood out, earning two titles  in the young riders and Under 25 division. The pony riders also gathered in Ermelo for a team observation trial towards the European pony championships. They have their own national championships later this summer. 
Children: Sophie van Norel
In the Children division it was a close battle between the number one and two, but in the end Sophie van Norel persevered and claimed the national title. 
The 14-year old Van Norel and her 9-year old mare Itrina (by Drea Boy x Vincent) were second in the team test with 76.65% and first in the individual test with 78.014% to finish on the highest step of the podiul with a total of 154.664 points. 
The 12-year old Isabella Karajkovic and her 7-year old German riding pony mare Wert's Snowflake (by Casino Royale K x FS Golden Moonlight) earned the silver after winning the team test with 77.15% and placing second in the individual with 75.898%. They landed second place overall with 153.048 points. The bronze went to 13-year old Sophie Evers on the 16-year old KWPN mare Beaumonde (by United) with 74,3% and 74,722% to total 149,022 points. 
"Yesterday Itrina went well but she wasn't as good on my aids, but today she was really nice. You saw that in the score," the champion beamed. "I had hoped to ride well, but didn't expect to become Dutch champion. It feels really good."
Junior Riders: Lara van Nek
Last year's bronze medal winner Lara van Nek shot to the gold medal position this year aboard her long-time equine partner Fariska, a 12-year old KWPN mare by Vivaldi x Nourejev. They were second on the team test with 70.353% and won the freestyle with 76.158% to finish on a title winning total of 146,511 points.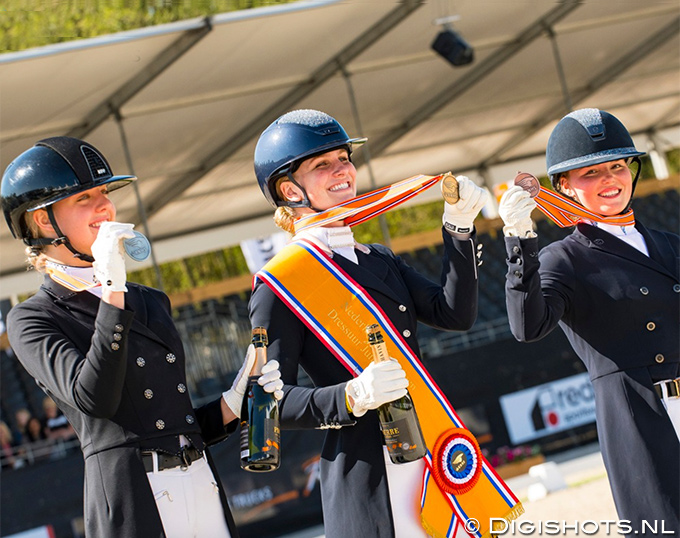 Van Nek had felt the heat of Dutch junior team rider Sanne van der Pols with Cuvanck PP (by Downtown x Munchhausen), who won the team test with 70.555% but dropped out of the race for glory when she withdrew from the Kur because of personal illness. Cuvanck recently returned to the arena after injury and competed at the CDI Opglabbeek last month.
The silver medal went to former Dutch pony team rider Jill Bogers who made the transition to junior level and horses with Lennox U.S., a 6-year old KWPN stallion by Grand Galaxy Win). She scored 70.252% and 75,083% to finish second overall with 145,335 points. Rowena Weggelaar  and her 14-year old KWPN geldoing Klieveer's Don Quichot (by United x Gribaldi) moved on the third step of the podium after a 69,798% in the team test§ (5th) and a second place in the freestyle with 75,192%. They totalled 144,990 points.
"I can barely describe the feeling, but I'm very happy," said champion Lara van Nek. "Yesterday the test was correct, but could have been more flashy. Today, it just went really well." The 17-year old is excited about the progress she made from bronze to gold in a year time. "You become more of a combination as you ride more. And of course you keep practicing more things, which then improve. With time it just gets better. And it can still be better because we're not scoring 10s yet."
Young Riders: Marten Luiten
In the Young Riders division the reigning European Champion Marten Luiten was the measure of all things, also on a new horse, Arie Yom-Tov's just 7-year old KWPN gelding Killer (by George Clooney x Tolando). The pair won the team test with 71.471%, although Robin Heiden and her 2020 European Junior Championship team ride Gasmonkey (by Tuschinski x Ferro) was breathing down his neck with 71.128%. Heiden, who had not shown Gasmonkey internationally for two years, dropped behind in the freestyle though, while Luiten kept his winning form and bested the Kur with 76.217% for the title on 147,688 points.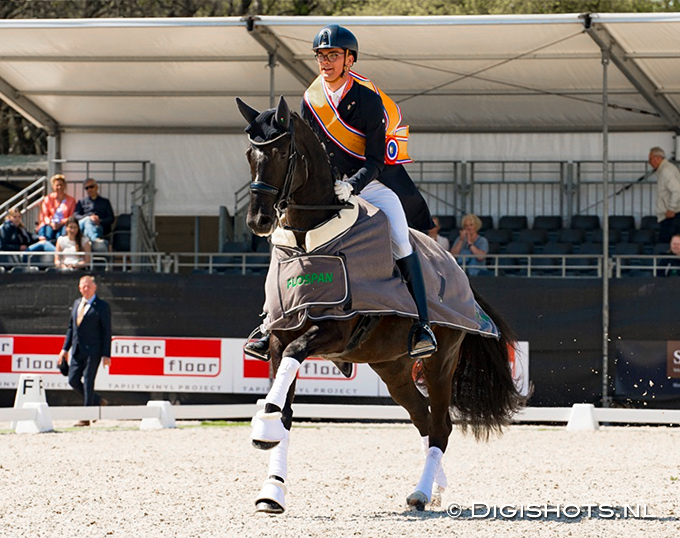 The silver medal went to 20-year old Brandy Bos on the 12-year old KWPN gelding Florett W (by Jazz x Sandro Hit). She was seventh in the team test with 69,510% and made a big push for power in the Kur in which she placed second with 74,867%. That surge forwards put her on the silver step of the podium with 144,377 points. The bronze went to Shanna Baars on the 12-year old Farzana G (by Ampere x Florencio). She was third in the team test with 70.833% and fifth in the freestyle with 73,458%, but her overall total of 144,291 points placed her third. 
Luiten was the 2021 champion on Fynona and now on Killer. "It feels fantastic and I think it's incredibly fun that I can be as good at Young Riders with another horse," said Luiten. "Yesterday Killer id a nice test, but there was a big mistake in the half pirouette. I was so bummed, but that pirouette went super today. I think Killer showed that he has a lot of potential, which is nice for the future."
Under 25: Martin Luiten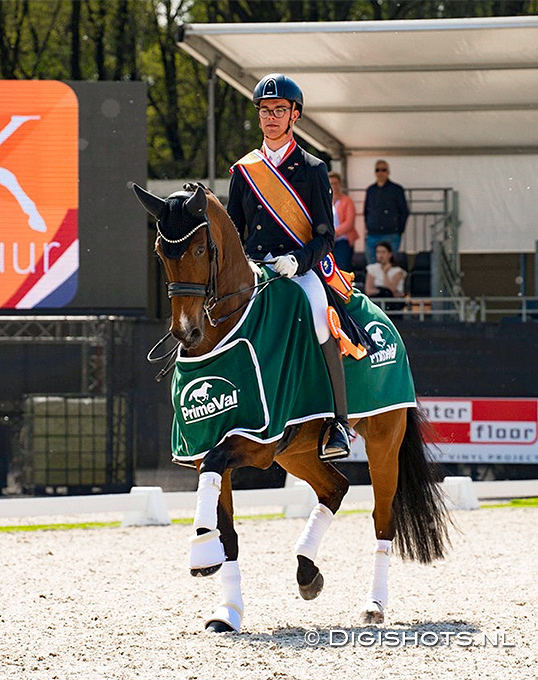 Luiten had more reason to celebrate as he also conquered the Under 25 title on his number one horse, the 12-year old KWPN mare Fynona (by Ampere x Gribaldi). Eleven Under 25 combinations competed in the Nationals and 10 of them moved on to round 2, the freestyle.  The 20-year old Luiten and Fynona won the Intermediaire II with 74,231% and the Kur with 77,620%. He finished first on a total of 151,851 points.
European U25 Championship bronze medal winner Jessica Poelman got silver aboard the 15-year old KWPN gelding Chocolate Cookie RDP (by Johnson x Livingstone) after placing second twice with 72,521% and  76,825%. She totalled 149,346 points and referred 20-year old Dutch young rider team member Thalia Rockx on her 21-year old evergreen Verdi de La Fazenda (by Florett As) to the bronze medal position. Thalia was third twice on 71,111% and 76,500% to finish with 147,611 points. 
"Yesterday was the second time that we did a U25 test and today the first time a freestyle, so I can only be happy with how it went," said Luiten. "I'm really super happy with it (two gold medals). This is nice, I like it. I have of course nice horses to ride and it's nice that you can be part of the game with both of them."
Photos © Digishots
Related Links
Scores: 2022 Dutch Dressage Championships
Dinja van Liere and Hermes Win 2022 Dutch Grand Prix Championships with All Girl Podium
Jonkers, Van Rooij, Luiten, De Koeyer and Gal Win 2021 Dutch Dressage Championships
Raaijmakers, Heiden, Van Peperstraten, Nieuwenhuis, Gal Win 2020 Dutch Dressage Championships
Gal and Toto Jr Take Comfortable Lead in 2020 Dutch Dressage Championships
Van Nek, Luiten, Rockx, Van Silfhout, Nieuwenhuis, Gal Win 2019 Dutch Dressage Championships
Buijs, Van Peperstraten, Rockx, Nieuwenhuis, Gal Win 2018 Dutch Dressage Championships
Van Peperstraten, Donkers, Maas, Meulendijks, Gal Win 2017 Dutch Dressage Championships
Oudhof, Nieuwenhuis, Gal, Meulendijks, Van Silfhout Crowned 2016 Dutch Champions 
Scores: 2015 Dutch Dressage Championships
Scores: 2014 Dutch Dressage Championships
Scores: 2013 Dutch Dressage Championships
Edward Gal and Undercover Win 2012 Dutch Dressage Championships
Minderhoud, Witte-Vrees, Krooswijk and Te Riele Proclaimed 2011 Dutch Dressage Champions
Gal Prolongs Grand Prix Champion's Title at 2010 Dutch Championships
Edward Gal and Totilas Conquer 2009 Dutch Championships
Adelinde Cornelissen, 2008 Dutch Dressage Champion
2005 Dutch Championships: Van Grunsven Star of Holland for 12th Time