German Riding Pony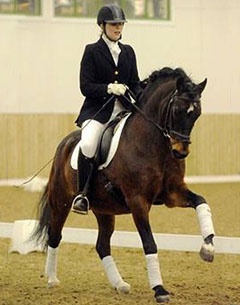 The German Riding pony stallion Caesar, a foundation stallion for British sport pony breeding, has passed away on 1 May 2022. He was 33 years old.
Caesar 171 was a 1989 born German Riding pony stallion by Condor out of Dina (by Askan x Caid AA x Diplopia xx). He was bred by Benno Stolle. 
German Beginnings
The dark bay Caesar was first licensed for breeding as a 2.5 year old at the Rhinelander pony stallion licensing in Wickrath and got immediately approved by the Oldenburg verband as well.
He did his 30-day stallion performance test in Radegast in October 1994 and scored 8.58 points to finish 3rd out of 19 participating stallions. 
He was first competed as a 3-year old by Burkhard Rhode and Petra Hinrichs and in 1994 Lars Kipper joined the team of riders that presented him at shows. In 1995 it was Sabrina Grosse Ruschkamp's turn.
Caesar sold to Barbara Hartkopf and as an 8-year old became the ride for Larissa Hartkopf who campaigned him in Germany at L-level until 1998.
Victoria Molloy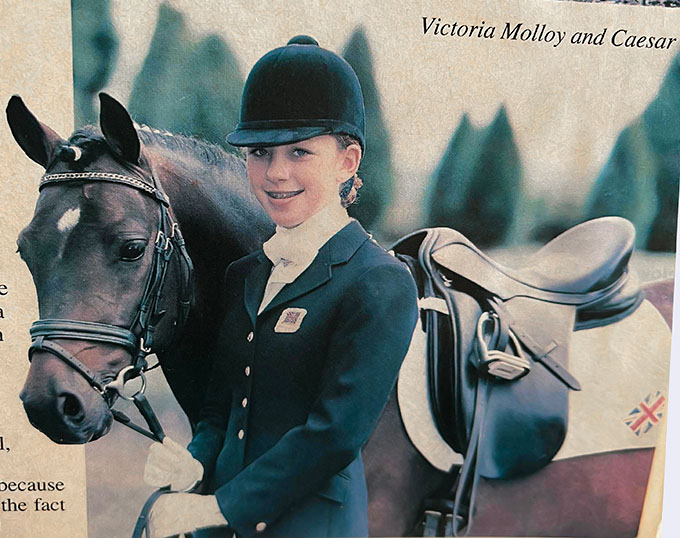 By 1999 the pony had moved to the U.K. and became the ride for British Victoria Molloy, who competed him internationally at the CDI Hagen in June 1999. 
The pair was selected to represent Team Great Britain at the 2000 European Pony Championships in Hagen, joining Laura Bechtolsheimer (Golden Dancer), Sally Makin (Nurejew), and Maria Eilberg (Manitu M). They won the team silver medal and placed 10th in the preliminary test. In 2001 they did not make the team.  
Molloy continued to compete Caesar in the U.K. and abroad until 2002. In 2002 they were reselected on the team for the European Pony Championships, but ultimately had to withdraw in Hagen due to fitness issues. 
"He really was my pony of a lifetime," Molloy told Eurodressage. "I won Team Silver in 2000 and then in 2002 we travelled to Hagen and he was the pony everyone was watching! All eyes were on us especially from the German teams. He went lame in the 5-min warm up ring before going into the first preliminary test. It was the biggest disappointment of my riding life!! We definitely had our eyes in gold." Molloy, who is now a swimming teacher, gave up riding in 2003. "After being so successful with Caesar I had a couple of young horses but I just didn't enjoy the lower competition, so at the age of 17 I gave up all together."
Natalie Allen and Samantha Brown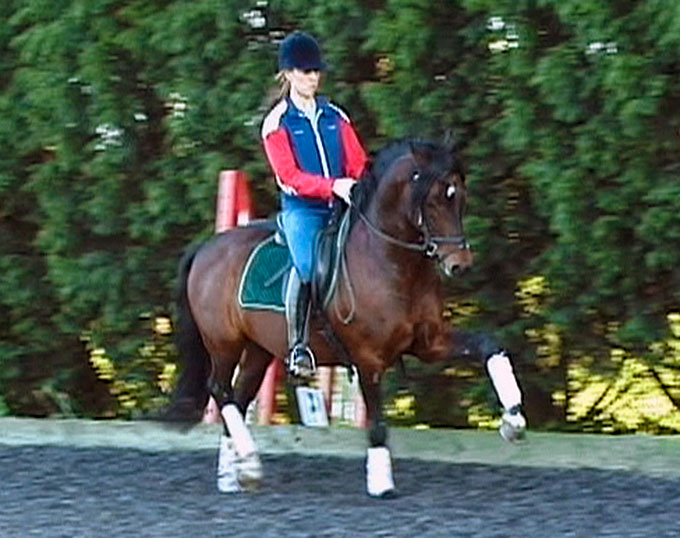 The stallion then moved on to Natalie Allen, who made her show debut with him at Somerford in the spring of 2003.  Caesar was Allen's second FEI pony alongside DHI Langar at the time. She only competed him on year
Caesar sold to Beverly Brown of Godric Stud and Leamside Equestrian for daughter Samantha to ride.  The pair made its show debut in 2006 and won the regional Talent Spotting and were Reserve at the Finals. She competed him nationally for two years until 2008, when Caesar was 19. He was retired from sport and continued a new life as breeding stallion
Stamping British Pony Breeding
Caesar 171 became the most successful dressage pony breeding stallion in Britain. Although he was not bred to mass numbers of ponies like the great ones in Germany, he certainly became a foundation stallion for dressage pony sport.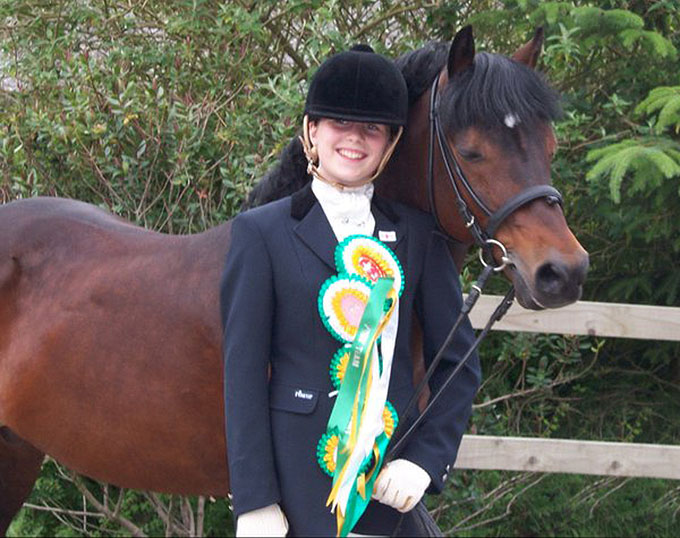 Caesar has sired numerous British top dressage ponies and has supplied the British pony team with key competitors in the last decade. He produced European Pony Championship team members Le Chiffre (Sophie Taylor, Charlotte McDowall), George Clooney BS (Sophie Taylor, Mette Dahl), and Ella (Sophie Williams, Gracie Morgan), as well as internationally competed FEI ponies Cruz III (Jessica Kirby) and Rosewater I Claudius (Clare Hole).
In 2011 Caesar was the recipient of the Sports Pony Studbook Society's performance and breeding award in recognition of him being a frontrunner in the production of performance ponies for your young riders.
Passing and Legacy
After having lived a full life, Caesar was put to sleep on 1 May 2022.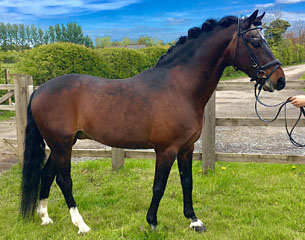 "Caesar meant everything to me. I am who I am because of him, Samantha Brown told Eurodressage. "I feel so privileged to have had him in my life, he taught me so much from such a young age, as a rider, a handler and breeder too. Not only that but he has done so much for our sport and left a golden mark on the circuit."
She continued, "I always vowed that I would never let him suffer, after all he has done for me, I owed him that much. He left us at the grand age of 33, he was very happy, sound, and a little chunk; in fact I think he is the only 33 year old I've known to be on a diet! His personality oozed out of him as if he was still 3 years old until the end. Right now I am heartbroken, it was the hardest decision and the barn is not the same without him there, but he leaves a tremendous legacy behind of which we are so proud of and he that will live on forever."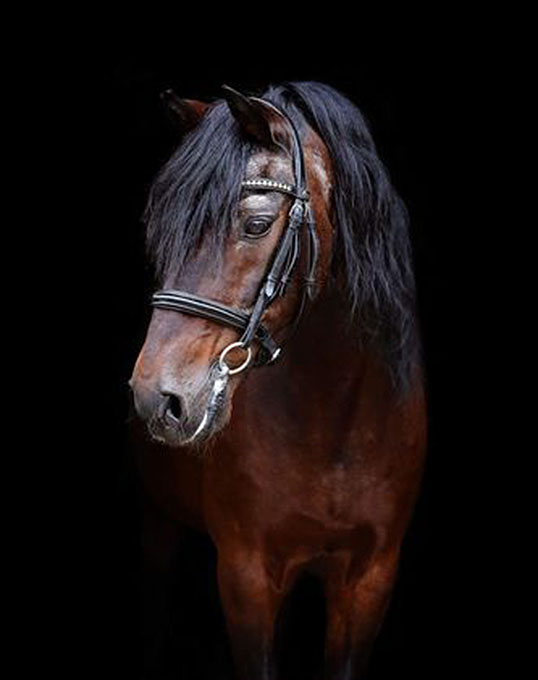 Owner Beverly Brown added, "our world will never be the same. You find your soulmate once in a lifetime. With horses you find that same cellular connection and when you do it's magical. He was magical. Charismatic, oozing talent and confidence and wanting to please all the time. Caesar took Sam to the next level very quickly, he guided her and made her the rider she is today, the coach she is, and the breeder she is. Leaving behind a legacy for British Pony Breeding."
Photos © Kevin Sparrow - private
Related Links
Two Combinations to Represent Great Britain at 2021 European Pony Championships
Godrics Stud Celebrates Success of Caesar 171 Progeny
British Bred Dressage Horses Claim Premiums in 2015 BEF Futurity Series
Godrics Stud Firmly on the Map with British Longlist for European Pony Championships Announced
British Youth Rider Samantha Brown Combines Dressage and Breeding at Leamside Equestrian
Scores: 2000 European Pony Championships