U.S.A.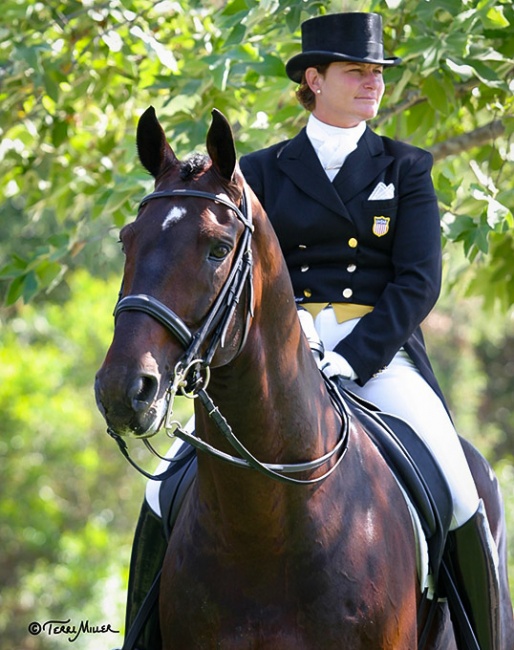 -- text by Kelly Artz
Team USA's international dressage rider Leslie Morse has officially announced her retirement from international competition on May 9, 2022. The 40-year veteran to dressage has decided to begin a new chapter in her career and focus her efforts and experience on the next generation of American dressage.
"I feel that there are some unintentional gaps in the US team's development programs and USEF and the sport have given me so much, it's time for me to give back. I find horses and riders that have potential do not all fit into the timeline restrictions, and this has led to many young riders and horses, to either not get support, or bypass needed periods of training to learn a system and process."
Decorated Team USA Rider
One of Team USA's most accomplished riders, Morse represented the United States at five FEI World Cup Finals, earned a Team Bronze Medal at the FEI World Equestrian Games in Aachen, Germany, won the Exquis World Dressage Masters Grand Prix Special twice, was a two-time alternate to the U.S. Olympic team, and been a multiple National Grand Prix champion. Morse is a graduate United States Pony Club member, with dozens of National championship titles and trained for many years under Robert Dover, Major Anders Lindgren, Bert Rutten and Christilot Boylen, and long-time trainer and mentors Kyra Kyrklund and Klaus Balkenhol.
Morse is most known for her partnerships with the Oldenburg-approved Dutch stallion Kingston (Voltaire—Gisnette, Burggraaf) and the Swedish Warmblood Stallion Tip Top 962 (Master 850-Horsensia, Chagall). She found Kingston as an 8-year-old in Europe, and developed him to Grand Prix herself with Kyrklund's mentorship.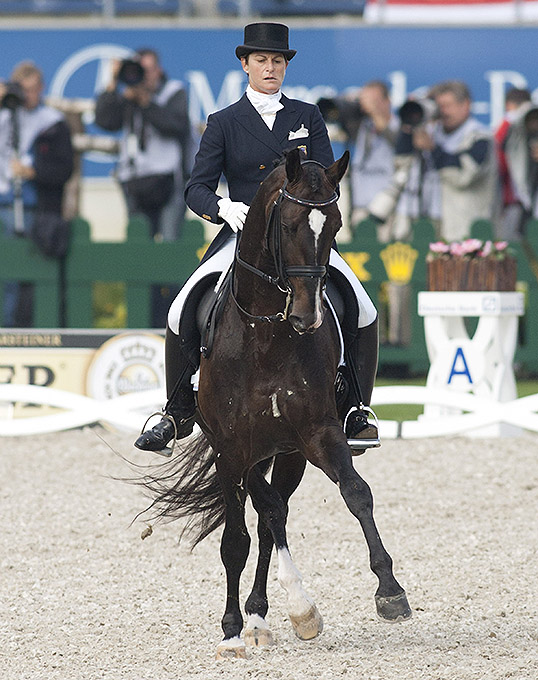 They performed a memorable freestyle to "The Pirates of the Caribbean," which perfectly expressed the dark bay stallion's larger-than-life presence. Kingston was a USDF Horse of the Year, and he and Leslie were twice named as U.S. Olympic team alternates.
Morse purchased Tip Top 962 as an 8 year old from Kyrklund, whom he had been Swedish Young Dressage Horse Champion with three times in a row. Morse trained him up to Grand Prix, and the pair represented the U.S. twice in the FEI World Cup Final, and in 2006, they were members of the bronze medal-winning team at the FEI World Equestrian Games in Aachen, Germany.
A lifelong horsewoman, Morse built on her international dressage success and her experience handling and training stallions, and developed a successful breeding program in California, with Kingston and Tip Top as sires. Among their progeny is the recognized Swedish warmblood gelding Tip Top's Sterling, the mare King's Ruby, and the gelding King's Excalibur.
Taking Career in a New Direction
In 2017, after suffering two injuries, which precipitated a chronic pain condition, Morse took a break from competition and her breeding operation, returning to equestrian sports again in 2019.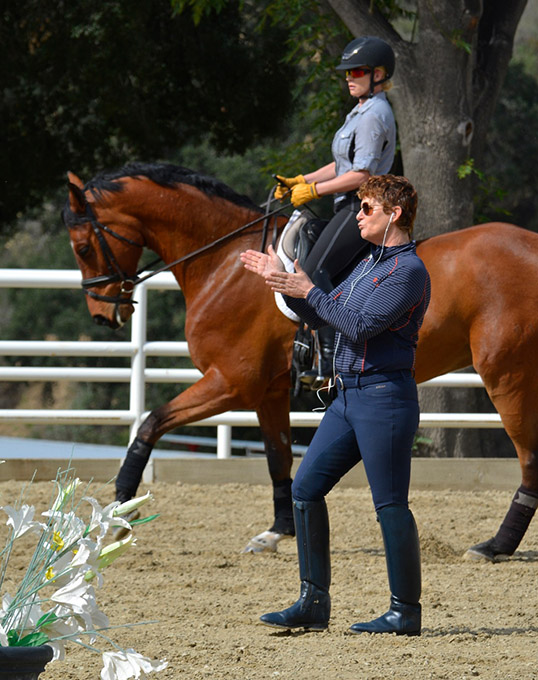 She is fit and back riding but looks forward to taking her career in a new direction, focusing on supporting others in competition, giving personalized clinics for trainers and their students, and developing young horses.
"I want to share what I've learned through the years. I love teaching horsemanship and the art of feel to riders. I feel it is a critical time in US dressage, and the next generation of riders need good training and support--that is accessible-- for pairs at every stage of development. They need mentorship and guidance to learn how to develop their own horses and maintain a careers at the international level. I would like to devote the next chapter in my career to working with young horses and the mentorship of riders who want to develop their own horses to the FEI levels."
Photos © Terri Miller - private
Related Links
Leslie Morse, 2003 American Dressage Champion
Leslie Morse and Kingston, Grand at Hagen
Leslie Morse, Raising the Bar For 2005
The Return of the King: Leslie Morse's Kingston Makes a Come Back
Viva Las Vegas - Leslie Morse and Tip Top Going For for Freestyle!
Euro-Tour of Duty for Leslie Morse and Tip Top
Kyra Kyrklund's Tip Top Sold to Leslie Morse
Leslie Morse's Tip Top Passed Away