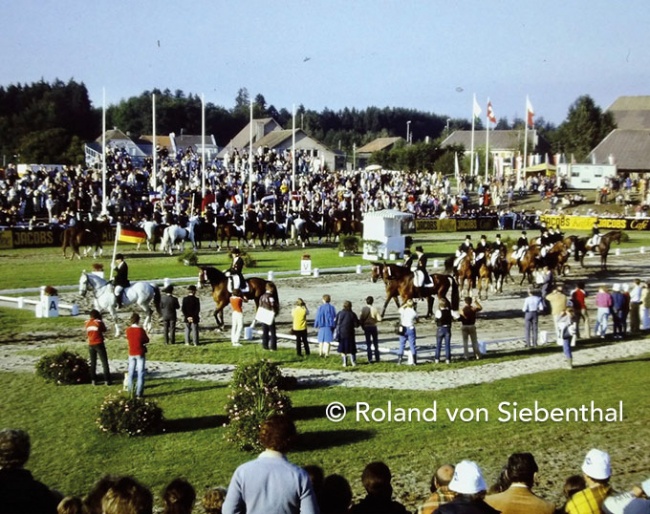 -- Text © by Silke Rottermann for Eurodressage
When Christine Stückelberger and Granat won the triple crown at the 1978 World Championships in Goodwood, Switzerland secured the organisation of the 1982 event which was held in Chalet à Gobet near Lausanne on 25 - 29 August 1982.
What better place to shine one more time in front of the home crowd and then retire the greatest dressage horse so far in dressage competitions history? However there were a lot of question marks surrounding Christine Stückelberger and her horse before the championships. At age 17, the massive Holsteiner had not been started in a CDI for over a year and his tiny rider had to have surgery for inguinal hernia not long before. Last but not least 1974 World champion Dr. Reiner Klimke was showing throughout the season that his 11-year-old Westfalian geldoing Ahlerich was ready to take the crown.
Return to Switzerland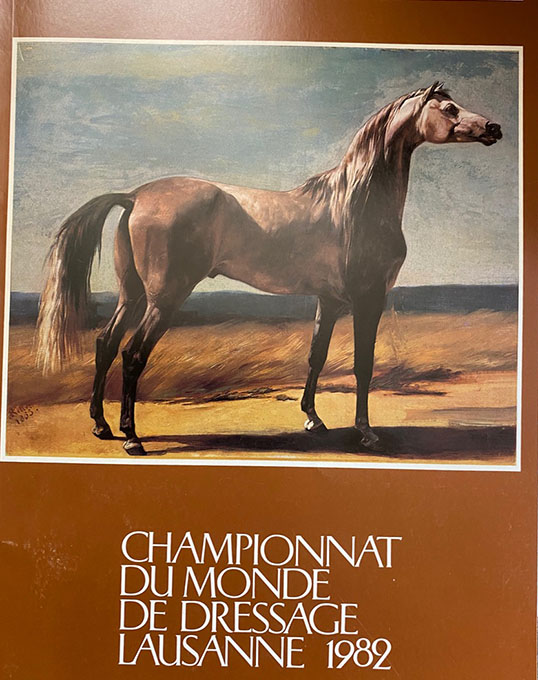 Sixteen years after the first ever World Dressage Championships were held in Berne, they returned to the tiny Alp country with its long dressage tradition. Not far from the Lac Léman and its beautiful town of Lausanne, the rural area of Chalet à Gobet was a very different backdrop from all previous World championships.
The organizers took care of conditions very worthy of such an event and the main arena was surrounded by tribunes with warm-up rings in close proximity.
Grooms were housed in nearby army barracks, while the horses from 15 different nations were stabled in tents for the first time in championship history. At the beginning, only the host country's greatest hope, Granat, was stabled in a permanent stall at the facility, which caused some attention.
Lex Granat
Dr. Reiner Klimke reportedin his book "Ahlerich" that during the chef d'equipe meeting prior to the opening of the championships, it was made public that the FEI dressage rules had been changed in favour of the most successful horses. Up until then at each World Championships an Intermediaire II class was held to allow the horses to warm up for the Grand Prix, but the most successful ones were excluded from it. In Lausanne now they were allowed to take part, but did not get any score.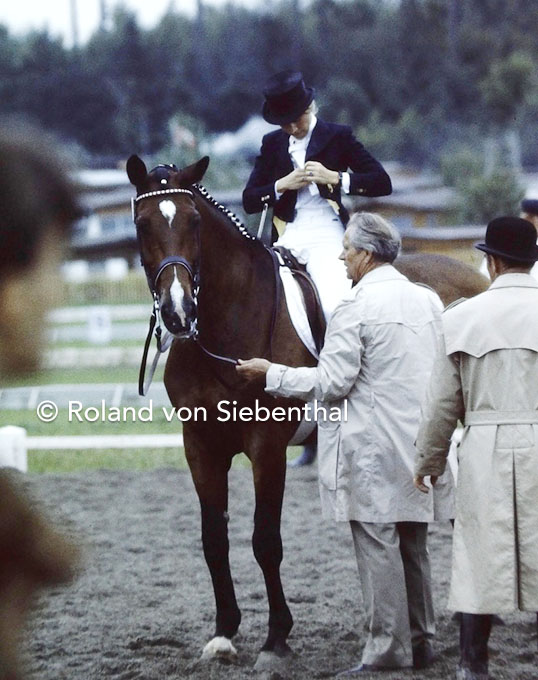 Dr. Klimke smelled what he called a "Lex Granat" in his book and explained there that after the very long break Granat was in need of getting ring practice. Whatever the reasoning was behind this change in rules, it certainly gave Granat and some others this opportunity. Klimke himself presented the jury his 11-year-old Westfalian Ahlerich only in the trot tour of the Intermediaire II and then left the arena; an act which had the intention to give the judges' panel a first direct comparison between him and Granat.
The Teams
Since the 1980 Alternative Olympics in Goodwood the balance of power in international dressage had not changed significantly. Germany continued to be the nation to beat, unbeaten since 1973, and fielded for Lausanne the same team which had won the 1981 European Championships in Austria.
Switzerland, relying on their anchor pair and for the first time for years without Ulrich Lehmann from the cavalry school in Berne, had an all-female-equipe. Denmark was close on their heels with a then 9-year-old Marzog who more and more came into his own and with the very consistent Coq d'Or as second power.
More interesting seemed the question who would be able to win the individual title and medals. Granat? 1981 double European champion Madras of Dr. Uwe Schulten-Baumer junior? Ahlerich who was dominating the season wherever he went? Or could Gabi Grillo and her Grande-son Galapagos, The Netherlands (best rider Annemarie Sanders with Amon, or Danish Anne-Grete Jensen and Marzog take care of a surprise and medal?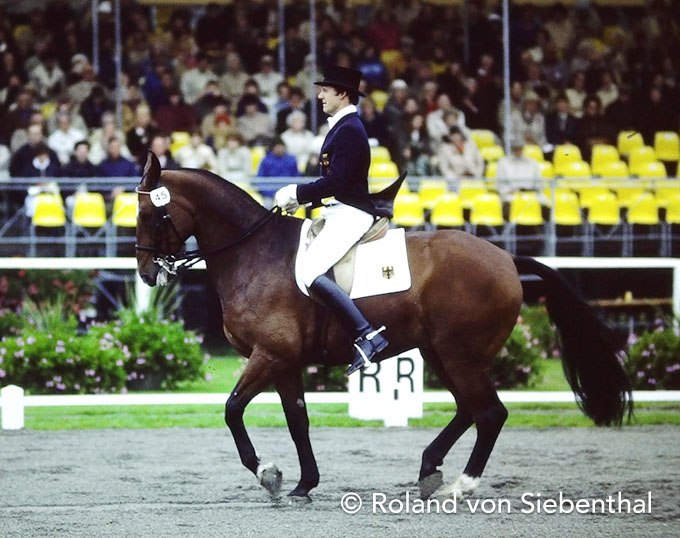 1979 European and 1980 Olympic champion Sissi Theurer from Austria was absent from Lausanne as her champion horse Mon Cherie had to be retired after Moscow due to melanoma which affects many greys.
For the first time in dressage history Yugoslavia sent a team, consisting of three riders from the stud of Lipica (now Slovenia) and their Lipizzan stallions. Mexico also debuted at World Championships level with an individual rider and would even be able to send a complete team to the Olympic Games two years later. Another debut was for Italy which had the first rider ever at a World Championships, now 5*judge Enzo Truppa.
France, whose team had come 4th in Goodwood two years earlier and narrowly missed the team bronze there, could only send one individual rider this time.
Grand Prix / Team competition
Forty-four riders from 15 different nations brought afoot the strongest participation to date, amongst them individual riders from Belgium, France and Mexico. They contested in just one single day. This resulted in a competition that was over eleven hours long and prompted the question if the team competition shouldn't be stretched over two days in the future.
The jury of M. Köppel from Colombia, Heinz Schütte from Germany, Wolfgang Niggli from Switzerland, Jap Pot from The Netherlands, and Gustaf Nyblaeus from Sweden certainly had their hands full judging this marathon which took place in rather cold and wind weather for late summer.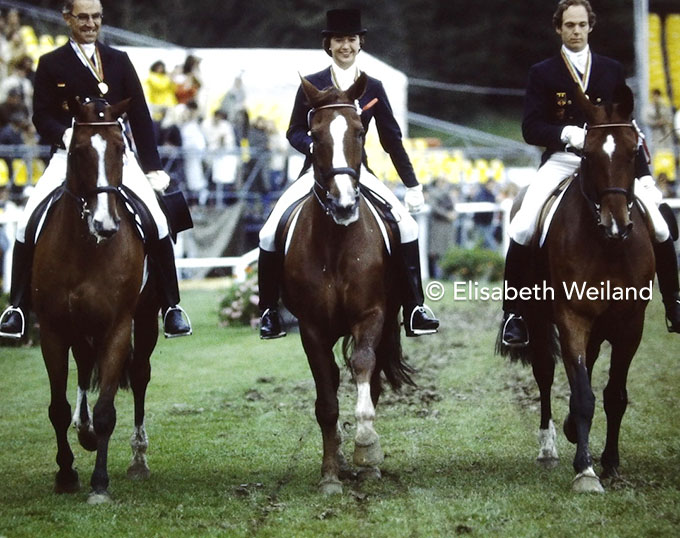 When Granat entered the arena, the high hopes of the home audience would not be disappointed. The then 17-year-old Holsteiner gelding, who had been in international sport since 1972, was in championships form and managed to give a faultless presentation. Because of his rider's inguinal hernia surgery three months earlier, Granat had been worked by trainer Georg Wahl for the time being, but Christine managed the power house just as well as usual and was not distracted by his typical antics, like bucking before entering the arena.
Stückelberger's team mates, Doris Ramseier and her Swedish gelding River King and the late Claire Koch and Beau Geste couldn't match their anchor's performance. However, the petite and elegant Koch who was already on Switzerland's silver medal team four years earlier, narrowly missed the ride-off by just one place on the most beautiful Irish dapple grey Beau Geste—a horse which drew quite some attention.
Dr. Reiner Klimke's ride on Ahlerich was eagerly awaited, but there could not be a direct comparison to his biggest rival Granat as Ahlerich didn't stay faultless, starting to piaffe when he was supposed to rein-back and there was a hiccup in the canter half-passes. As a result, Germany's strongest pair stayed 16 points behind the Swiss favourites. The other two German team members were only separated by a few points: Gabriela Grillo came third on her Hanoverian gelding Galapagos, whereas Dr. Uwe Schulten-Baumer and Madras finished fourth.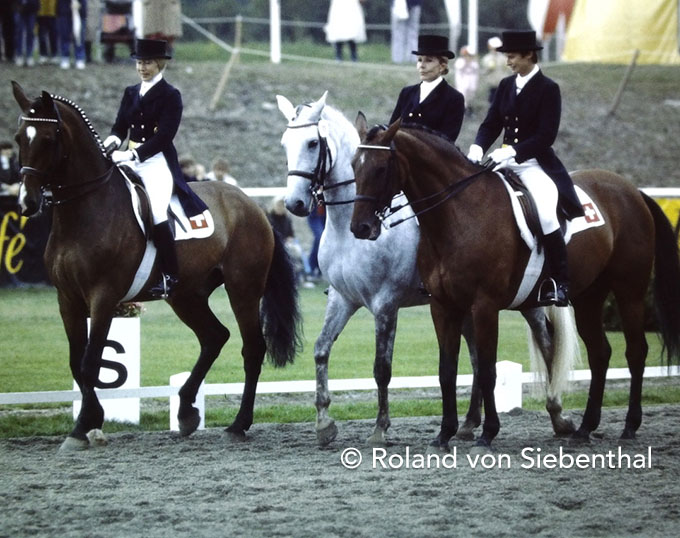 While the gold medal for Germany was never in danger as predicted, Denmark gave Switzerland almost a run for silver. They had the identical team in Lausanne which had won bronze at the Olympic Festival 1980. There Denmark fought for bronze with France. In 1982 they were now able to challenge Switzerland. Their strongest pair, 31-year-young Anne-Grete Jensen and her DWB gelding Marzog, came 5th in the Grand Prix and her team-mate Larsen also managed to get into the top ten with his chestnut SWB gelding Coq d'Or. Their third team member, the late Tove Jorck-Jorckston, sister to dressage legend Lis Hartel, this time only finished in the last third of the field on her elegant dark brown DWB gelding Lazuly.
With the medalists clearly ahead of the rest of the field, The Netherlands, Great Britain and the Soviet Union rode neck-to-neck for the next places.  Clearly on a rise was the Dutch team which in the end came fourth, with their best pair being Annemarie Sanders on Ahlerich's full brother Amon. The bay Westfalian gelding had started his international career as Sanders' junior horse in the mid 1975s and in Lausanne strongly contributed to the team's great placing with a 6th place in the Grand Prix. After his father Jo had taken part in the two previous World championships, the young Bert Rutten debuted on the dark-brown KWPN gelding Parsival with today's Finnish national coach Rien van der Schaft as the third team rider on Juroen, the former ride of his trainer, Frederica Benedictus.
Actually a surprise was Great Britain just about 40 points behind in a then remarkable fifth place- the best Britain was able to achieve in the history of the World championships and Olympic Games up to that date. Their 1978 individual bronze medalist Jennie Loriston-Clarke was the strongest contributor with her then 12-year-old Dutch stallion Dutch Courage whose first offspring were also in the arena at that time. They were seventh. Young Yorkshireman Christopher Bartle, nowadays a legend in his own right in eventing sport, was clearly on the rise with his 7/8th Irish bred Wily Trout, a failed eventer. Trained by Swedish baron von Blixen-Fineke, the Olympic eventing champion of 1952, Bartle showcased his pure classical education which paid dividends with this highly sensitive horse that two years later would finish 6th individually at the Olympic Games. This was until 2012 the highest British dressage placing at an Olympics.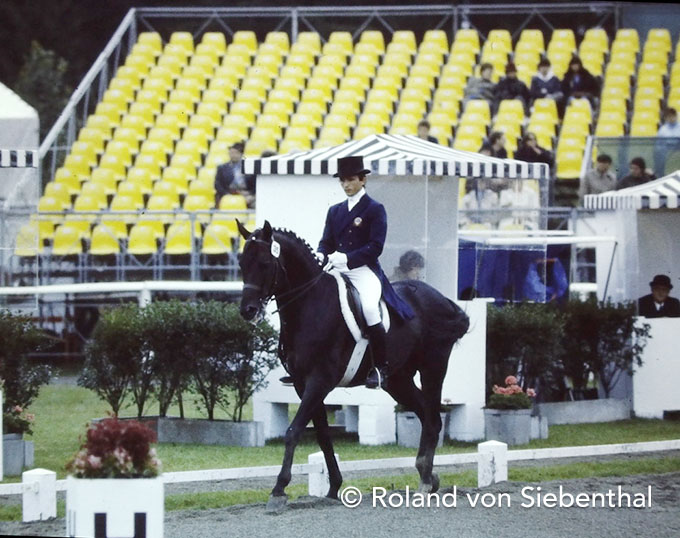 The Soviet Union finished just four points behind Great Britain in sixth place. They had to relinquish their established guard and had a few less experienced riders in Lausanne. Their best was Yuri Kovshov and the deeply black Ukraine bred Igrok, individual silver medalists of the 1980 boycott Games of Moscow, in 11th place and the young Tatiana Nenakova and Garun in 15th as second best.
After their Olympic bronze medal 1976 and 4th place at the last World championships, the USA's 10th place ahead of Bulgaria certainly seemed surprising to some. However, the team had lost all their mainstays from that era: Monaco and Dahlwitz were retired and Keen xx in the field at that time after a neck injury. Former Badminton rider Sandy Pflüger was their best with the British trained Holsteiner Marco Polo in 18th position.  Even if the low placing might have given a different idea, the team trained by Melle van Bruggen left a good impression regarding their quality of equitation and the relaxation of their horses.
Same could be said of the Yugoslavian team which placed one spot ahead of the USA with their three Lipizzan stallions, which even back then suffered a certain disadvantage in basic gaits compared to the long backed sport warmbloods. Trained by Christine Stückelberger's coach Georg Wahl, chief rider at SRS in Vienna at the end of the 1960s, the grey stallions impressed with the three "p's" their breed is destined for: piaffe - passage and pirouette.
The Canadian team came 7th and managed to have one rider in the individual final: Bonnie Bonnello and her long legged elegant Westfalian Satchmo. Both were students of George Theodorescu. French individual rider Margit Otto-Crépin's 10th place in the Grand Prix on the Selle Francais Caprici also allowed her to join the individual final.
Individual Competition / Grand Prix Special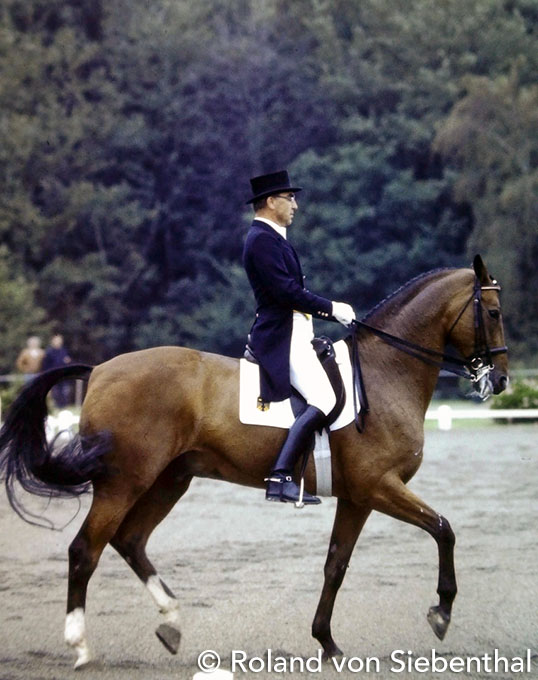 In the evening after the Grand Prix and before the individual competition, the windy rainy weather evaporated in a deluge and water partly ran down into the stable tents. Johann Hinnemann offered Dr. Reiner Klimke one of the permanent stables which he had secured for the Canadian horses. Everything seemed to move in favour of this German lawyer and notary to achieve his goal and recapture the crown which Mehmed had enabled him to wear for the first time in 1974.
The Grand Prix Special only started at 3 pm on a Sunday when the sun returned and which saw a sold-out dressage stadium with over 10,000 people eagerly awaiting the competition to begin.
The draw decided that Granat was the first to present himself to the jury of Jap Pot (NL), Joan Hall (GB), chief judge Gustaf Nyblaeus (SWE), Colonel Heinrich (GDR) and Mr. Koeppel (COL) early in the class. Everybody was aware and it was even announced in non-horsey publications beforehand that this was Granat's final competition ride and many wished for a fairytale ending. The massive gelding was in top form and managed to mainly deny his advanced age, but mistakes in the flying changes and pirouettes, which were not as sitting as usual, left a small door open for Granat's most serious rivals.
When Gabi Grillo and Galapagos as well Dr. Uwe Schulten-Baumer and Madras stayed behind Granat, a victorious farewell seemed possible. However Dr. Reiner Klimke and Ahlerich pulled out all the stops and managed not only to remain faultless, but also in a convincing way. The long legged Angelo xx - son was certainly a totally different type of horse from Granat: 6 years younger and fresh as a daisy. It was also Dr. Reiner Klimke's masterful riding on this tightrope line which characterized his horse of a lifetime: Between genius and madness.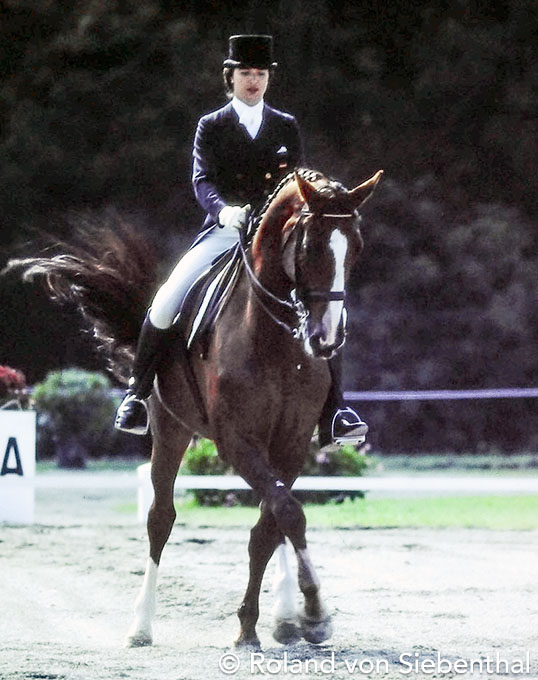 Bronze went to the reigning European champions Schulten-Baumer and Madras, team mate Gabi Grillo being 4th this time.
Behind them Anne-Grete Jensen slowly but surely heralded a new era of dressage, one which did not reflect the cultivation of an elemental force like Granat or the athletic brilliance of Ahlerich. Instead the era would introduce the palpable harmony and partnership of Jensen with the bright bay Marzog, who enchanted onlookers. This horse, who never for a second looked tense or discontent, remained calm and attentive and seemed to be happy with himself and the world, was the shooting star of the future. Although still without an individual medal at this World Championships, Marzog was an early definition of the FEI's rather infamous "happy athlete" term.
Breeding at the 1982 World Championships
Germany continued to dominate the breeding side of these World Championships. Their team completely made up of  German bred horses: the two Hanoverians Madras (by Monaco) and Galapagos (by Grande) as well as the clearly blood influenced Westfalian Ahlerich (by Angelo xx x Donar).
This brown gelding was a full brother to Amon on the Dutch team who was born three years earlier than Ahlerich at the late Herbert de Baey's farm. Little did the dressage world know in 1982 that only a few years later a nephew of both horses, Rembrandt (by Romadour II x Angelo xx), a third breeding product of De Baey, was to become an absolute super-star.
Two more Westfalians could be found the Canadian team: The long legged brown Satchmo by the thoroughbred Sinus xx who had also sired the German eventing Olympic medalist Sioux of Horst Karsten; and Duero, a tall son of Ducker who had been Dr. Josef Neckermann's last Grand Prix horse and was presented by his daughter Eva-Maria Pracht in Lausanne.
The refined grey gelding Pentagon for Mexico was the only Trakehner in the field.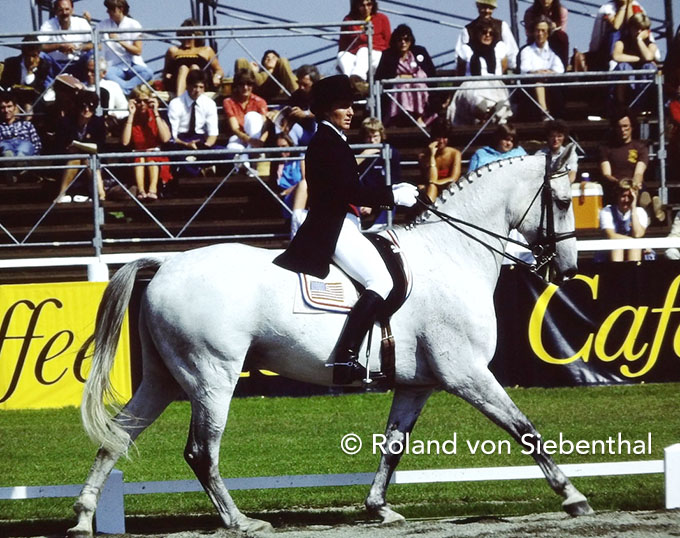 The US team included two German and two home-bred thoroughbreds: The Hanoverian Percy, ridden by Carole Grant, and the impressive Holsteiner Marco Polo (by Maximus), who would become a regular championships team member with Sandy Pflüger until the next World Championships in Cedar Valley four years later. The Californian bred thoroughbred Bull Market xx (by Solid Endeavour), ridden by the late Alesandra Howard, was already on the US team four years earlier in Goodwood, while the late Kim Beardsley (later von Hopfgarten) Oregan bred and home bred Woodimix xx was by the renowned Mahogany xx.
Even in the 1980s Sweden's first star dressage sire Gaspari continued to have an influence. In Lausanne his son, the strikingly coloured chestnut Coq d'Or was on the bronze medal winning Danish team with Lars Petersen while Eva-Karin Munck's (later Oscarsson) gelding Castar (by Sombrero) was out of a Gaspari dam. Young Anna Sevensson's chestnut Nicklas was another Gaspari offspring in the field of 44 horses. Gaspari's companion at the state stud in Flyinge, the grey stallion Immer, was the sire of  Canadian Christilot Boylen's Cassius. The other two Swedish bred horses were the thoroughbred Top Flight xx (ridden by Elisabeth Lette) and River King on Switzerland's silver team.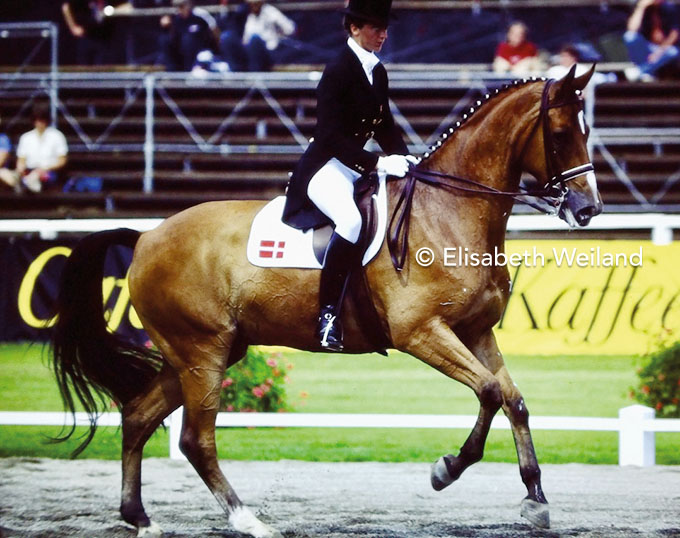 Marzog by the Swedish stallion Herzog (out of a Hanoverian dam by Marcio xx) was the flag bearer of the Danish breeding in Lausanne, whereas the brown gelding Aleks (by Aleksander x Dan Senator) of Swedish Ingamay Bylund only came 30th (he would place 4th two years later at the Olympics!).
Dutch warmblood breeding was on a rise (and continued to do so ever since!) with four horses in the field. The British owned stallion Dutch Courage by Millerole xx was their best with a 6th place individually and was also beginning to make himself a name as dressage and eventing sire in Great Britain. Parsifal (by Kristall x Grandseigneur) and Juroen (by Cobbler's Threat xx out of an Anglo Arab dam) were members of the Dutch team, Juroto (by KWPN foundation sire Doruto, who himself was a Trakehner by Komet x Pindar xx) started as individual with Belgian Anne d'Ieteren.
The Soviet team consisted as usual of four horses all bred in the Soviet Union.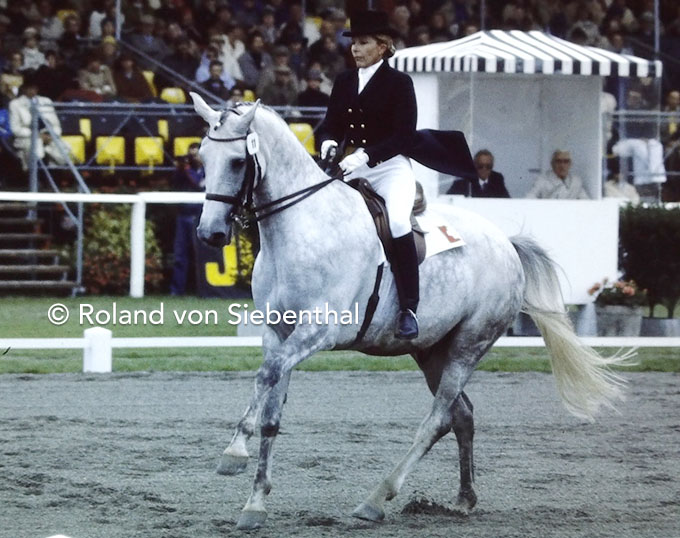 Rather surprisingly two Irish bred horses convinced with good performances: Both geldings were by thoroughbred sire with Irish Draft blood on the dam's side. The dapple grey Beau Geste won silver on the Swiss team, the dark bay Wily Trout by the identically named Wily Trout xx was at the beginning of a remarkable career with British team rider Christopher Bartle, who 15 years later won Badminton as an eventing rider.
Three countries had just one horse of their breeding at Lausanne: The chestnut Caprici was bred in France (Selle Francais) and made it into the Special, the coloured chestnut Pinocchio (by Magneet) was Belgian bred and Claire Koch's former championship's horse Scorpio, in Lausanne ridden by Italian Enzo Truppa, was bred in Hungary by a Lipizzan stallion out of an Arab dam.
Text © by Silke Rottermann for Eurodressage
Photos © Elisabeth Weiland / Roland von Siebenthal (SVPS Archive).- No reproduction without written permission/payment 
Special thanks to Elisabeth Weiland, Thomas Frei and Nadine Niklaus from the Swiss federation who opened their archives for this article.
Scores: 1982 World Championships
Related Links - World Championships Series
1978 World Championships in Goodwood - Dressage in the Park
1978 World Championships Goodwood Through the Eyes of Christine Stuckelberger
1974 World Championships in Copenhagen: The Most Picturesque World Championships
World Championships Copenhagen 1974 Through The Eyes of Ruth Klimke
1970 World Championships in Aachen: Soviet Union Defeats Germany
World Championships Aachen 1970 Through The Eyes Of Ulla Hakanson
Finally Official - The First Dressage World Championships 1966
World Championships Berne 1966 Through The Eyes Of…
References
Reiner Klimke, Ahlerich, Olms, Hildesheim 1995, pages 138-154.
"Festliche Tage in Chalet à Gobet", in: Schweizer Kavallerist, September 1982 issue, pages 17-20.
Interview Ruth Klimke and Claudia Rosner, Münster on 17th June 2022.
Interview Christine Stückelberger on 4th July 2022
Interview Nicky Kelly on 26th June 2022.