Denmark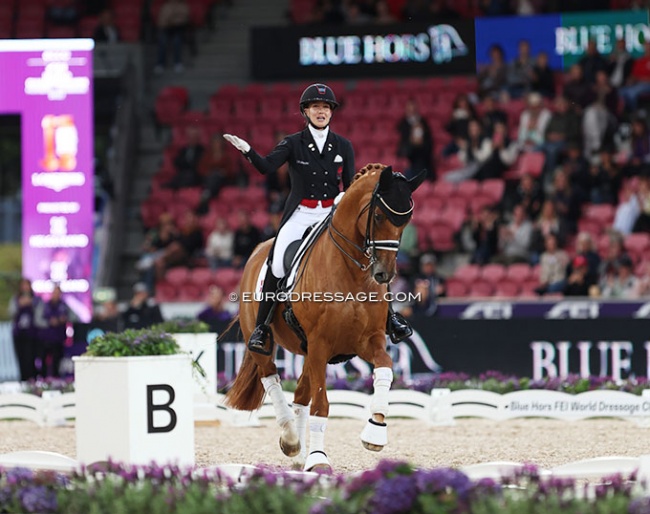 by Stinna Tange for the FEI - Photos © Astrid Appels
Last night 8 August 2022, we witnessed the emotional farewell to the crowd favourite Atterupgaards Cassidy at the 2022 World Championships in Herning.
In front of an enthusiastic home crowd Cathrine Laudrup-Dufour took one last dance under the spotlights with her beloved Cassidy. After 12 years together and countless championships under their belt, the two of them share an extraordinary partnership. However, time has come for the 19-year-old Cassidy to enjoy his senior life back home at Cathrine and Rasmine Laudrups-Dufour's yard. Though it is important for Cathrine that Cassidy retires while he is fit and happy, it is never easy when a good thing comes to an end as Cathrine explains "it is the end of an era and that's what makes this so emotional" she continues "but in reality nothing changes for me and Cassidy. We'll keep having the same routines and we'll keep training because Cassidy loves to train! But I feel that he deserved one last dance and his fans deserve one last dance."
"So, tonight was for Cassidy. I owe him everything (…) he is my best friend and I do everything with him myself and that is the favourite part of my day. Just to be around him (…) he brings me so much peace and happiness," said Cathrine Laudrup-Dufour (DEN)
He will never do Grand Prix
Cassidy was not necessarily destined or expected to become one of the best dressage horses in the world. Even though he was doing well at the Danish Young Horse Championships and World Young Horse Championships, not many people believed he would progress beyond the small-tour.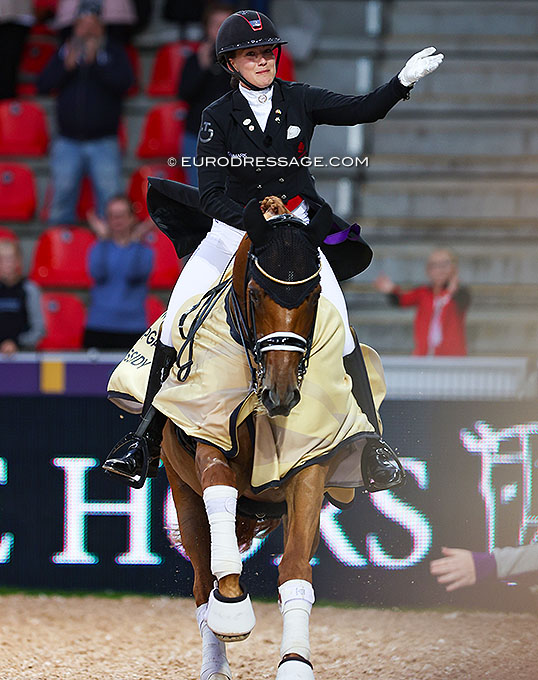 And the same can be said for Cathrine, who initially liked the feeling she got from Cassidy and together with her then-trainer Rune Willum decided that he would be the one even though she wasn't completely blown way when she tried him, but explains "he was just so soft and supple and had so much power! And quickly after I've got him home, I realised that this could be something very special". 
She was proven right when they won their first individual medal at the Dressage European Championships for Juniors 2010 just one month later. Cathrine thought that her first individual European Championship medal would be the highlight of her career, but this was only the beginning of a wonderful partnership. The pair would go on to win a medal at every European Championship for all age groups (Junior, Young Rider and Senior) and become the first partnership ever to have done so. "I also think that is why people love Cassidy so much", Dufour responds when asked what she thinks is the reason for Cassidy's huge popularity. 
"It is the good story. That we have taken that long road together: a young normal girl and her young horse. I never had a Grand Prix horse before Cassidy, so I also had to learn, whilst I was educating him and because of that he made me the rider I am today." 
"I only had this one horse and I loved him so much and even though the transfer from Young Rider to Grand Prix wasn't easy and Cassidy and I struggled with the piaffe, I couldn't just give up on him nor on our partnership. I had to figure out what I was doing wrong since he didn't understand, and therefor the focus was always on how I could help him. You don't just quit on your best friend. That was also a huge lesson for me - keep trying until you succeed! So even if a horse has difficulties with one or two things it does not mean you should quit on them". 
Step Up to Grand Prix
When living-legend Kyra Kyrklund joined their trainer team together with Nathalie Zu Sayn-Wittgenstein everything clicked, and Cathrine and Cassidy started to master that special art of making Grand Prix look effortless.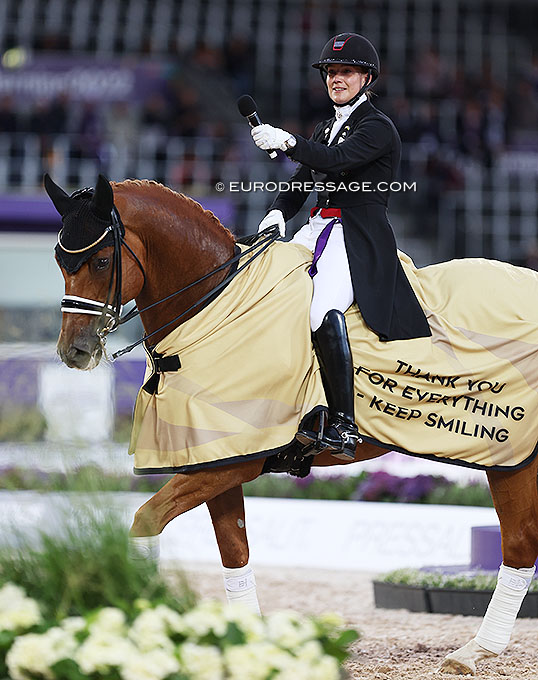 To have developed together with your horse like Cathrine has with Cassidy over many years gives a very special confidence in the partnership Cathrine explains "when I saw Cassidy for the first time, he was a six-year-old and afraid of the big screen. Fast forward to our international Grand Prix debut in 2015 it was the exact same situation! But at the time we had been through so much together already, so I never doubted we would also be able to solve that problem. And that is the beauty of having taken that long road together and developed the special bond that we have, it gives you a certain confidence - no matter the situation". 
Cathrine highlights the Olympic Games in Rio de Janeiro as one of her biggest moments with Cassidy "having my father walk me and Cassidy into the big arena at the Olympics was something I'll never forget. When he let go of Cassidy, he said 'Have a good ride and enjoy it'", Cathrine recalls.
And so, they did. Finishing 13th in the Freestyle at their very first Olympic Games was a huge accomplishment which led to many offers to buy Cassidy, but for Cathrine, their partnership had grown so strong, and she says it was unfathomable to think of selling Cassidy and she's grateful to her parents for letting her make that decision to keep him. 
So, Cassidy stayed with Cathrine and they went on to win an individual bronze at the FEI Dressage European Championship in Gothenburg in 2017. The pair were naturally contenders leading into the FEI World Equestrian Games™ 2018 in Tryon, but unfortunately Cassidy suffered a minor injury in the field so they were unable to go. Fortunately, they bounced back for the European Championships 2019 in Rotterdam (NED) and took home yet another individual bronze medal. That would also be Cassidy's last Championship, followed by a few more successful World Cups, before it was time to call it a day. 
Lessons Learnt
So, what is the most important lesson Cathrine takes away from her more than decade long partnership with Cassidy? 
"I think what Cassidy has really taught me is how important good horsemanship is. You know, just how much of a difference it makes to really get to know you horse and spend time with them on the ground as well. It is really necessary to build that special bond if you expect them to give you everything in the arena."
Related Links
Cathrine Dufour's Atterupgaards Cassidy Officially Retired from Sport in Herning
Eurodressage Photo Report: Atterupgaards Cassidy
Dufour and Good Old Cassidy Steal the Show at 2021 CDI-W Herning
Dufour and Cassidy Return to Winner's Circle at 2019 CDI Herning
Dufour and Cassidy Withdraw from 2018 World Equestrian Games
Cathrine and Cassidy, Journeying to Grand Prix Together, Reaping the Fruits at 2015 CDI Odense
Atterupgaards Cassidy Sold to Danish Junior Cathrine Dufour
Atterupgårds Cassidy, Polka Hit Nexen and Horsebo Smarties Win 2007 Danish Young Horse Championships