Poland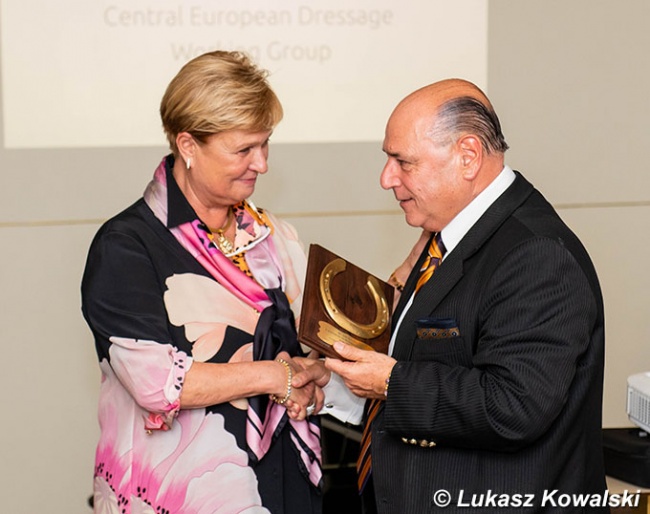 -- Text by Agata Grosicka, edited by Eurodressage - Photos © Lukasz Kowalski
The Central European Dressage Group (CED), an association of CDI organizers from Austria, Czech Republic, Hungary, Slovakia and Poland, celebrated its fifth anniversary with a special gala evening at the 2022 CDI-W Zakrzow in Poland on 27 October 2022.
Central European Dressage Working Group
The Central European Dressage Working Group tries to support show organizers in their international and national dressage projects by assisting in the development of dressage sport in those five countries, as well as by taking a unified position in matters relating to governance and rule changes for dressage. 
CED also cooperates with and stays in good relationship with European Equestrian Federation (EEF). The members of the Group coordinate the dates of CDI competitions in their region and make sure that judges and other officials from these countries are part of the events.
The members of CED Working Group include
Elisabeth Max-Theurer (AUT), who is the chair of CED, as well as an Olympic dressage gold medalist, 5* dressage judge, organizer of CDI Achleiten and President of the Austrian Equestrian Federation (OEPS).
Andrzej Sałacki (POL), vice chairman of CED, Polish national dressage team trainer, member of the board of the International Dressage Trainers Club, multi-medalist of Polish dressage championships, and organizer of CDI Zakrzów
Thomas Baur (GER), ambassador of CED, CDI event director of shows in Europe and North America, incl. the World Cup Final Dressage in Omaha 2017. Discipline manager dressage and para dressage at the World Equestrian Games Tryon 2018
Simona Fialova (CZE), 4* dressage judge
Orsolya Hillier (HUN) 4* dressage judge
Daniel Karpinski (POL), event director of CDI Zakrzów
Aniko Losonczy (HUN), Grand Prix rider, event director of CDI Mariakalnok
Christiane "Jany" Schaurte (BIH), international Grand Prix rider, the president of the board of International Affairs & Cooperations – the Association of Equestrian Organizations of Bosnia and Herzegovina, journalist
Alice Schwab (AUT) 4* dressage judge, working for the international sports department of the Austrian Equestrian Federation
Lenka Sekaninova (CZ), organizer of CDI Brno
Dietrich Sifkovits (AUT), the president of Burgenland Equestrian Association, former vice-president of the Austrian Equestrian Federation (OEPS) and Member of the board of directors. Current secretary general of OEPS
Agnė Uždavinytė (LTU) 2* dressage judge, member of the Lithuanian Equestrian Federation Dressage Committee, the organizer of CDI Vazgaikiemis and numerous national events
Dr. Ilja Vietor (SVK), associate professor at the Medical University Innsbruck, Austria, international 4* dressage judge, former junior champion of Czechoslovakia and senior champion of Slovakia in dressage
5 Arenas Cup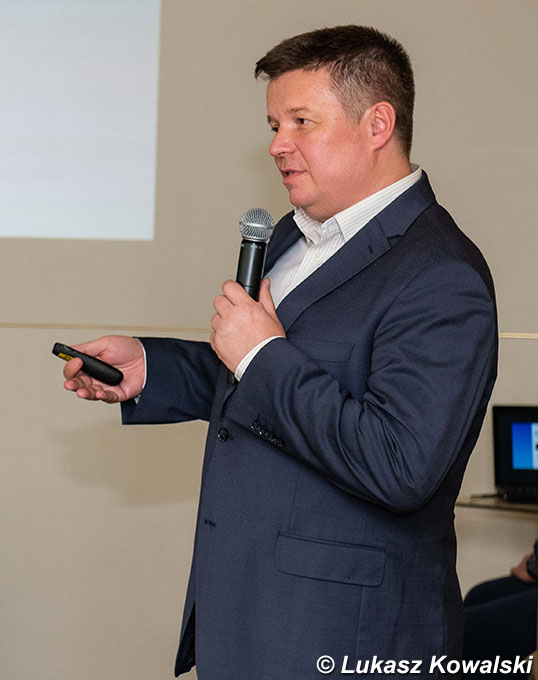 One of the initiatives created by CEDWG is the "5 Arenas Cup" and the winners of the second edition were announced at the CDI Zakrzów.
The 5 Arenas Cup is show circuit of five international competitions hosted by the five CED member countries. The Cup is open to competitors of any nationality competing in small and big tour. This year the tests counting for the Cup were held at the CDI's in Mariakalnok (HUN), Achleiten (AUT), Brno (CZE), Šamorín (SVK), and finally in Zakrzów (POL).
The victory was determined by the sum of the two best results from the Grand Prix / Short Grand Prix (big tour) and Intermediate I (small tour) competitions. The prizes for the winners were funded by Albert Riele, a sponsor of the Polish Equestrian Federation.
The big tour 5 Arenas Cup for 2022 went to: 
Justina Vanagaitė (Lithuania) - 141,198%
Żaneta Skowronska – Kozubik (Poland) - 133,685%
Diana Porsche (Austria) - 130,787%
The small tour 5 Arenas Cup for 2022 went to: 
1. Margot Arkema on Gavaristo (NED)
2. Natalia Badura on Marco (POL)
3. Jessica Leijser on Kashmir (NED)
Donau Bohemia Trophy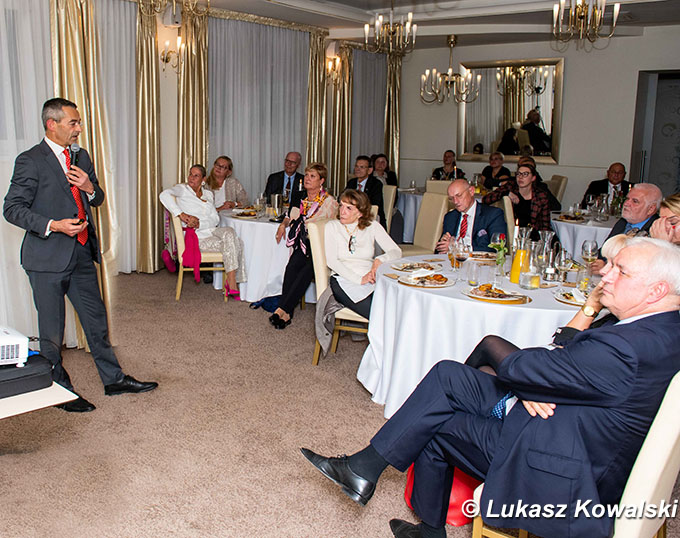 Another interesting initiative the Central European Dressage Working Group brought to life in 2022 is the Donau Bohemia Trophy - a series of competitions for national dressage riders with ambitions to compete on an international level in the central European region.
In 2022 the Donau Bohemia Trophy consisted of qualification rounds in the five organizing countries: Weikersdorf (AUT), Mariakalnok (HUN), Ochaby (POL), Brno (CZE), Dunajky Klatov (SVK), and Budapest (HUN). The circuit was open to riders from all CED countries.
Dr. Ilja Vietor from CEDWG commented on Donau Bohemian Trophy series and also summarized 5 years of the CED involvement:
"With the Donau Bohemian Trophy we want to support the riders who do not ride CDI but want to do something more than to compete at local shows," said Vietor. "We decided that it had to be something extra which would be attractive for the riders so we started the cooperation with Thun 1794, the largest Czech porcelain manufacturer. Now the major challenge is to spread the information. Each organizer has a website and the schedule is already available in February. For the next edition we want to change the information and put it on national federation websites."
Looking Back on Five Years of CED
The CED's biggest achievement in 5 years is the firm contact and communication line that is now being kept by the participating countries.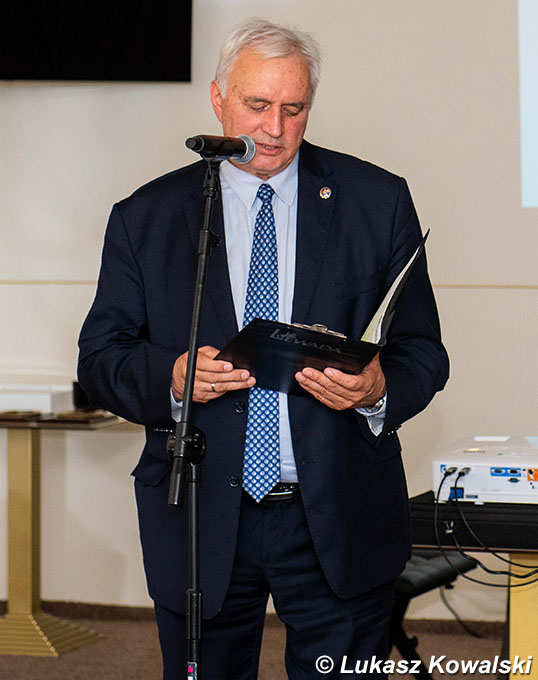 "We have meetings in person, on digital platforms which are very efficient because if there was a problem, we discussed it. And there was always somebody to help us push it to the next level, including FEI or EEF which is very important because we are not all as well connected," Vietor explained. "We have a huge support from Thomas Baur who knows the rules and knows who is responsible for what. Elisabeth Max-Theurer knows how to push things forward. We have also noticed that communication between smaller countries within the region such as Slovakia, Czech Republic, Hungary and so on got better because we realized that we had common goals which we wouldn't be able to achieve alone."
Arie Yom-Tov, Hungarian entrepreneur, show organizer and owner of Unikornis equestrian center in Pilisjaszfalu (HUN) was open to new initiatives and when Andrzej Salacki suggested organizing the "Central European Championships for Young Horses," he agreed do it. The event was held as  pilot project at the 2022 CDI 4* Pilisjaszfalu in Hungary on 12 - 15 May 2022 and was a motivating success. 
"The first response from FEI to this Championship was negative. but when they realized that this was not one country but a group of countries that made a difference," Vietor explained. "In the FEI we all have the same vote. Originally, we had five member countries, now we also have Baltic and Balkan countries joining us. For them it's an advantage because they can have a look at what we're doing and try that for themselves. For us it's good since we're growing stronger."
Growing Stronger with the Balkan on Their Side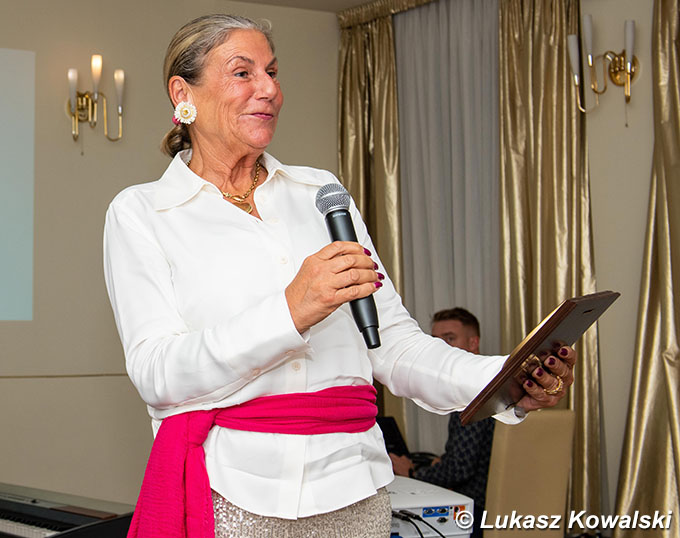 The Central European Dressage Working Group has become a growing force in Central Europe as it has struck alliances with Balkan countries and are helping them to grow the sport. 
"We'll go to Romania and Greece to help organize dressage competitions – they have great venues," said Vietor. "Greece, for example, has the venue where the 2004 Olympics were hosted, but they still do not have any experience. For this purpose, it's good to have such organization as ours. It's improving the situation in the region in small steps, in several countries people don't need only local good riders, but they need foreign riders who know how to raise the level. We can learn from each other, which without exchange of information would not be possible."
Getting the Support and Interest of the FEI
Arie Yom-Tov travelled to Zakrzów to celebrate the fifth anniversary of the CED.
"The most important thing for our region is to become one of the leading ones in dressage," said the ambitious Yom Tov. "It will take some years of course. For many years traditional dressage countries didn't really pay attention to our region and neither did the FEI. We are talking almost about 18 countries who felt they did not get enough support or respect. The main goal now is to continue."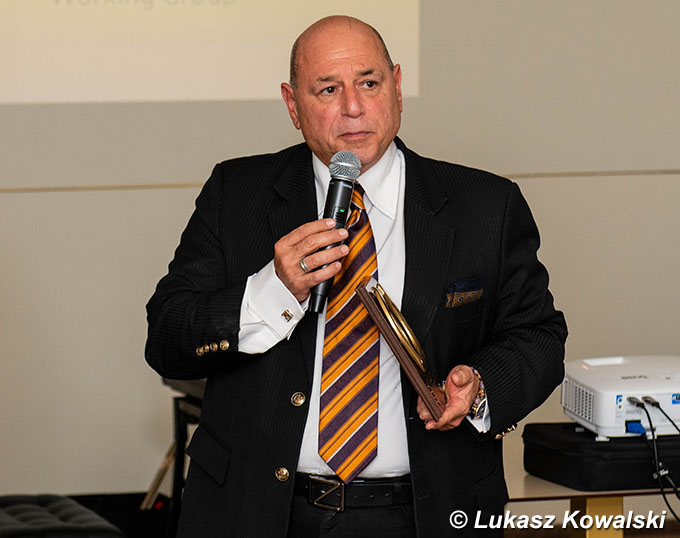 A clear example of the massive growth and involvement of Central Europe in international dressage sport is Poland and Hungary having hosted no less than nine (!!) European Youth Riders Championships over the past four years! Strzegom (POL) staged three European Pony Championships (2019, 2021, 2022), and Pilisjaszfalu (HUN) was home to all five youth categories from ponies to Under 25 at the 2020 European Youth Championships. This year, Pilisjaszfalu welcomed the Children and Under 25 Championships to Hungary.
With Stable Unikornis in Pilisjaszfalu, Yom Tov has taken a leading role in boosting dressage in Central Europe under the banner of the CEDWG.
"For next year we are bidding for an additional two European Championships, for Juniors and U25," said Arie. "This shows to other countries in Europe that this part can do things in a professional and respectable way. The ultimate aim is to grow the interest in dressage in these countries. By stepping in and organizing European Championships in corona times we have proved that we can do it. We can manage and have qualities which are sometimes even better than other facilities in Western Europe. We got and still are getting a lot of compliments from all participants who were really satisfied and would like to come back."
Building from the Ground Up
The pilot project of the Central European Championships for Young Horses is part of CEDWG's grander picture of building the sport from the ground up.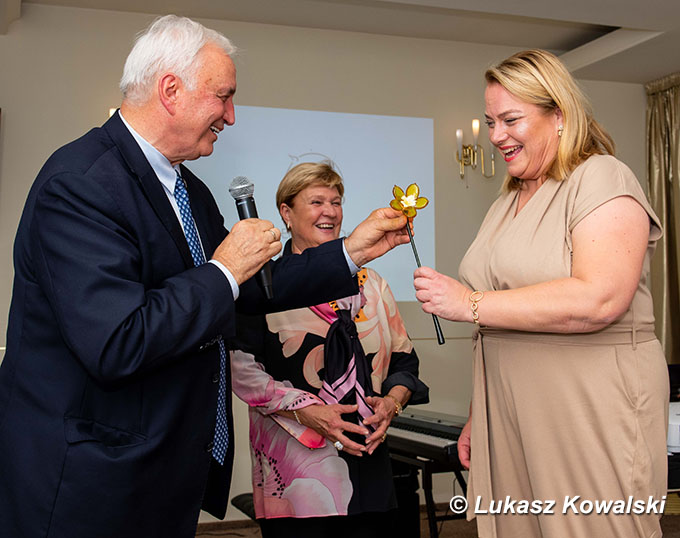 "This year we started with Young Horses in the region because in order to improve we have to start from the basics," said Arie. "I have 10 young horses which are mostly trained in Netherlands. That's the weak point and I think it's time for FEI to put more attention and to find the right way to support the smaller countries in this Central European region to have a better quality of trainers. The FEI needs to invest in making top class, world trainers come here more often than once every six months. They need to train local trainers who in a couple of years will gain the capability to train and improve both horses and riders."
By educating trainers and riders more in the area, the level will be raised. Central Europe has massive potential for growth, according to Yom Tov.
"The success of the region will be the success of dressage globally because we are talking about countries with 100 million inhabitants which have become well-developed in the last couple of decades," he said "We're not behind anymore. By improving this region trainers will get more jobs, the riders will buy more horses from breeders which will create much more interest for everybody. The future is young horses and education. Everybody will win."
For more information on Central European Dressage Working Group visit www.cedwg.eu
Text by Agata Grosicka, edited by Eurodressage - Photos © Lukasz Kowalski
Related Links
Photo Report: Klimke Wins World Cup Qualifier at 2022 CDI-W Zakrzow, Severo Jurado Hot on Her Heels
Romeo von Furstenball, Lord Leicester, Konfucius Win Inaugural 2022 Central European Young Horse Championship
Central European Young Horse Championship to Boost Young Horse Sport at 2022 CDI 4* Pilisjaszfalu
Strzegom Allocated European Pony Championships for 2020-2022
Stable Unikornis, Summer Hub for International Dressage Sport, Post Covid-19
Inaugural World Cup Qualifier in Budapest Hailed as Great Success
Photo Report: Katarzyna Milczarek Wins World Cup Qualifier at 2021 CDI-W Samorin