Great Britain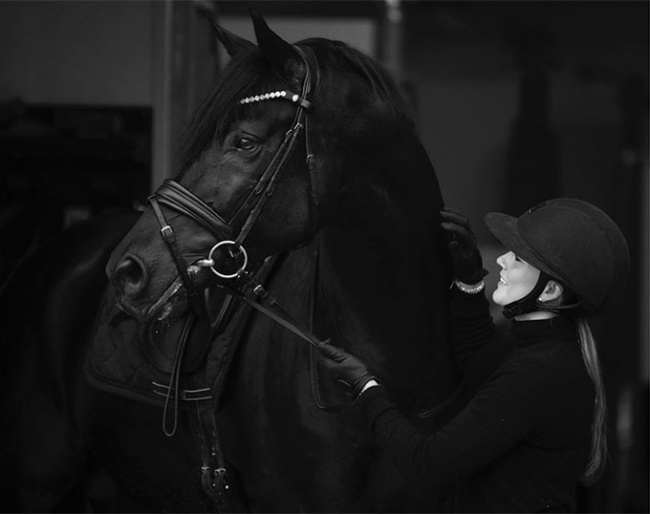 Annabella Pidgley's recently acquired Danish warmblood stallion Iron has sadly died unexpectedly from complications due to twisted testicles. Iron was 5 years old.
Popular Breeding Stallion in Denmark 
Iron was by Ibiza out of Havanna (by Hohenstein x Walt Disney). He was bred by Michelle Vicki Nedergaard.
Nedergaard sold a half share to Andreas Helgstrand when the stallion was two years old and the day before the 2020 Danish warmblood licensing in Herning she sold her other half to Helgstrand who found a co-investor in Stutteri EVO.
The black stallion was licensed and named premium. In the autumn he achieved the second highest score in the Danish autumn stallion performance test. He scored 894.5 points.  In 2021 the Danish warmblood licensing committee reconfirmed his licensing and named him champion of the 4-year old lot.  Danish warmblood revealed the breeding statistics and Iron was Denmark's second most used dressage stallion in 2020 after Blue Hors Monte Carlo. 
Three Competitions
The black was trained and lightly competed by Mette Sejbjerg Jensen in three shows.
At the 2021 Danish Young Horse Championships they finished 9th.  In 2022 he competed in one more national show in Ringsted, winning the qualifier for the 2022 Danish Young Horse Nationals with 94.6 %.
They travelled to Warendorf in July to obtain a ticket for Germany for the 2022 World Young Horse Championships, but did not get selected for Ermelo.
Sold to Great Britain
The Pidgley family bought Iron less than two months ago at Helgstrand Dressage in Denmark. 
The stallion moved to Cathrine Dufour's yard near Copenhagen, where he continued his training for sport. 
Twisted Testicles
On 3 December 2022 the stallion unfortunately passed away. 
"Yesterday, our special horse Iron passed away due to him having twisted testicles and then many complications following this," Pidgley took to Instagram. "There was nothing they could have done to save him and I'm so thankful to the team who took care of him to the very end."
Related Links
Iron Sold to the Pidgley Family
Long-Listed Horses after First German WCYH Selection Trial 2022
First German Selection Trial for 2022 World Young Horse Championships Begins, 5-YO Long List Chosen
My Vitality, Hesselhoj Down Town, Sweetnes, Elverhojs Raccolto Win 2021 Danish Young Horse Championships
Blue Hors Monte Carlo, Most Popular Breeding Stallion of 2021 in Denmark
Six Stallions Named Premium on Home Tour for 2021 Danish Warmblood Stallion Licensing
My Vitality, High Scorer of the 2020 Danish Warmblood Autumn Performance Testing
Seven Premium Colts Named at 2020 Danish Warmblood Stallion Licensing