2022 CDI Frankfurt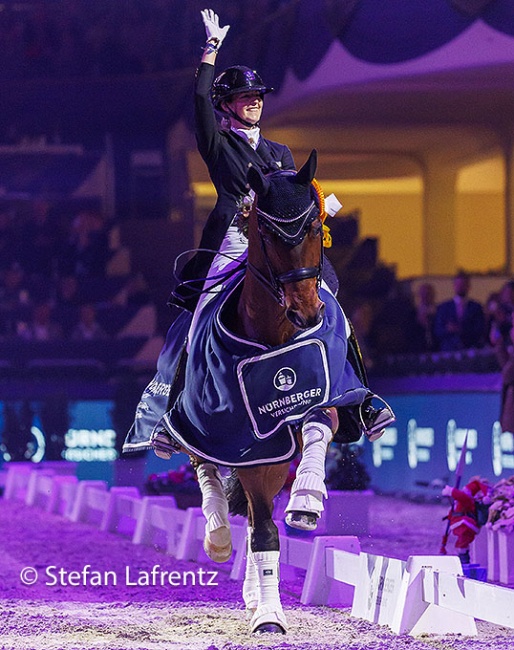 The German Developing Prix St Georges Horse Championships - better known as the Nurnberger Burgpokal Finals - became a Swiss conquest this year with Andrine Suter punching in a one-two aboard her rising stars Briatore and Del Curto. 
After a two-year break due to the Covid pandemic the Nurnberger Burgpokal Finals returned to its familiar ground in the Festhalle in Frankfurt, instead of the closed-door sessions at Gestüt Schafhof in Kronberg, on the outskirts of the German financial capital. The atmosphere was festive in the beautifully purple decorated Christmas arena and the quality of horses was high. 
Swiss Conquest
Swiss Andrina Suter made an impressive claim of power as she not only won the finals with Briatore NRW (by Belissimo M x Dresemann), but also became reserve champion aboard Del Curto (by Dimaggio x Wolkentanz II). 
Suter and her 7-year old Westfalian Briatore already proved they were on top form in the warm-up round, scoring 75.146% which made them tie in first place with Dorothee Schneider on Dante's Hit. In the Finals they upped the ante and posted a winning 77.146% to claim the prestigious title. Briatore is bred by Adolf Theo Schurf in Germany and is owned by Swiss Robert Lualdi. The pair stood out with their lovely, harmonious presentation, elastic trot and well ridden pirouettes.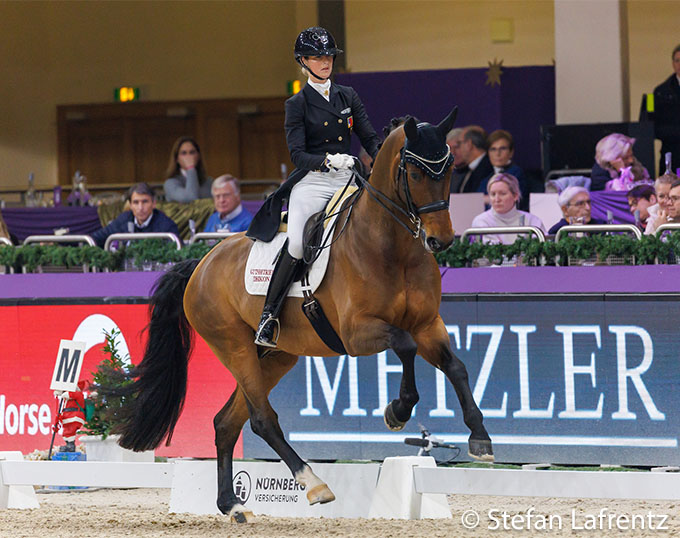 "I only took Briatore to (the Nurnberger Burgpokal qualifier in) Mannheim to give him some show experience, but today (in the Finals) he really stepped it up and was super sovereign. When the spectators started clapping, my heart sunk in my boots and I just took, "quickly halt and salute no matter what happens," said Suter. 
Aboard Robert Schmid's 9-year old Hanoverian Del Curto (by Dimaggio x Wolkentanz II) she placed fourth in the warm-up round with 73.682% and improved that score in the finals to a 76.097% for the reserve champion's title. Del Curto showed off his three high quality basic gaits, great elasticity and top flying changes. He could easily have been the winner too.
Who is Andrina Suter?
The 30-year old Suter is from Dörflingen, Switzerland, and grew up on her parents' farm. She has been riding since childhood and competed at the 2009 and 2010 European Junior Riders Championships and 2012 European Young Riders Championships on Trakehner Popcorn II (by Anduc x Flaneur) and at the 2013 European Young Riders Championships on the Holsteiner Calisto III (by Calimero x Silbersee). In 2014 she made the transition to Under 25 Grand Prix level on the Swedish warmblood Axiom (by D-Day x Krevad).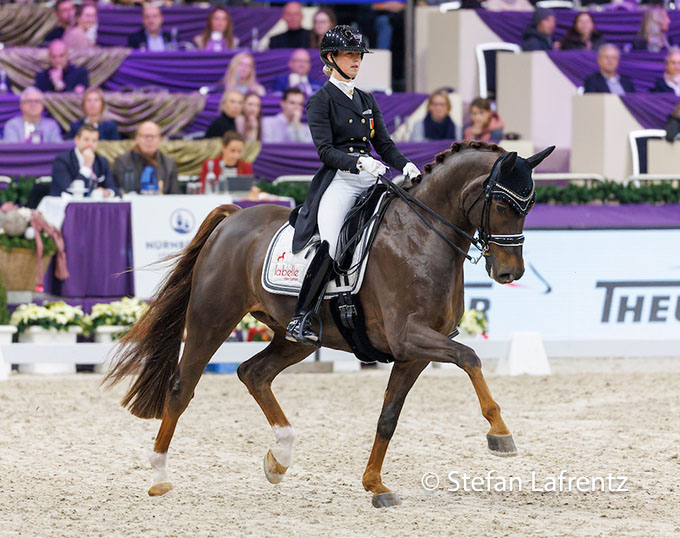 After finishing high school worked as a sales agent for Colada before deciding on a career with horses. She worked as an assistant rider at Stable Lenherr for one year before returning to her own farm. In the summer of 2017 she represented Switzerland at the European Under 25 Championships, before setting up her independent business in October 2017. 
For four years Andrina disappeared from the international show scene to return in 2021 at the World Young Horse Championships in Verden with Briatore, who finished fourth in the 6-year old finals. In 2022 she showed Del Curto and Unikat (by ) at international small and medium tour level. Last September Briatore finished sixth in the 7-year old finals of the World Young Horse Championships in Ermelo. 
In Her Wake, Wynton's Son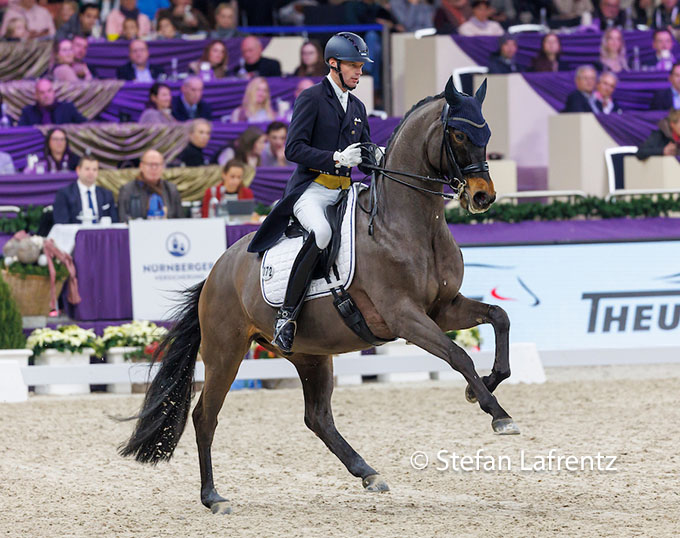 Following in Suter's wake in third place was Thomas Wagner aboard the 9-year old stallion Wynton's Son (by Wynton x Latimer). They were sixth in the warm-up round with  72.780%, but surged to third place in the Finals with  73.268%. Wynton's Son is bred by Thorsten Hogrefe and owned by Sabine Baron-Mannsbarth. The horse stood out with his self carriage and test without major mistakes.
Dorothee Schneider and Dante's Hit (by Dante Weltino x Sandro Hit), who tied in first place with Suter in the warm-up round, had to settle for fifth place in the final round with a 72.682%. The right half pirouette became the stumbling block in the test. Dante's Hit is a former World Young Horse Championship finalist and is bred by Sam Duckworth. With the FEI and on eDressage he is listed as owned by Hofgut Rosenaur and Pferdesport Wintermühle, but in 2020 it was announced that Austrian Evelyn Haim-Swarovski had bought this horse for Dorothee to produce. 
The Rein Back Prize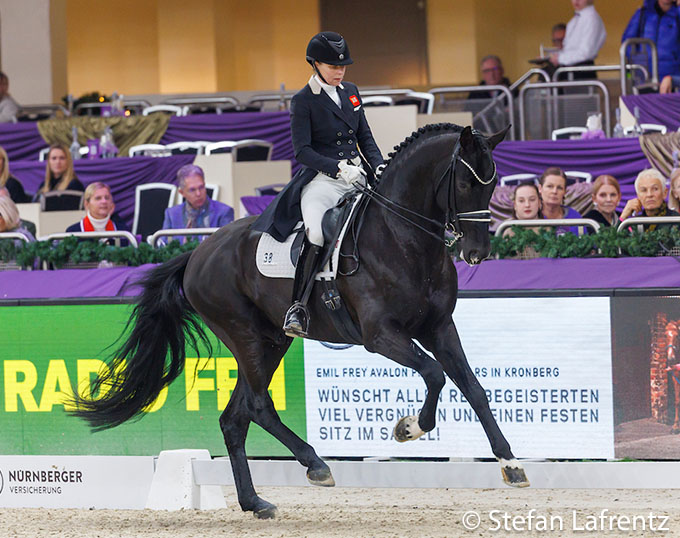 Fourth place went to British born and German based Susan Pape (née Draper) on the American owned, PSI auction price highlight (1.2 million euro) horse V-Plus (by Vivaldi x Furst Romancier). She and the 8-year old Oldenburg stallion scored 73.268 and later on also received the prize for the best rein back. 
"The rein back is always a touchstone in the training and in this test it goes from an extended canter to a halt and then the rein back, and forwards again. These are incredibly short movements right after each other and a real difficulty," said Pape. "That's why I'm very proud to have received this prize for the second time."
31st Burgpokal Finals
The Nurnberger Burgpokal Finals are a bastion on the German dressage scene. Established with the help of Dr. Reiner Klimke, the show circuit and finals are a clear pathway for talented FEI level horses towards the top. Numerous future champions and Grand Prix team horses came through the Burgpokal system.
Judge Henning Lehrmann was president of the ground jury for the 31st edition of the finals. 
"Today this was true marketing for our sport: fine and harmonious riding. Foreigners envy our Burgpokal series, which could not take place without its fantastic sponsor. This was a great show."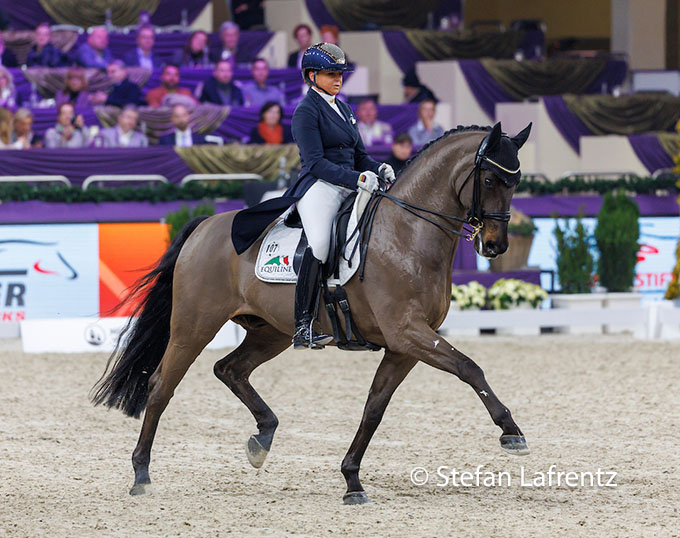 For the 2023 show circuit, several changes have been made: their will only be 8 qualifiers instead of 12. For the finals 12 horses will qualify: the 8 winners of each qualifier and the four highest scoring horses that placed second.  The finals will return to Frankfurt in December 2023 as usual.
Photos © Stefan Lafrentz - Petra Kerschbaum - Sina Kuiper
Related Links
Scores: 2022 CDI Frankfurt
Finalists Known for 2022 Nurnberger Burgpokal Finals
Previous Winners
Straight Horse Ascenzione Wins 2021 Nurnberger Burgpokal Finals
Matthias Rath and Destacado FRH Win 2020 Nurnberger Burgpokal Finals on Home Turf
Total Hope Wins the 2019 Nurnberger Burgpokal Final for Developing PSG Horses
First Romance Wins the 2018 Nurnberger Burgpokal Final for Developing PSG Horses
QC Flamboyant Wins the 2017 Nurnberger Burgpokal Final for Developing PSG Horses
Vitalis Wins the 2016 Nurnberger Burgpokal Finals for Developing Prix St Georges Horses 
Dorothee Schneider and Santiago Win 2015 Nurnberger Burgpokal Finals
Rath and Samba King Win 2014 Nurnberger Burgpokal Finals
Beatrice Buchwald and Weihegold OLD Win 2013 Nurnberger Burgpokal Final
Schurmann and Burlington Secure Victory in 2012 Nurnberger Burgpokal Finals
Desperado OLD Wins 2011 Nurnberger Burgpokal Finals
Meyer zu Strohen and Rassolini Win 2010 Nurnberger Burgpokal Finals in Frankfurt
Blind Date, 2009 Nurnberger Burgpokal Winner
Victoria Max-Theurer and Augustin Win the 2007 Nurnberg Burgpokal Finals
Comic Hilltop FRH Wins 2006 Nurnberg Burgpokal Finals
Ann Kathrin Linsenhoff and Wahajama Unicef win 2002 Nurnberger Burgpokal
Cockney, 1999 Nurnberger Burgpokal Winner