2023 German Dressage Championships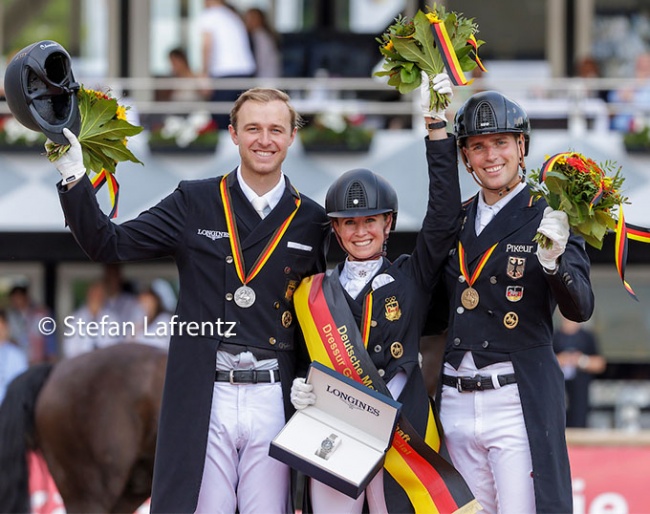 Jessica von Bredow-Werndl claimed her third Grand Prix title in her career in a thriller Grand Prix Special at the 2023 German Dressage Championships in Balve, Germany, on Saturday 10 June 2023. 
After securing the title on Dalera BB in 2020 and 2021, Jessica missed out on Balve in 2022 as she was on a pregnancy break. She returned to competition in the winter of 2022-2023 and won the 2023 World Cup Finals in Omaha. Balve was the horse's first outdoor show since the 2021 European Championships in Hagen. 
Fendi Stakes His Claim in the Grand Prix
The German Championships for senior Grand Prix riders consists of two rounds. The Grand Prix test is a warm-up class, the technical Grand Prix Special counts for a set of medals, and the Grand Prix Kur to Music is used to decide the Freestyle medals. 
Hot favourites for the title were World Cup winners Von Bredow-Werndl and Beatrice Burchler-Keller's 16-year old Trakehner mare Dalera BB (by Easy Game x Handryk), but after having mistakes in both tempi change diagonal, the door was wide open for Sönke Rothenberger and the 9-year old Danish warmblood (Kjaerholms) Fendi (by Frankin x Diamond) to stake his claim.
After a stellar rise onto the German team and medal podium with Cosmo between 2016 and 2019, Rothenberger was no longer a front runner in German dressage sport and his KWPN gelding Cosmo vanished from the public eye due to an injury and a lawsuit that revealed much information about the horse's health condition. Sönke kept his cool too, aware he had a barn full of young horses to could follow in Cosmo's footsteps, and the chosen one has been Fendi.  The bay gelding arrived with a bang at the 2022 CDN Hagen, yet more was expected of his first CDI at which he scored 71%. Still, since then their trajectory has only been an uphill one: they won the 2022 Louisdor Cup Finals, dominated the 2023 CDI Hagen and now showed they can take Olympic champions Jessica & Dalera... if they have an off day.
Stumbling Block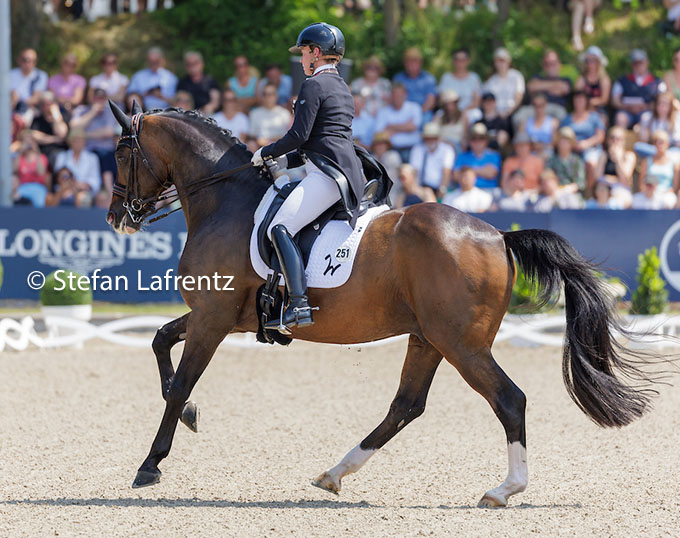 The tempi changes were the stumbling block for several pairs in Balve and it led to an unexpected leaderboard.
In the Grand Prix Dalera scored 79.400% for second place and Fendi won with 79.760%. Frederic Wandres was third, not with his 2022 World Championship team horse Duke of Britain (by Dimaggio x Rubinstein) but with Hof Kasselmann's Bluetooth (by Bordeaux x Riccione) on 77.540%. Isabell Werth and Madeleine Winter-Schulze & Victoria Max-Theurer's Quantaz (by Quaterback x Hohenstein) were fourth on 76.720%. Wandres and Duke of Britain, who without a doubt showed the best rein back and piaffe work of the day, struggled with both tempi lined and placed fifth with 76.380%.
Unbeaten Streak Broken
 It was the first time since winning the 2021 Olympic Games in Tokyo that Von Bredow and Dalera did not place first. They held an unbeaten streak at nine international shows since July 2021.
Jessica took to Instagram after her second place in the Grand Prix and stated, ""You always win…" how much this sentence annoyed me again and again…. No, it's not that simple. It is always work and training to have everything together HERE and NOW! And I didn't have that today. I started the two-time changes far too early and unprepared, and it ended in an absolute salad of changes (grade point average 3.2). Counting mistakes in the ones didn't make it any better."
"Dalera already felt sensationally good while warming up and then also in the test. So fresh, so athletic, so motivated and light-footed. And that is the most important," she continued. "There's nothing to correct - I just should concentrate better."
Von Bredow-Werndl Sets the Record Straight for Third Title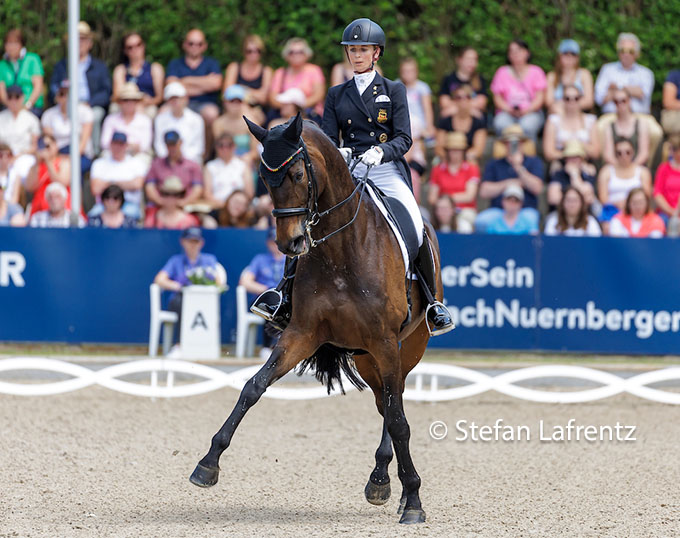 And that is what she did in the Grand Prix Special. With full focus on, horse and rider were back in tune and produced another stellar ride which visualised why they are the reigning Olympic and European champion pair: beauty, grace, lightness, effortlessness and harmony. 
Perfection is not possible and Dalera's walk is not that world class, but all the rest is so fabulous. Their halt at entry was not immobile with Dalera scraping the front leg, but then a sublime trot - passage part followed in which her naturally trot work stood out. This is not a horse that has this produced, mechanical, passagey trot, but one that flowers through the body. The passage was so regular and light footed, the extensions ground covering. The bridle contact always soft and light, the aids invisible. The extended walk had plenty of overtrack and relaxation and even the collected was better as Jessica cleverly kept the rhythm more clear by flexing her a little bit to the side. The first piaffe was not so balanced and leaning on the forehand (with the frontleg not straight under the shoulder but more under the belly). however, the second one was so much better and the transitions effortless. The tempi changes all worked, the exit of the pirouette left could have ben tidier and there was a loss in rhythm in the final trot extension but the final centerline was seamless and the end halt good. bravo. 83.254% and the title. 
Silver for Sönke, Bronze for Wandres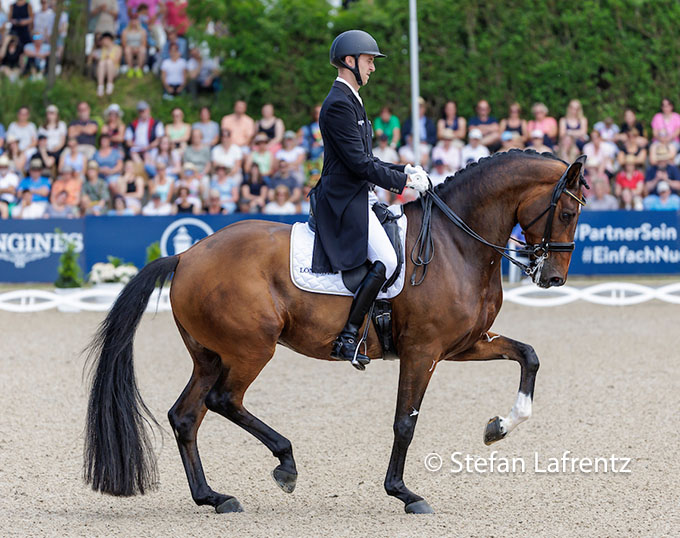 Sönke and his very young Grand Prix horse Fendi produced a wonderful test with so many highlights but it was all very green. The judges were hyper enthusiastic and rewarded the test with a 79.882% for second place and silver. 
There was good crossing in the trot half passes, the passage was very expressive and off the ground but,  in all fairness, not yet fully established, regular, and self carried. In in the trot extensions the horse was kept a bit short in the neck. The extended walk had good overtrack and rhythm, although not the strides were not the longest, but he moved in a correct way. The piaffe in general has plenty of potential but at this point too much on the forehand. The  second piaffe was the better one. The pair struggled a bit with the strike off to canter. Although the tempi changes are ground covering, they are not yet very confirmed with Sönke swinging in the saddle and Fendi swinging the hindquarters, especially to the right. There were several mistakes in the one tempi changes, otherwise the eager judges would certainly have been over 80%. In the pirouettes, Fendi shows tons of ability to collect and sit.  This horse is definitely one to watch for Riesenbeck this summer!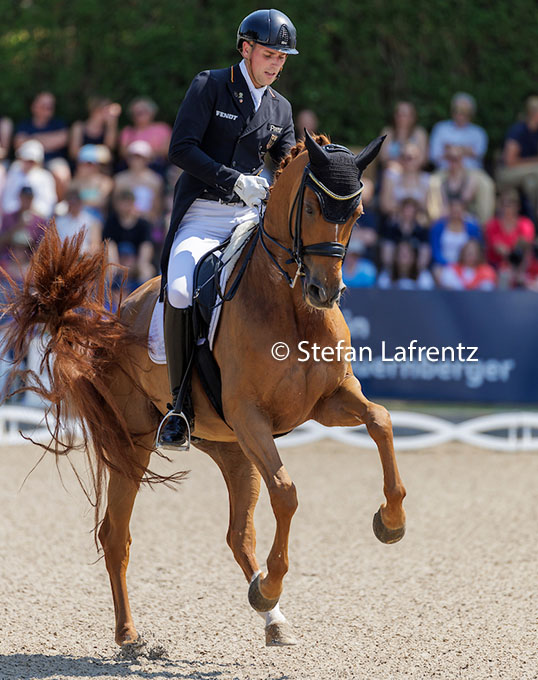 Frederic Wandres was back on best form with Hof Kasselmann's 16-year old Hanoverian gelding Duke of Britain, who stands out by being so classically correct despite not having the most powerful motor behind. Especially in the piaffe the horse can be a metronome. There was still a bobble in the two tempi changes but the pirouettes were well ridden and they finished with a strong final centerline. They got the bronze with 78.627%. Last year they had silver. 
Last year's bronze medal winners, Isabell Werth and Quantaz, now finished off the podium. Werth has already won 17 titles in her career and tomorrow she will certainly try again to get on that podium in the freestyle but it will be a challenge. Biggest absentee at this year's German Championships are the 2022 World Championship fourth placed pair, Benjamin Werndl and Famoso. His horse was not fit to compete. 
Text © Eurodressage (this article expresses Eurodressage's' eye-witness account and opinion about the competition). 
Photos © Stefan Lafrentz
Related Links
Scores: 2023 German Dressage Championships
Dorothee Schneider and Isabell Werth Win the 2022 German Grand Prix Championships
Von Bredow-Werndl Makes it a Double, No Surprises on Kur Podium at 2021 German Dressage Championships
Jessica von Bredow-Werndl and Isabell Werth are the 2020 German Grand Prix Champions
Isabell Werth and Emilio Take Freestyle Gold at 2019 German Championships
Dorothee Schneider Puts on a Show and Wins Gold at 2019 German Championships
Rothenberger Grabs Kur Gold at 2018 German Dressage Championships
Sönke Rothenberger Wins 2018 German Grand Prix Championship
Isabell Werth Wins 2017 German Dressage Championships, 13th Career Title
Isabell Werth and Weihegold Win 2016 German Dressage Championships
Kristina Sprehe Scores Second, Consecutive Title at 2015 German Dressage Championships
Kristina Sprehe Wins 2014 German Dressage Championships
Helen Langehanenberg is First Violin at 2013 German Dressage Championships
Helen Langehanenberg Crowned Queen of Dressage at 2012 German Championships
Rath Secures National Title with Totilas at 2011 German Championships in Balve
Double Gold for Isabell Werth at the 2010 German Dressage Championships
Photo Report 2009 German Dressage Championships
Photo Report - 2008 German Dressage Championships 
Scores: 2007 German Dressage Championships
Schrader and Erbe Win Gold at the 2021 German Under 25 Championships