KWPN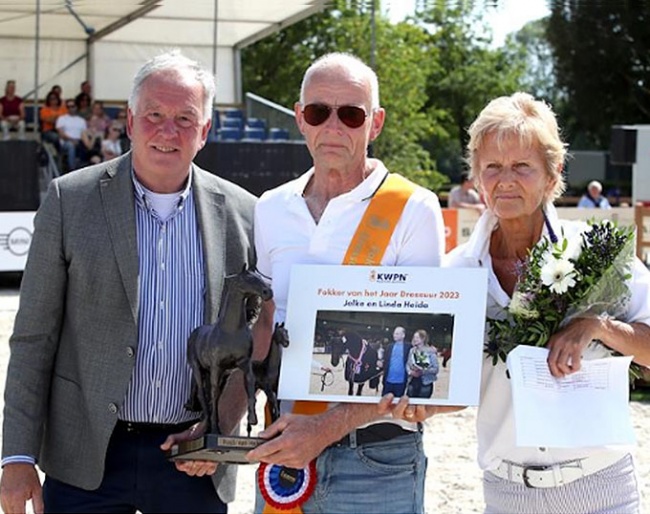 During the KWPN Horse Days on 11 August 2023, Jelke and Linda Heida were proclaimed KWPN Breeders of the Year 2023. 
The Heida couple have been long-time successful KWPN dressage and show jumping horse breeders and this year the Dutch warmblood society decided to name them the Breeders of the Year.
Unfortunately Linda could no longer enjoy this grand moment as she untimely passed away last spring. She still saw two of her breeding products get approved at the 2023 KWPN Stallion Licensing in Februar, including the dressage bred premium colt Perle (by Kjento x Tuschinski).
Dam Line Producing Licensing champions
The couple began breeding in the 1980s and their foundation mare was Twiggy (by Luitenant Generaal x Frappant x Tamboer). From this dam line (Falinda - Jalinda - Olinda) came the 2006 KWPN licensing champion Wamberto, which sold to Harmony Sporthorses in the U.S.A.
Heida's mare dam Veronica (by Wahtamin xx) was the foundation mare for the line Farona - Karona - Orona. The latter mare produced the the 2007 KWPN Licensing Champion Zagreb, who sold at auction for 430,000 euro to Danish Blue Hors stud and then was renamed to Blue Hors Zack. 
Versatile
Twiggy created the "Linda" dam line and this line also produced Grand Prix horses Cupido and Witschge.   
The couple also bred show jumpers, such as Talan and Happy Linda.  Jelke continues breeding horses. 
Jan Greve, KWPN Show Jumping Breeder of the Year 2023
The KWPN society proclaimed the veterinarian Jan Greve of equine clinic De Watermolen the KWPN Show Jumping Breeder of the Year 2023.  
Greve has booked major success in show jumping breeding as in dressage. He began in the 1980s by buying Voltaire together with Henk Nijhof. Greve also imported Thoroughbred stallions Mytens xx, Julio Mariner xx, Colway Bold xx, Painter's Row xx and Albaran xx. He bred jumper stallions Guidam, Carambole and Karandasj.  Dressage horses which Greve bred are for instance Foreign Affair (Elena Starr) and Mauro Turfhorst (Dinja van Liere),  He also owned Scandic (Patrik Kittel).
Related Links
Willeke Bos, KWPN Breeder of the Year 2022
Naber Family, KWPN Breeders of the Year 2021
Jan Streppel, KWPN Breeder of the Year 2020
Willy Wijnen, KWPN Breeder of the Year 2019
Isabel and Wil van Gisbergen Named KWPN Breeder of the Year 2018
Leunus van Lieren, KWPN Breeder of the Year 2017
Marianne Hendriksen Named 2016 KWPN Breeder of the Year
Rene Franssen Named 2015 KWPN Breeder of the Year
Jan Lamers Named 2014 KWPN Breeder of the Year
Emmy de Jeu, KWPN Breeder of the Year 2013
Van Os Family, KWPN Breeders of the Year 2012
Jansen Family, KWPN Breeders of the Year 2011
Van de Valk/Van Anholt Proclaimed KWPN Breeders of the Year 2010