F.O.C.U.S.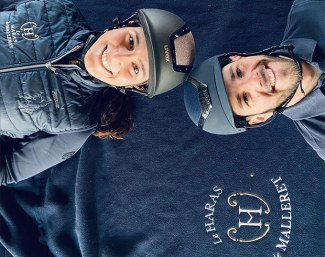 The 27-year old French Grand Prix rider Pauline Guillem has lept into the new year with a big move and career change, accepting a full-time job as resident rider at the dressage brood farm and stallion station Haras de Malleret in Le Pian Medoc, France. 
As of 1 January 2021, Guillem has joined Haras de Malleret, working alongside Alfonso de la Chica Parras.
International Success
Pauline Guillem has walked the ideal path in the dressage education system for a young girl passionate about horses. She has been a successful French youth team rider, beginning on ponies and gradually moving up to Under 25 level.
She represented France at the 2008 European Pony Championships on Ivry de Montoux and at the 2009 European Pony Championships with Marin des As.  In 2011 she made the transition to junior level with Whisper Gold (by Gribaldi x Wanderbusch II), who took her to the 2011 European Junior Riders Championships and then to Young Riders level in 2012-2014. In 2017 she returned to the CDI scene at medium tour level and competed at a few Under 25 shows until July 2019. In 2018 the pair won bronze at the French Under 25 Championships.
Whisper Gold has been retired from competition sport  last summer at age 18 and is now ridden for fun by Pauline's mum.
Professional Rider with a Degree in Law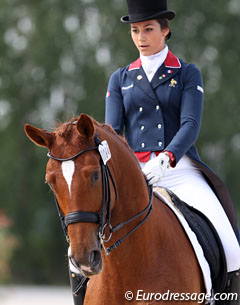 Guillem quickly knew that a life with horses would be her career path. Her parents were skeptical though and insisted on her getting a university degree as a back-up plan. 
"Horse riding is my passion. As a little girl, I aimed at being a professional rider," she told Eurodressage. "My parents are not part of this sector which did not make things easy, so I decided to study International Law to secure a degree. I got my Bachelor's degree in France and I then did a Master's degree in Hanover, Germany. I've always managed both my studies and horses, even though it meant getting up earlier than others or going late to the stable."
After her graduation, Pauline took a gap year to commit to horses and worked for the Hanoverian Breed society. Her time in Germany nurtured her decision to become a professional rider.
"I have been able to become a professional horse rider thanks to the training and help of Ariane Pourtavaf and Hans-Heinrich Meyer zu Strohen," she said. "I owe them a lot. Since then, I quit law. My passion drives me and I'm glad to do what makes me happy every day."
The Malleret Connection
Guillem began riding horses for Malleret in 2020, booking her biggest success on Barcelona de Malleret (OLD, by Bretton Woods x Diamond Hit), with whom she placed fifth at the 2020 French Young Horse Championships. They were also selected to represent France at the 2020 World Young Horse Championships, but this event got cancelled due to corona.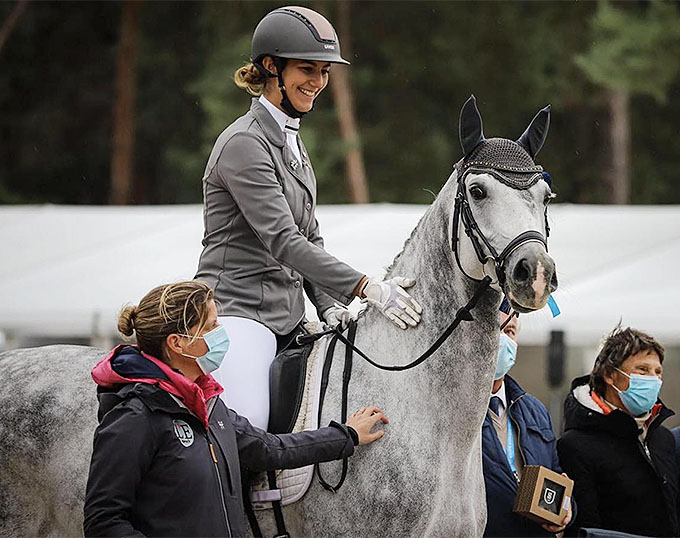 In 2019 and 2020 Gérald Martinez, managing director Haras de Malleret, sent away his best horses to riders across France, Switzerland and Germany, handing over the training of them to Pauline Guillem, Jessica Michel, Alexandre Cheret, Morgan Barbançon, Antonella Joannou, Dorothee Schneider, and Jessica von Bredow-Werndl.
However the corona crisis came and all competition ground to a halt. It made Martinez' realise that centralising the horses back home would be more effective and pleasurable, watching them on a day-to-day basis.  Except for stallion Danciano and top mare Filarmonie de Malleret, who remain with Dorothee Schneider, all horses returned home. He convinced Guillem to move from Normandy to Bordeaux as a resident rider and relocated the majority of his horses back home. 
"We share the same values, including the importance of having heathy horses. We wanted to deepen our collaboration for a long time but as I lived in Normandy, I first wanted to honour my responsibilities at home training horses. The turning point came when Mr Martinez offered me a full-time position at the Haras," Pauline explained.
She continued: "I am in love with this amazing place and I am in total harmony with the way they train horses here. The training conditions are excellent so that one is able to perform at one's best in competitions. Mr Martinez and I have a very good relationship based on smooth communication and the love for horse riding. He gives me the opportunity to ride high-standard horses and I am happy to be able to help his young yard to develop and become a reference in dressage breeding."
Fresh Start in 2021
Alongside Barcelona de Malleret, Guillem has been riding Malleret's Floyd Pepper (by Fürst Romancier x Sir Donnerhall) and Romulus (by Rock for Me x Lauries Crusador xx). She will get a full book of horses allocated this month.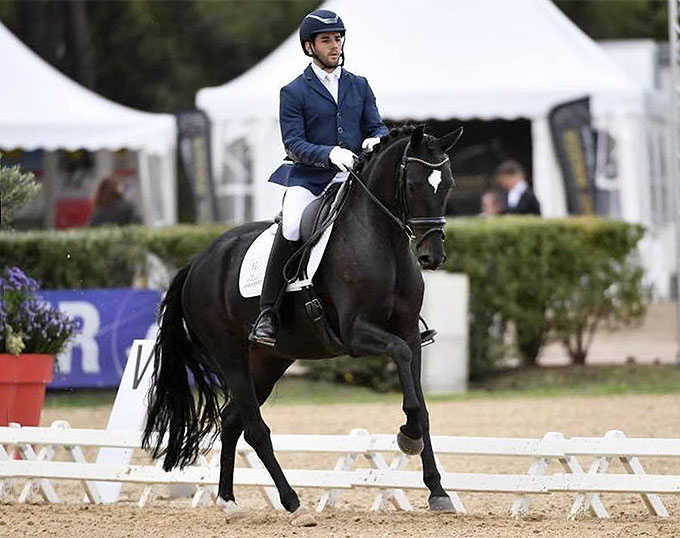 Guillem will work with Alfonso de la Chica Parras, whom she calls a "very kind and caring person. We will watch each other training the horses and help each other. It is in mutual respect."  The duo will be coached by FEI 4* dressage judge Annick Dauban as well as Hans Heinrich Meyer Zu Strohen and Ariane Pourtavaf.
For 2021 Pauline aims to have a good competition season and ultimately re-qualify Barcelona de Malleret for the 2021 World Young Horse Championships in Verden for the 7-year old division.
"I want to keep my horses in good physical and mental condition," Pauline said as a her goal in riding. "I want to show that in France we also have good dressage horse breeding. On the long term I would like to ride horses at the highest level. The Olympic Games are a dream, but we go step by step and let's see. I m really happy to do this job every day and to have this opportunity, and to thrive."
Photos © Les Garennes - private - Astrid Appels
Related Links
Pauline Guillem Moves to Haras de Malleret
Maximus Jung HP du Wincke, Djembe de Hus, James Bond de Massa Win 2020 French Young Horse Championships
Haras De Hus' Horses Djembe, Don Vito and Dorian Grey Sweep 2019 French Young Horse Championships
Jawurek, Bonifay, Noel, Gallinard Win 2018 French Youth Riders Championships
Dorothee Schneider to Develop Filarmonie and Dancielle de Malleret
Jessica von Bredow-Werndl to Develop Forsazza de Malleret
Haras de Malleret to Collaborate with Jessica Michel and Antonella Joannou
Danciano de Malleret Strikes Twice at 2020 French Breeding Championship