The Netherlands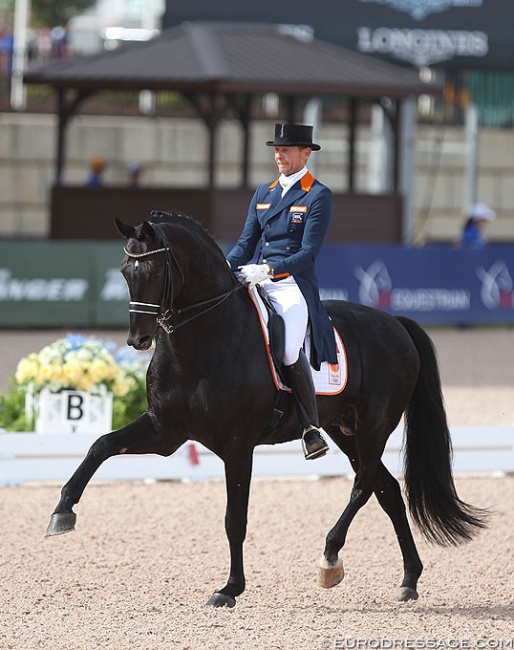 Edward Gal's former Dutch team horse and licensed breeding stallion Zonik died unexpectedly. He had to be euthanized following an injury in the recovery box after an operation. 
Zonik was a 13-year old Danish warmblood stallion by Zack out of Romanik (by Romanov). He was bred by Linette Jaeger in Denmark. 
Danish Start
As a 3-year old Zonik became a premium stallion at the 2011 Danish warmblood licensing and finished third at the 35-day stallion performance test in Vilhelmsborg with a score of 8.35 points that same year.
Under Andreas Helgstrand he became the 2012 Danish Young Horse Champion at the Young Horse Nationals in Odense, Denmark, mid October 2012.
Sold to Glock
In December 2012 Zonik sold to Austrian Gaston Glock and the horse moved to the Netherlands to Edward Gal and Hans Peter Minderhoud.
The stallion was first competed by Hans Peter, who rode him to an 8th place in the consolation finals at the 2013 World Young Horse Championships in Verden. 
Gal's Grand Prix Horse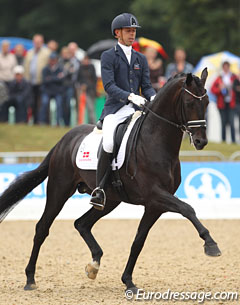 In 2015 Edward made his first international appearance on a 7-year old Zonik at the 2015 CDI-W 's Hertogenbosch. Gal had ridden Zonik only at one small local warm up show in Uden before his appearance in De Bosch. The duo won the PSG exhibition class with 78.289%.
In April 2017 they made their national Grand Prix debut in Kootwijk as a late entry, scoring 76.05%. Their international GP debut was two months later in Roosendaal, where they won the Grand Prix with 75.780% and the Special with 76.333%. 
The pair went on to finish eighth at the 2018 World Cup Finals in Paris. They represented The Netherlands at the 2018 World Equestrian Games in Tryon, where they were 7th in the Special. At the 2019 European Championships in Rotterdam, they won team silver and placed 6th in the Kur to Music.
Gal and Zonik were Dutch Grand Prix Champions three years in a row, 2017, 2018 and 2019. They withdrew from the 2020 Dutch Championships as the stallion was not fit to compete.
Gal's last competition start on Zonik was in January 2020 at the CDI-W Amsterdam, where they were third in the Kur. Since then Gal has been focusing on his two younger GP horses Toto Jr and Total U.S.
Zonik and Minderhoud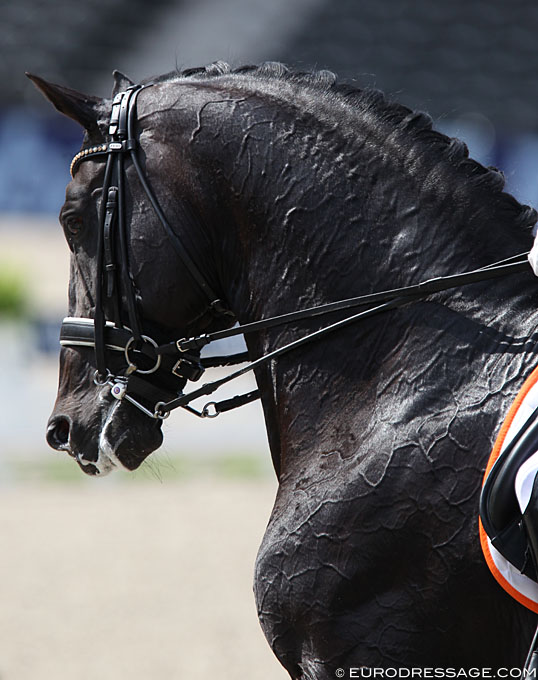 At the beginning of May 2021, Glock made the surprise announcement that Hans Peter Minderhoud had taken over the ride on Zonik and would try to qualify him for the Tokyo Olympics as a back-up horse to Dream Boy.
Without having competed at a single show, the Dutch Equestrian federation long-listed the pair for Tokyo. This action by team trainer Alex van Silfhout caused frustration amongst Dutch riders who considered this preferential treatment. 
In Compiègne the duo easily fulfilled their first MER (of 66%) by scoring 73.152% and placing fourth in the 3* Grand Prix. They also rode at the CDI Le Mans, their final chance for a second MER, and scored 76.065%. 
The pair was absent though at the 2021 Dutch Championships, the first official Dutch Olympic team selection trial. He also did not compete at the second trial in Rotterdam.
Sad Passing
"Zonik became lame shortly before CHIO Rotterdam and, following suspicion of a problem with a hoof, thorough examination led to diagnosis of an injury," the Glock team communicated. "We decided to have him operated upon and, to this end, transported him to Germany to what is indeed one of the most renowned equine veterinary clinics. The operation on GLOCK's Zonik took place there on 13 July 2021. The operation went well but, in the recovery box, Zonik injured himself so badly that we could only put him out of his misery. He had broken both of his hind legs. We're lost for words right now."
Zonik was not only a leading competition horse, but also one of their commercial breeding stallions. 
"We are deeply saddened and shaken to the core by the loss of our great equine friend," said Team Glock. "It is so unbelievable and so unreal. We are in deep shock, full of grief and horror. We have lost our wonderful stallion, this exceptional sire, our sporting partner. He was our equine friend and, at the same time, one of our most important breeding and competition stallions. He still had such a bright future ahead of him, but it was not to be."
Legacy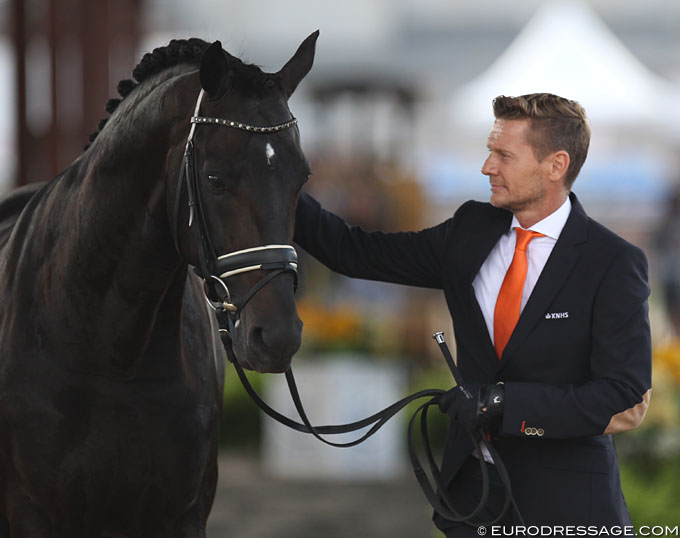 Zonik sired numerous successful dressage offspring, his most famous being World Young Horse Champion and Bundeschampion Zucchero (Frederic Wandres) as well as PSI auction price highlight and World Young Horse Championship finalist Zum Gluck (Robin van Lierop). Zhaplin Langholt (Andreas Helgstrand)  won the 2018 Danish Warmblood young horse championship and took bronze at the 2019 World Young Horse Championships
Other notable Zonik offspring are Grand Prix horses Zonik Hit (Joao Moreira), WCYH participant Mount St. John Zonetta (Amy Woodhead), Zaubermaus (Tayla Desmet), Zappzerap (Kerstin Kronaus), amongst others.
He sired over twenty licensed sons, including Zum Gluck, Zodiak MDM, Zenon VDL, Zonik One, Ladignac, Mauro Turfhorst, etc.
Photos © Astrid Appels
Related Links
Eurodressage Photo Database: Zonik
Minderhoud Not to Compete Zonik at 2021 Dutch Dressage Championships
Zonik to be Competed by Hans Peter Minderhoud
Edward Gal's Zonik Withdrawn from the 2020 Dutch Dressage Championships
Zonik Receives NOP Status
Zonik Withdrawn from 2019 CDI-W Amsterdam
Edward Gal Makes Winning Debut on Zonik at Sunny 2017 CDI Roosendaal
Edward Gal Makes Grand Prix Debut on Zonik at 2017 CDN Kootwijk
Edward Gal Plans Grand Prix Debut for Zonik during 2017 Outdoor Show Season
Gal Makes Debut on New FEI Ride, Zonik, at 2015 CDI-W 's Hertogenbosch
Zonik and Valentino Sold to Glock
Zonik, Holballes Deeba, Samba King Win 2012 Danish Young Horse Championships