Swedish warmblood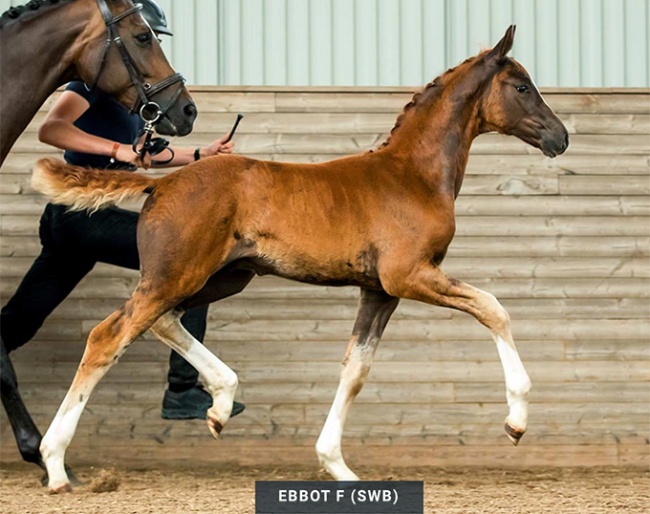 Ebbot F became the price highlight of the 2021 Swedish warmblood elite foal online auction which concluded on 3 October 2021. 
The online auction took place during the 2021 Swedish Warmblood Young Horse Championships in Flyinge and the collected of 20 handpicked dressage foals drew international interest. 
Ebbot F (by Fortnite x Ehrenpreis) caused a heavy bidding dual between 6 bidders but in the end he'll stay in Sweden for 30,500 euro. He will move to Lovsta Stuteri, the home base of Tinne Vilhelmson. 
The second most expensive foal was V.I.P. TH (by Sezuan's Donnerhall x Quaterback), who had 8 different people bidding on him. In the end a Swedish client persevered and secured him for 30,000 euro.
This is the Way GJ (by Franklin x Totilas), named after the credo in the Star Wars series The Mandalorian, sold to the U.S.A. for 25,500 euro.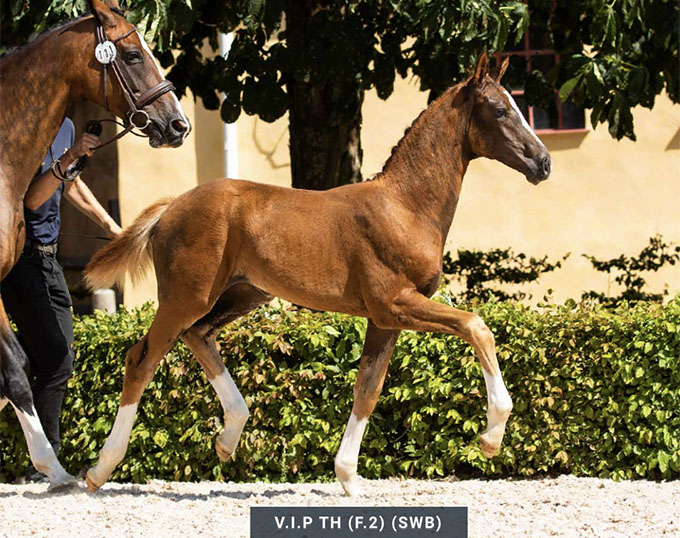 Filly Djovia (by Jovian x De Niro) and colt Industrious (by Iron x Franklin) both stay in Sweden for 20,000 euro. 
Runaway Bride OC (by Freetown x Skovens Rafael) sold to Norway for 17,000 euro. An Estonian client purchased Kir Royal YL (by King Olymbrio x Don Romantic) for 13,000 euro. A German customer invisted in Quitous (by Quaterhit x Grand Galaxy Win) and paid 10,500 euro for him.
Joohous (by Jovian x Floricello) was bought back by the breeder for 16,000 euro and I'm on Fire (by Quaterhit x Everdale) for 15,000 euro.
Related Links
Twenty Stunning Foals Handpicked for 2021 Swedish Warmblood Online Elite Foal Auction
Swedes and Americans on Shopping Spree at 2020 Swedish Warmblood Elite Foal Auction
Faithful YL, Top Seller of the 2019 Swedish Warmblood Elite Foal Auction
Prelude CML, Top Seller at 2018 Swedish Warmblood Elite Foal Auction
Radius, Best Seller at the 2017 Swedish Warmblood Elite Foal Auction
Fabulous M, Top Seller at the 2016 Swedish Warmblood Elite Foal Auction
Deorro Magi, Price Highlight of the 2015 Swedish Warmblood Elite Foal Auction
Kordoba For U, Price Highlight of the 2014 Swedish Elite Foal Auction
Donna Antique, Price Highlight of the 2013 Swedish Warmblood Elite Foal Auction