World Championships Dressage - A Look Back in History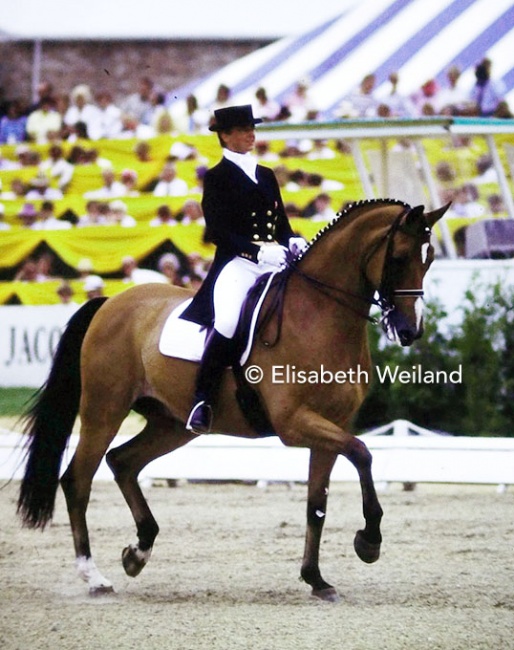 As two Germans - jumping rider Norbert Koof and dressage rider Dr. Reiner Klimke - became the World champions in 1982, Germany was eligible to select one discipline to stage their 1986 World Championships for and opted for show jumping at Aachen. 
So for the first time in the history of the World Championships Dressage horses and riders moved outside of Europe to compete for the World title: at Cedar Valley in Canada.
Just a few years after their emigration to Canada, native Germans Eva-Maria and Hans Pracht organized the championships on their idyllically located property: the International Equestrian Sport Service Centre in Cedar Valley near Toronto. It gave the discipline recognition on the North American continent.
The event took place on 5 - 10 August 1986 and the 44 best dressage riders and horses in the world contested for titles and medals, as well as the joy of taking part.
A New Hand of Cards was Dealt
Six years earlier at the 1980 Olympic Festival in Goodwood one horse enchanted everybody, moving as natural as a horse in freedom. Journalists felt the urgent need to find out more about this bright bay horse who seemed so eager to please his then unknown rider. Six years later Marzog and Anne-Grete Jensen (now Törnblad) from Denmark had not only won 7 medals and the first World Cup final ever earlier the year, but they had also set entirely new standards regarding lightness and elegance in dressage competition.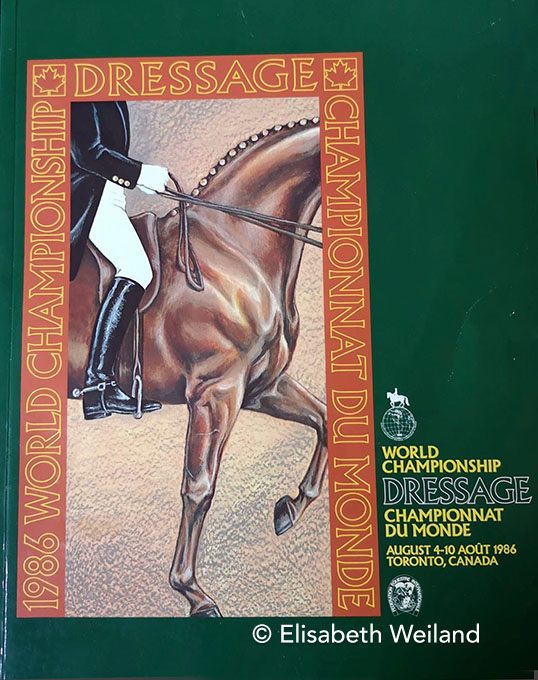 However, the year before Dr. Reiner Klimke's dynamic Ahlerich could complete his medal set with double gold at the European championships at Copenhagen. But the four legged title defender from Lausanne 1982 was not fit to compete after the CDIO Aachen a year later and Klimke had to fall back on his second Grand Prix horse Pascal which was originally considered the team's reserve horse if any of the team member's horses would fall ill.
Now Pascal became number one for Klimke and Herbert Krug's pretty inexperienced gelding Dukat was trailered to the training camp to become the new reserve. In the end team Germany itself had to rely on four completely new team horses and The Netherlands, still only 6th of 8 teams at the 1985 Europeans, was now in team medal contention after their great performance at the CDIO Lausanne earlier.
Switzerland narrowly missed out a team medal in Copenhagen 1985 - for the first time since 1972 - and had three new horses on the team for Cedar Valley after their top horse of the past two years, Otto Hofer's Limandus, was ill, so it was unsure how the Alpine  country would position itself on the team board. 
The Stage was Set at Cedar Valley
In Cedar Valley a kind of stadium with transportable tribunes as well as a container village was erected to cater to all needs. Danish Hermann Duckek, who had first built the 1974 arena of the World Championships in Copenhagen and since then had become the "footing Pope", was responsible for the main and training arenas and the Pracht family did well to have chosen him as it would turn out later.
Evi Pracht, daughter of 1966 World Champion Josef Neckermann (GER), acted as a jack of all trades and on top of it was member of the Canadian team with the Hanoverian Lyogen, as well as with her future Olympic horse Emirage in the small tour which also took place as part of the show.
Teams of Four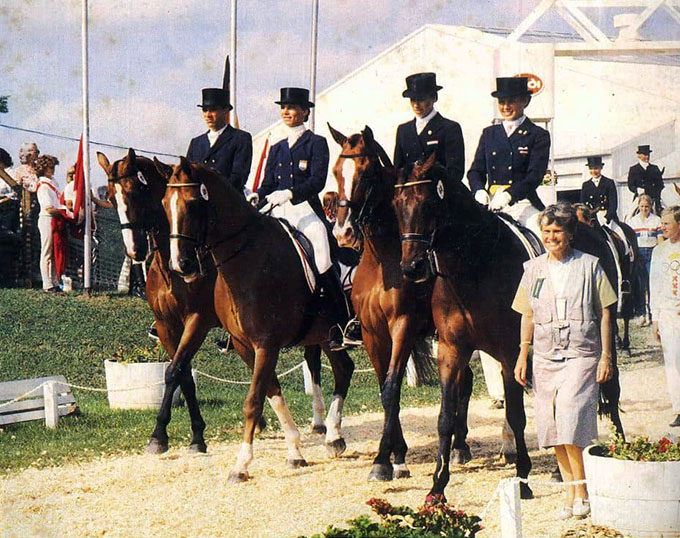 For the first time in history not three, but four riders per team were allowed and the drop score system introduced. This allowed more riders to participate, but also showed that the basis of international dressage had become wider, as in recent decades teams sometimes struggled to even field 3 riders. The positive development of the sport was also shown in the rather huge number of countries, 16, that made the effort to get to Canada and that from now on additional individual riders to a team were not possible anymore.
With four riders on each team, 9 individual riders and 44 starters in total, it became clear that the team competition would stretch over two full days for the first time at World Championships .
The ground jury consisting of Heinz Schütte (Germany), Gillian Wilson (Canada), Wolfgang Niggli (Switzerland), Elena Kondratieva (Soviet Union) and Jaap Pot (The Netherlands) did not only judge the usual established dressage nations, but also for the first time at the World Championships riders from Australia and South America. It could be taken as proof that the FEI's efforts to foster the interest in dressage in those parts of the world by running a series with FEI judges giving clinics and the best riders competing in the then so-called Haig Cup (later Samsung) slowly came into fruition.
Vet Check Surprises
The vet-check prior to the Grand Prix hold a few little surprises. Switzerland's Christine Stückelberger had her 1984 Olympic horse Tansanit and her newcomer Gauguin de Lully CH presented by her trainer Georg Wahl. She decided to rely on the less experienced Grand Prix newcomer Gauguin—a wise decision as it would turn out.
Germany's Herbert Krug showed his 1984 Olympic team champion Muscadeur, who was out with a splint surgery in 1985 and troubled by a hoof abscess since the show in Wiesbaden, as well as the reserve horse Dukat, who was previously trained by Swedish O judge Eric Lette. In the end Krug chose the only 10-year-old brown gelding Dukat over the experienced Muscadeur.
Denmark's Why Not, the year before a strong contributor to Denmark's team silver at the Europeans, had to trot up twice before being accepted — an indication to what would happen in the Grand Prix later on.
The then upcoming young US rider Robert Dover had to fall back on his less experienced 10-year-old Hanoverian Federleicht after his top horse Romantico wasn't available due to an injury after the vet-check. it certainly weakened the US team as Romantico was one of the best moving horses at that time.
Grand Prix / Team Competition
With nine teams the number remained the same as at the 1985 European Championships, but Yugoslavia and France did not sent a team to Canada whereas the hosts and the USA completed the field of 7 European teams.
Of the nine individual riders only Margit Otto-Crépin from France seemed to have a realistic chance to qualify for the Grand Prix Special, but the fact that Australian debutant Erica Taylor and her 15-year-old Thoroughbred Crown Law xx, Haig Cup winners in Australia, came a surprising 17th showed that also unknown riders could be in for a nice surprise.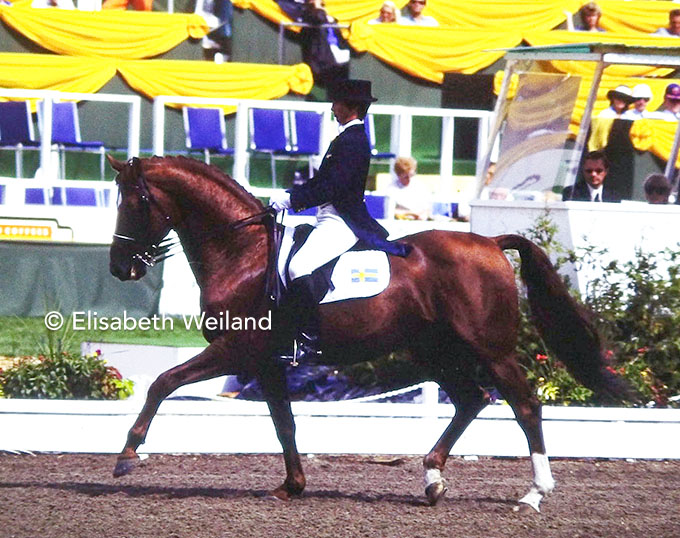 Rather surprising also twas he fact that with Germany, Switzerland and Canada one a third of the teams had completely new combinations in comparison to the previous Olympic Games. Sweden, who had won team bronze in Los Angeles in 1984, was the only team unchanged, with their fourth rider in Cedar Valley being Lars Anderson, nowadays a 5* judge, with the mighty Flyinge stallion Herkules.
Even though Germany had four new horses on their team, its supremacy was never in danger. All four team riders placed in the top ten and even if Herbert Krug as drop score had counted, the country would still have won.
Best team rider was the former Klimke student Johann Hinnemann who was Canadian team trainer four years earlier in Lausanne and thereby labelled as a "professional". He had to re-adopt "amateur" status in order to be eligible to compete in the World Championships  at that time. With the 11-year-old elegant Dutch bred Ideaal he not only came second, but surprisingly close to Grand Prix winners Anne-Grete Jensen and Marzog, who were just 9 points ahead after a safe, but not brilliant ride.
Another ten points behind was Christine Stückelberger who had delivered the anchoring ride which her team needed to have the hope of a team medal. The rather small stallion Gauguin de Lully CH's proper training and correctness were well appreciated by the jury.
Dr. Reiner Klimke proved his mastership coming 4th with the Dutch bred Pascal, a horse he had already been competing for several years at this level, but who always stayed in Ahlerich's shadow until then.
The 28-year-young Gina Capellmann and the likewise young 8-year old Dutch bred Ampère was just 2 points behind Klimke. Trained by her father Kurt, who himself was twice individual rider at World Championships, and by German national coach Harry Boldt, Gina and Ampere formed an eye catching pair in which a certain lightness reigned. Capellmann had bought Ampère in The Netherlands after he was presented by Jo Rutten as the youngest horse in the 1984 Los Angeles Olympic field at the age of six. She was a successful junior rider, before making her senior championship team debut at Cedar Valley.
The Rise of The Netherlands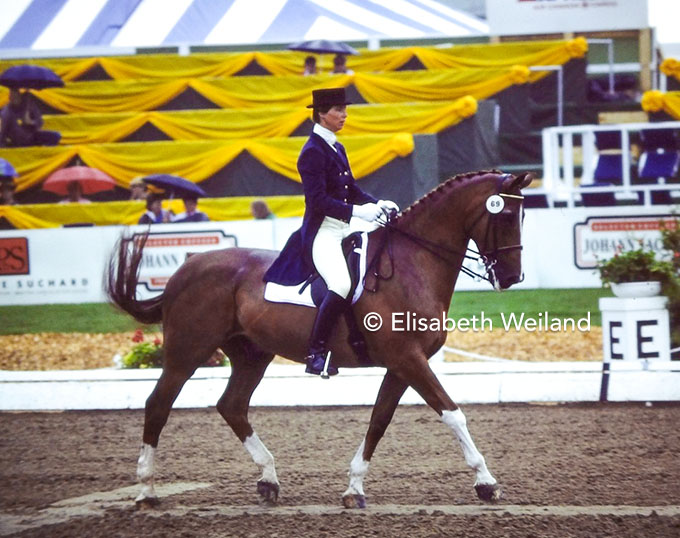 Behind Germany there was a head to head fight between The Netherlands, Switzerland and Denmark for the two remaining team medals.
The Netherlands' undisputed anchors for many years, Annemarie Sanders, had her 18-year-old Westfalian Amon in top shape once again, coming 7th with team mate Bert Rutten also qualifying for the Special with his 11th place on the Dutch bred gelding Robby. Tineke Bartels on Olympic Duco as well as Helene Aubert-Pen on Olympic Mr. X completed the Dutch team, who in the end could hold Switzerland at bay with just 12 points more and got silver. Cedar Valley wasn't only Holland's first dressage medal (the beginning of a success story of its own kind), but it was also the championships where Dutch bred horses couldn't be overseen anymore. No less than 6 horses out of 8 winning team gold and silver were Dutch bred!
Bronze for Switzerland
Switzerland was just 12 points behind The Netherlands in the bronze medal position, and only 9 points ahead of the Danish team which showed how tight the international level had come then. The form of the day and the ability to remain faultless became more and more decisive, whereas in the past medals seemed often decided even before championships had started.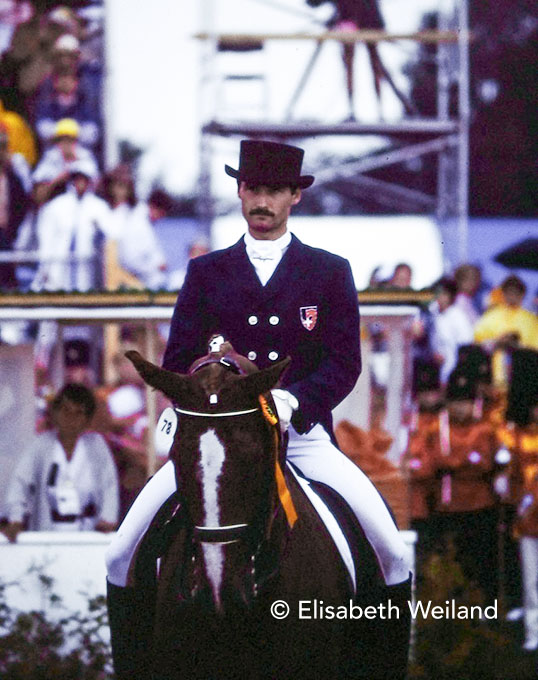 On the Swiss team the young Daniel Ramseier was the second surprise after Stückelberger's new horse. Riding his mother's 1985 team horse Orlando, a Swiss bred gelding with whom Ramseier had already been 6th at the 1983 European Junior Riders Championships, he managed to ride himself into the Grand Prix Special, whereas his mother Doris was the drop score on the young Swedish bred stallion Rochus. Ulrich Lehmann, in the 1970s successful with the huge Swedish chestnut Widin, debuted his new horse Xanthos, a bright bay Danish bred gelding, and came 27th.
Top Five
Denmark narrowly missed bronze, but had the bad luck to have their second best pair (on paper), Ernst Jessen and Why Not, eliminated during the Grand Prix as the horse was irregular. This no doubt weakened the team to which Nils Haagensen, student of legendary Lis Hartel, had returned on Cantat. Having already been on the Olympic dressage team in 1976 at just 21 years of age, Haagensen switched to eventing and became European champion in 1979 and gold medalist at the 1980 Olympic Festival in Fontainebleau. Haagensen competed at the Olympics several times in dressage as well as in eventing, a feat only a handful of riders ever achieved.
The host nation of Canada showed their upwards tendency with a very good 5th place, competing entirely on German bred horses and trained by German trainers, most notably Willi Schultheis who had taken care of Canadian riders since the  late 1960s. Their strongest pair was Cindy Ishoy (née Cynthia Neale) whose Hanoverian Dynasty was one of the most striking young horses of the championships and who placed 6th in the Grand Prix.
Disappointment
While there were some exciting surprises in the Grand Prix, proving that dressage wasn't as predictable as some claim, there were also some disappointments to handle.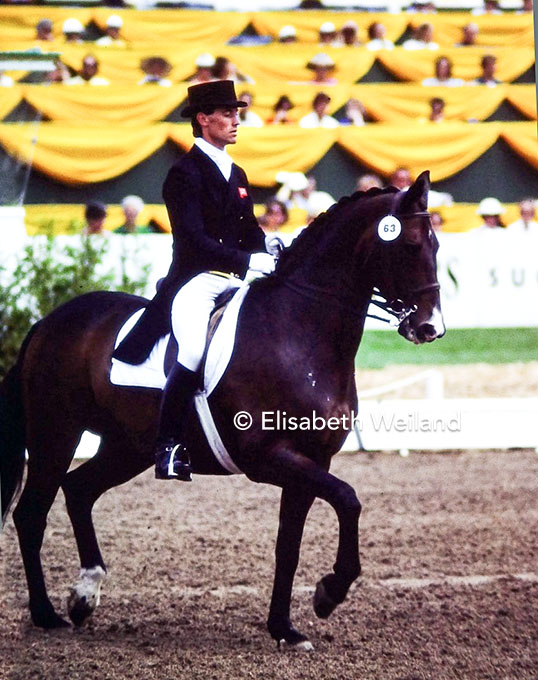 One was certainly the 28th place of British Christopher Bartle who had been Britain's anchor over the past years on the Irish 7/8 bred Wily Trout. The dark bay Thoroughbred-looking gelding improved year to year, having been 6th at Los Angeles 1984, 4th at the Europeans 1985 and 2nd at the first World Cup final a few months before Cedar Valley. However, in Canada the 17-year-old never found his form. Instead his sister Jane Bartle-Wilson celebrated her career high in Canada and missed the Grand Prix Special by only 4 points with her Belgian bred gelding Pinocchio. She placed 2nd in the freestyle competition.
The Swedish team came only 7th out of 9, their best rider being Ingamay Bylund, individual 4th at the Olympics with Aleks, and now 14th. Ulla Hakanson and the Flyinge stallion Flamingo, whose son Rochus was on the Swiss team, placed 15th, but won the freestyle for which no medals were awarded back then. Perhaps the Swedish horses' performance was still influenced by their first days in Canada when they reacted to the chloride water with diarrhea and swollen legs. Only when Swedish team trainer Georg-Otto Heyser began giving them apple juice mixed with water the situation improved.
Bravest Rider of the Day
The Soviet Team, which had - won bronze a year before, ended in 8th place. Only Yuri Kovshov with Buket managed to reach the individual final.
Former World Champion Elena Petushkova suffered the incredible bad luck to fall off right before her start in the warm up where her most beautiful Russian Trakehner stallion Hevsur fell. The saddle broke Petushkova's collar-bone. Despite the extremely painful injury she rode the Grand Prix, visibly handicapped and with tears running down her cheeks. Her chestnut stallion was tenth the year before at the Europeans, but now only came 40th under these circumstances. Petushkova certainly was the bravest rider of the day and perhaps in World championships' history.
Rising Stars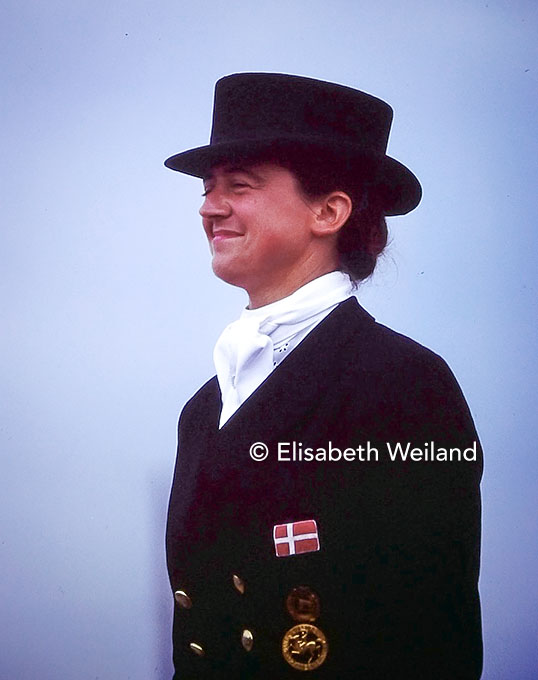 Of the 9 individual riders Margit Otto-Crépin was the best in 9th place on a horse which caused a lot of attention of the experts: The 10-year-old, highly elastic and expressive Holsteiner gelding Corlandus who brimmed with talent,  quality, but also temperament. A year later they became European champions.
Australia's debutant Erica Taylor surprised the experts with the outstanding piaffe and passage tour of her little Australian Thoroughbred stallion Crown Law xx and did her country proud, landing a place in the top 20.
Hector Rodriguez from Columbia with another Thoroughbred, El Sahib xx, was also the first ever rider from his country at a World Championships. He placed 33rd. James Walsh the first Irishman, slotted in 44th with Inshalla.
The two Brazilian debutants, Orlando Facada with the flea bitten grey Chimango and Lica Diniz, mother to international show jumper Luciana Diniz, with Premiado, placed in the last five on the ranking.
Save the Day
A gold medal of its own kind could have been given to the late Hermann Duckek and his team.
Friday night an excessive deluge struck the show grounds and according to the chief judge, the late Wolfgang Niggli, the arena got submerged by 15 cm of water. Thanks to the effective drainage, the high quality footing, and hard work all through the night, the main arena was rideable in the late morning so that the 2nd part of the Grand Prix could start with only 2 hours delay to what had been planned.
This weather incident showed that an investment in good footing is never wasted and nowadays an absolute necessity.
Grand Prix Special / Individual Competition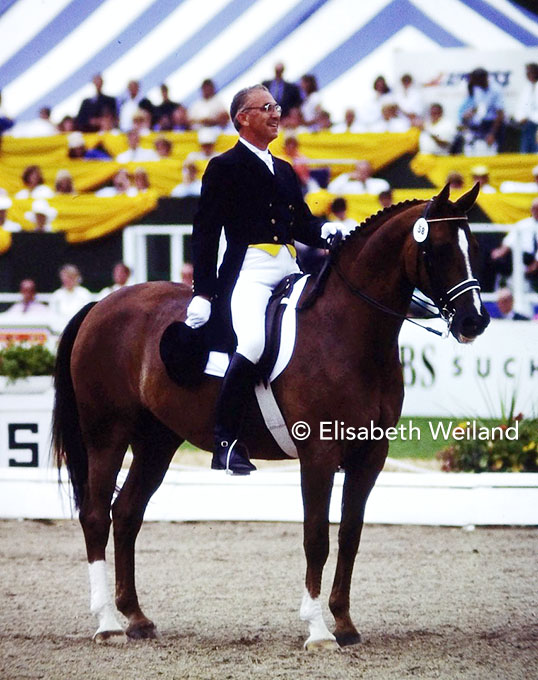 No less than 10,000 spectators, a remarkable number considering that Canada in the mid 1980s was even smaller a dressage nation than nowadays, watched the final with the 12 best riders of the Grand Prix competing for the individual world title.
With Dr. Reiner Klimke not having Ahlerich to ride, it was pretty clear from the beginning that dressage would see a new world champion and Danish Anne-Grete Jensen and her fairytale horse Marzog  were the first to think of, but faced rather strong opposition from Ideaal and Gauguin de Lully in the Grand Prix.
Now 13 years of age and already 6 years into international Grand Prix sport, the Danish gelding still displayed all what characterized his unique partnership with his rider the years before: His absolute positive attitude to always wanting to please and the easiness with which he executed the movements, as if they were child's play. Three of five judges placed him 1st to achieve a total of 1447 points.
Christine Stückelberger was three years out of the individual medals after her legendary Granat retired after the 1982 World Championships. The cool-nerved championships rider she was known for risked all with the 11-year-old Gauguin de Lully CH who was tense after a judge's hut roof rattled. It showed in the movements. Two judges put them 1st, but they remained 29 points behind Marzog.
German Johann Hinnemann couldn't entirely repeat his Grand Prix performance with Ideaal and this time was clearly behind Stückelberger to win bronze with just 6 points ahead of Dr. Reiner Klimke and Pascal.
Medal Wanted for Amon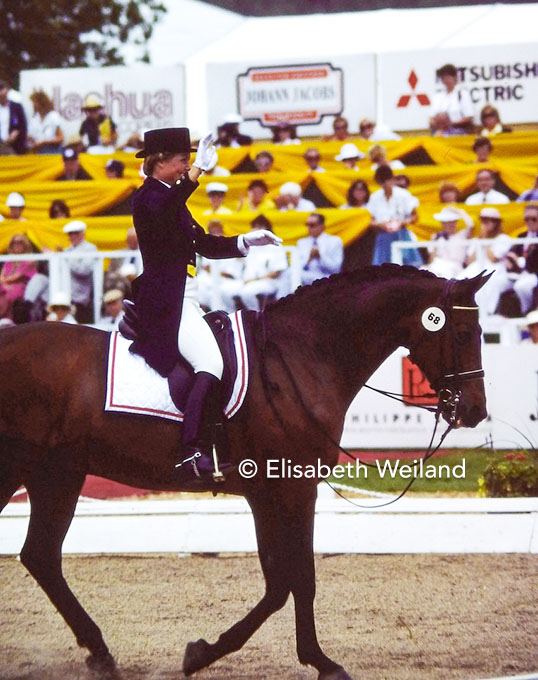 While overall Christine Stückelberger couldn't believe her luck getting a silver medal, Dutch Annemarie Sanders was disappointed ending in 5th place with the ride of her life. It caused her to cry in delight with Amon who had given his all on that day. In her opinion her old campaigner Amon deserved a medal. It was not to be, but the Westfalian who died age 32, still remains one of the few horses competing at three successive Olympic Games and one of two doing so at 20 years of age. Keeping a horse for such a long time happy and healthy at this high level is a feat in itself, probably weighing more than any medal.
The Rise and Decline
Margit Otto-Crépin and Daniel Ramseier both improved three places, finishing 6th and 9th. In Cedar Valley it became apparent that if the French could control the exuberant temperament of her Holsteiner, she would have a world beater in her hands.
When Anne-Grethe Jensen lead the lap of honour as the first and so far only individual dressage World champion from Denmark, nobody knew it was the last time that horse with the gentle expression would do so. A year later Marzog's great career ended at the European Championships in Goodwood after he injured himself during transport. His biggest success, however, was showing the audience how beautiful and light competitive dressage can be.
In 1999 Marzog was elected Dressage Horse of the Century.
Breeding at the 1986 World Championships
It seemed there was something new under the sun in 1986. German breeding associations still delivered 11 of 44 horses, whereas Sweden had 7 and The Netherlands the same amount of horses bred in their country.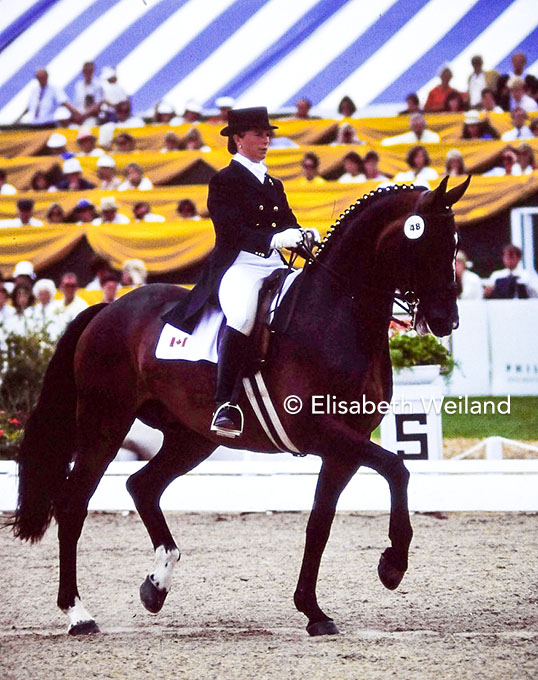 What was definitely new was that no German horse won a gold medal, with the German team for the first time in history sitting on only foreign bred horses (3 Dutch, 1 Swedish) and Anne-Grethe Jensen as individual gold medalist riding a Danish bred warmblood. Dutch bred horses moved into the limelight.
Hanoverian breeding still carried the flag for the German breed with five horses at Cedar Valley. Cindy Ishoy's 9-year-old Dynasty (by Darling) was the most successful in 7th place. Canada had two more Hanoverians (Caracas and Lyogen) on their team and one Westfalian gelding (Malte by Milan). The Hanoverian Federgeist xx-son Federleicht, *1976, was on the 9th placed USA team with Robert Dover; the monumental chestnut Acapulco, *1975, by Absatz started with 1980 Olympic champion Sissy Maxi-Theurer as individual starter for Austria.
With Ahlerich sidelined, Westfalian breeding only had Amon, Ahlerich's 18-year-old full-brother by Angelo xx x Donar, in the individual final. There was also the Holsteiner Corlandus, *1976, bred classically by Cor de la Bryère x Landgraf I, as the only representative of his breed. The other two Holsteiners were on the US team: New Ladykiller (by Ladykiller xx), *1971, with Dianna Rankin and long time team member Marco Polo (by Maximus), 16 years of age, with Sandy Pflüger-Clarke.
The only Oldenburger in Canada was Louise Nathhorst's liver chestnut gelding Inferno (by Inschallah).
Sweden's breeding still had offspring by their proven older stallions in Cedar Valley, two of them standing at stud in Flyinge. The 17-year-old chestnut stallion Flyinge Flamingo (by Urbino x Jovial), ridden by Ulla Hakanson, whose son Rochus (by Flamingo x Utrillo) won team bronze with the Swiss. The bit old fashioned looking black stallion Flyinge Herkules was Gaspari's last offspring in international dressage sport. The victorious German team had the only 10-year-old brown gelding Dukat (by Cordon Bleu) in their rows, whereas the liver chestnut gelding Cantat (by Caracas) started for Denmark. On the US team the 11-year-old gelding Encore (by Ganesco) was ridden by Kay Meredith. Belgian individual Decía de Pauw competed on the elegant liver chestnut Balzac III xx (17), a horse previously shown by German Herbert Krug.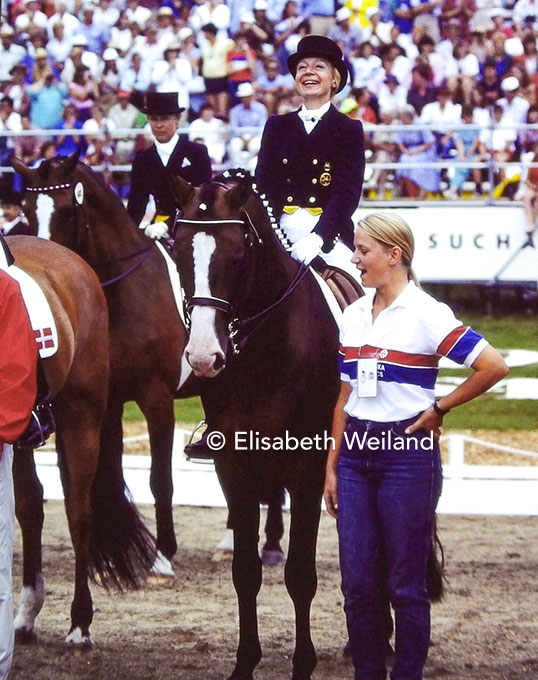 Gauguin de Lully CH was a horse with entirely Swedish (dressage) bloodlines whose dam was imported to Switzerland in foal with him. Due to the fact he saw the light of day in Switzerland, the offspring of Chagall x Gaspari was registered Swiss warmblood and became their most successful product, before himself becoming a sire of international successful dressage horses, such as Mr. G (Fiona Bigwood) among others. For Switzerland Cedar Valley was the first championships where they had a horses of their own very small warmblood breeding in the field. Besides Gauguin de Lully CH, it was the quite ordinary looking 14-year-old chestnut gelding Orlando (by Orinoco x Lancaster) won team bronze and placed 9th individually.
The Netherlands celebrated a particular successful championships for their breed which ten years earlier had only a very little number of international dressage horses on the scene. Now 4 of their 7 horses in the field made it into the individual competition. The most successful was the bay gelding Ideaal by the legendary Trakehner stallion Doruto who sired numerous internationally successful dressage horses of the 1980s and 1990s. Ideaal , *1975, did his first international championships at Cedar Valley and reappeared on the German team four years later with Sven Rothenberger whose Dutch wife Gonnelien also won a team medal at the Europeans later with the horse on the Dutch team.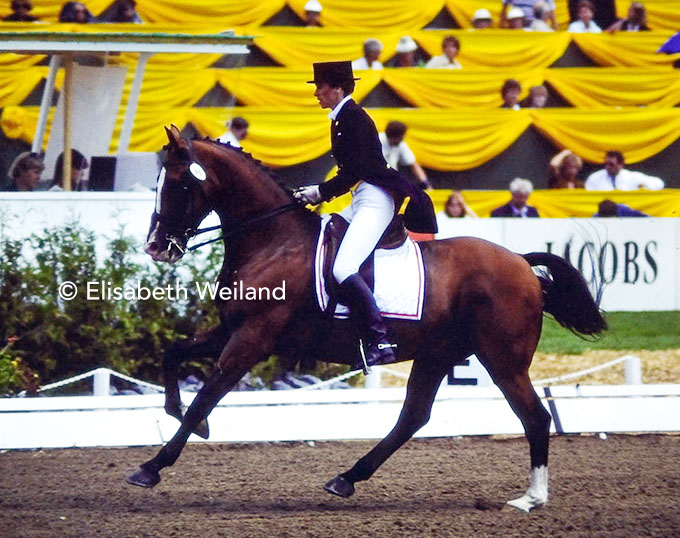 The third Dutch horse on the German team was Ampère (*1978) by the Trakehner J.Amagun and ridden by Fabienne Lütkemeier's mother Gina Capellmann. The Dutch silver team had three of home-bred geldings: Robby (*1975), another Doruto son out of an Eufraat x Uron dam, shown by Bert Rutten, Tineke Bartel's Olympic Duco (*1971) by Duc de Normandie x Reynolds x Kohl and the 15-year-old Olympic Mr. X (by Cobbler's Thread xx x Graaf van Wittenstein) of Helene Aubert-Pen, mother of Dutch team eventing rider Elaine Pen. Mr X's original name was Mannix.
Dr. Klimke's harmonious, but slightly short legged liver chestnut Pascal (*1974) was by the Thoroughbred Stranger xx and continued to carry the Korean Jung-Kyun Suh into the Olympic final in Seoul 1988.
The Danish breeding association had four horses in the field of 44. Besides Marzog (by the Swedish Herzog out of the Hanoverian mare Cheeky Girl, by Marcio xx, *1973), the plain bay mare Patricia, 15,  was shown on the Danish team by Torben Olsen as of 1983.
15-year-old Aleks (by Aleksander x Dan Senator) was ridden by Ingamay Bylund on the Swedish team. One of the youngest horses in the field was the Danish gelding Xanthos by the Swedish stallion Epok out of a dam by Lohengrin, born 1977 and on the Swiss bronze medal team with Swiss cavalry rider Ulrich Lehmann.
The Soviet Union once again showed only horses from their territory, of who the 10-year-old gelding Ukrainian bred Buket was by Grokhot. The 12-year-old stallion Rukh was also bred in the Ukraine, whereas the identically aged tall stallion Hevsur was a Russian Trakehner. Kuznets, ridden by the former international eventing rider Victor Lanuigin, was a 11-year-old Budjonny stallion.
Both horses from the Australian team were Thoroughbreds from their own country. The already 15-year-old chestnut stallion Crown Law xx who was also a registered stock horse, came 17th of 44 with Erica Taylor who once got the horse as a foal in utero. The pair was trained by German Wolfgang Hölzel and had won the Haig Cup from 1983-1985, a series run by the FEI and judged by FEI judges to develop dressage in "dressage development countries." The grey The Liberator xx ridden by Glenn Fryer was a former eventing horse bought from the late eventing legend Bill Roycroft in Australia.
The riders from Brazil rode Anglo Argentines from their own countries, a breed which was started in the 1960s by crossing Argentine Criollos with English thoroughbreds to get polo ponies. The most successful of the South American horses was the bay gelding El Sahib xx (by Caraqueno xx) who later also competed in the World Cup finals and the Olympic Games in Seoul with Colombian Hector Rodriguez.
Ireland had two horses in the field: The renowned Wily Trout (*1968) by the identically named thoroughbred Wily Trout xx and the grey Inshallah who came last, but carried the first Irish at dressage World Championships.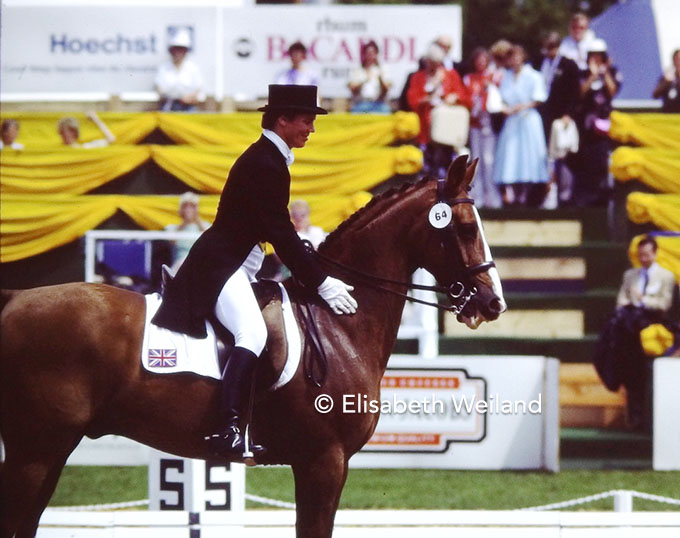 Belgium only had one horse at the start: The 17-year-old coloured chestnut Pinocchio (by Markies) on the British team who came a remarkable 13th.
A special success could be celebrated by British team rider Jennie Loriston-Clarke. Though only placing 20th this time, the 1978 bronze medalist showed a son of her famous Dutch stallion Dutch Courage. The highly elegant Dutch Gold (*1976) who also excelled in eventing at the beginning of his career, was registered British warmblood out of the thoroughbred mare Golden K. Just like his sire, Dutch Gold also became a highly successful producer of dressage and eventing horses up to the highest levels.
Scores: 1986 World Championships
Text © by Silke Rottermann for Eurodressage
Photos © Elisabeth Weiland - No reproduction without written permission/payment 
Special thanks to Elisabeth Weiland and Thomas Frei who opened their archives for this article.
Related Links - World Championships Series
1982 World Championships Lausanne — Again Dr. Reiner Klimke
1982 World Championships Lausanne Through the Eyes of Nicky Kelly and Claudia Rosner
1978 World Championships in Goodwood - Dressage in the Park
1978 World Championships Goodwood Through the Eyes of Christine Stuckelberger
1974 World Championships in Copenhagen: The Most Picturesque World Championships
World Championships Copenhagen 1974 Through The Eyes of Ruth Klimke
1970 World Championships in Aachen: Soviet Union Defeats Germany
World Championships Aachen 1970 Through The Eyes Of Ulla Hakanson
Finally Official - The First Dressage World Championships 1966
World Championships Berne 1966 Through The Eyes Of…
References
Dr. Reiner Klimke und Deutsche Reiterliche Vereinigung (publisher), Olympia der Reiter Seoul 1988, FN Verlag, Warendorf and Landwirtschaftsverlag, Münster-Hiltrup 1988, pages 22 - 26 and 155.
"Mit wilder Equipe zum Sieg", in: Reiter Revue 9/1986, pages 6-18 and 77-78.
Elisabeth Weiland, BRD und Anne-Grete Jensen, in: Der Schweizer Kavallerist 9/1986, pages 28-32.
http://dressagemasterclass.com.au/wp-content/uploads/2017/10/official-event-guide-the-2017-martin-collins-australian-dressage-championships.pdf
https://www.fei.org/history/fei-world-championships/cedar-valley-canada