Denmark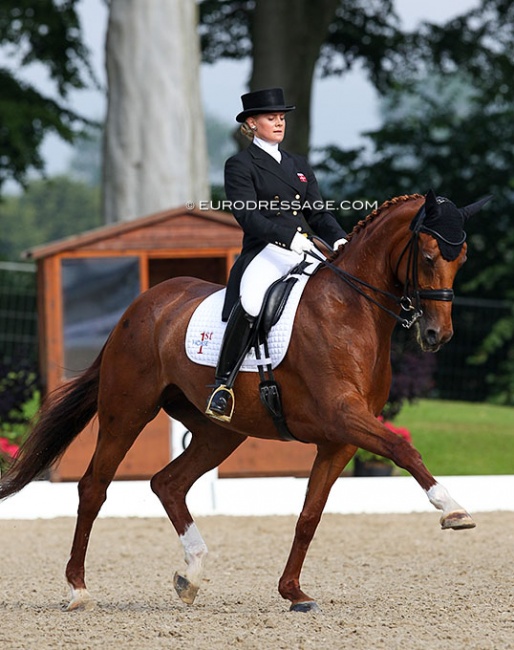 Capriciella, Anna Zibrandtsen's junior rider's horse and first team medal winning mount, has passed away on 24 November 2022. She was 20 years old.
Capriciella was a 2002 born Hanoverian mare by Cordoba out of Wen-Shan (by Wenzel x Absatz x Goldfalk). She was bred by Friedrich Lührs-Behnke. 
Germany
The mare's sport career started in Germany in 2006 when she was first competed as a 4-year old by Jan Lührs-Behnke. He presented her first in the riding horse tests and in 2007 moved her up to A-level.
In the summer of 2007 Bettina Borchers (née Uhlig) climbed aboard and produced her through M-level. She last competed the horse in June 2009. 
Denmark
Capriciella sold to Danish Anna Zibrandtsen as her junior rider's horse. Anne was training with Jan Brink in Sweden at the time.
The new duo made its national show debut in Denmark in March 2010 and began riding the national Ecco cup qualifiers at junior level in the early spring of 2011. 
The pair made its international show debut at the 2011 CDIO-JR Hagen and competed at the 2011 Nordic Baltic Championships, where they finished second in the Kur to Music finals.
Junior Medal Winning Horse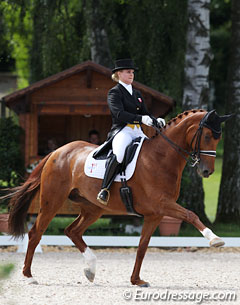 The good performances during the 2011 season made them clinched a team spot for the 2011 European Junior Riders Championships on home turf in Broholm (DEN). They won team silver and individual test and kur bronze. 
At the 2012 European Junior Riders Championships in Berne (SUI), the pair returned on the Danish team to win team bronze and finish sixth in the individual test and kur. They completed that competition year with the 2012 Danish Junior Riders' Champion's title. 
In 2013 Zibrandtsen had to move up to Young riders level and the hot Capriciella was only competed once internationally that year, in Hagen, where they were 16th and 17th and could not capture a team spot. At the 2013 Danish Young Riders Championships they got silver. 
Capriciella disappeared from the international scene for more than two years, to return in her final CDI in Odense in October 2015. After Odense, she did one more national show in Frederiksværk in September 2016.
Broodmare
The chestnut mare was retired from high performance sport.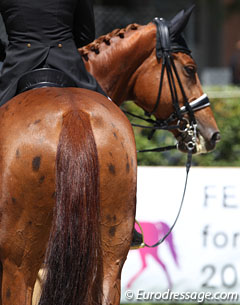 While recovering from an injury in 2014, Capriciella was bred and produced two foals by embryotransfer: the 2015 born Pippidi (by Anna's young riders' team horse Detroit) and Zürich (by  Zaladin MI). In 2016 she also produced Deejay (by Detroit).
On 24 November 2022, Anna announced that "Pippi" had passed away. 
"I will forever be grateful," said Anna. "I love all my partnerships but some of them are even closer to your heart. Pippa was my princess. Looking into her eyes was something special for me every time."
Photos © Astrid Appels
Related Links
Eurodressage Photo Database: Capriciella
Anna Zibrandtsen's Career Starting Gørklintgårds Domello Passed Away
Scores: 2012 European Junior and Young Riders Championships
Dana van Lierop Brings Team Holland to Gold at 2012 European Junior Riders Championships
Danish Teams Selected for 2012 European Junior/Young Riders Championships
Scores: 2011 European Junior and Young Riders Championships
Merrald's Tears Turn to Gold in Junior Riders Kur to Music Finals at 2011 European Junior Championships
Niemann Clutches Gold in Junior Riders Individual Test at 2011 European Junior Championships
Host Nation Denmark Announces Teams for 2011 European Junior/Young Riders Championships
Zibrandtsen in Charge of Junior Riders' Division at 2012 CDIO-PJYR Roosendaal
Junior Heavy Weights Fight it Out at 2011 CDIO-JR Hagen