U.S.A.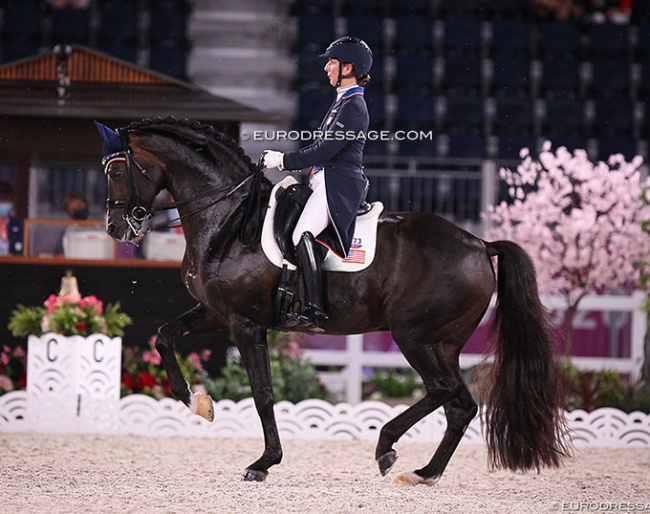 Sanceo, the horse which spearheaded Team U.S.A to team silver at the 2021 Olympic Games in Tokyo, has been retired from sport. After 1.5 years of no competition since Tokyo, the hard decision has been made to pull the horse from sport.
Sanceo is a 17-year old Hanoverian stallion by San Remo out of Rivera (by Ramiro's Son II x Star Regent xx x Whitaker). He is bred by Gerhard Dustmann.
Love at First Sight
German born American dressage rider Sabine Schut-Kery was asked by American couple Alice Womble-Heitman and Dr. Mike Heitman of Horsegate Ranch in Hempstead, TX,  to find a young dressage prospect for them in 2009.
Sabine travelled to Germany and found Sanceo. "When I first saw Sanceo, I fell in love with his beauty and presence immediately, " Sabine recalled. "He was just under three years old and only 3 times under saddle, but I wanted to sit on him to make sure I would feel what I had seen on the longe line. Sure enough, I could feel the steady rhythm, balance, and ground covering gaits of a more mature and experienced horse."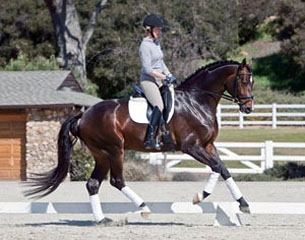 The German-born Sabine first competed Sanceo as a 4-year old in California in 2010.
Young Horse Success
In 2011 the 5-year old Sanceo was second in the U.S selection trials for the World Young Horse Championships in Verden, but declined to go. Instead they went to the U.S. Young Horse Championships where they finished fourth. 
In 2012 they represented the U.S.A. at the World Young Horse Championships, where they were 14th in the consolation finals for 6-year olds. 
Climbing to the Top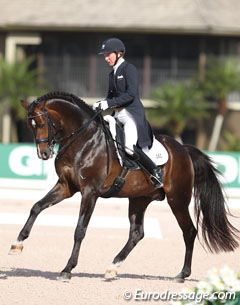 They made the transition to small tour level in 2014 with a CDI start in Flintridge. Later that summer they won the 2014 U.S. Developing Prix St. Georges Horse Championships at Lamplight. 
In 2015 they won four CDI classes in Wellington at small tour level as well as the CDI Burbank. They were invited to compete in Europe and posted four top five placings at the CDI's in Munich and Achleiten. They were nominated on the U.S. team as the small tour pairs alongside Grand Prix riders Laura Graves (Verdades) and Steffen Peters (Legolas) for the 2015 Pan American Games in Toronto. The U.S.A. captured team gold, but Sanceo did not move on to the kur finals. 
In 2016 Sanceo took a year off after the Pan Am Games and spent time at his owner's Horsegate Ranch in Hempstead, Texas.
In 2017 the Hanoverian society approved him for breeding.  The same year they received the 2017 Carol Lavell Advanced Prize.
Grand Prix Highs and Lows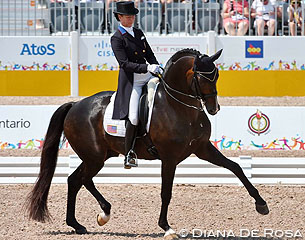 In the autumn of 2017 Schut-Kery and Sanceo spent time in Europe and did their first Grand Prix test in Ankum.
Their international debut followed in January 2018 with a double victory in Den Mar. Also at the two Wellington CDI's that season they posted consisted low 70 percentage scores, putting them in the picture for team selection for the 2018 World Equestrian Games in Tryon. They received the the Carol Lavell Advanced Dressage Training Grant, but in June 2018, however, they withdrew from team contention due to an injury. 
Sanceo's health was micro-managed and the stallion showed an absolute minimum amount of shows. He returned in 2019 to do just one CDI (Del Mar), while in 2020 he did 3 in Wellington with consistent results. The Olympics got postponed due to the corona crisis and Sanceo did one more CDI in Thermal in November 2020, again with two 74% scores.
Olympic Greatness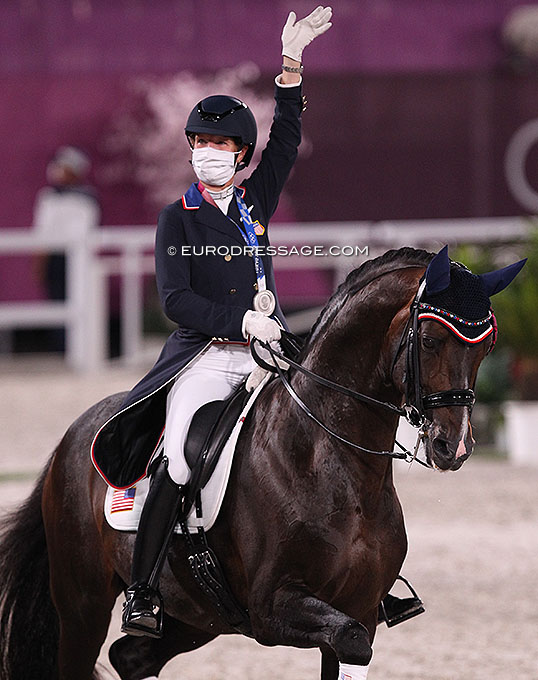 The stallion always showcased his impeccable, classical training and correctness in the dressage ring and their decade long effort in training culminated in an absolute highlight performance  at the 2021 Olympic Games in Tokyo. 
They qualified on the U.S. team based on two CDI starts in Wellington in the early spring, scoring between 74.5 and 77.46%, and with their third place behind Salvino and Suppenkasper at the Olympic team selection event.
However, in Tokyo they blew everyone out of their socks and finally got the credit they deserved from the judges with two stellar rides. They were the best scoring pair in the Grand Prix with a 7th place (78.416%) and probably rode the most memorable performance of the entire show in the Grand Prix Special. Riding to custom made background music, they produced a test of a lifetime to finish third with 81.596% and lead team U.S.A. to silver. In the freestyle individual finals they were U.S.A's best pair with a fifth place on 84.300% riding to a Last Samurai based Kur to music.
Tokyo Swan Song
After Tokyo, Sanceo did not make a come back to the competition ring.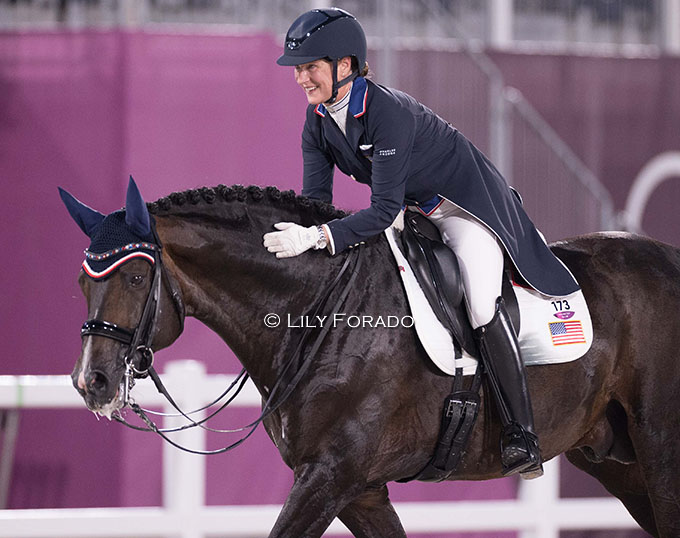 In 2022 Sanceo did not compete in Florida, nor made his traditional appearance at the Global Derssage Festival in Wellington. In May 2022, Schut-Kery announced that they were not running for team selection for the World Championships in Herning.
In December 2022, Eurodressage inquired about 2023 competition plans for Sanceo and Schut-Kery stated that, "no concrete decisions are made yet."
On 19 February 2023 the rider and his owners announced Sanceo's official retirement from sport. The horse has already moved to his owners in Texas. 
"Since our wonderful Sanceo was just three years old, he has given everything he can to all that is asked of him; always inspiring us and always giving 100% to anything put in his way....and it's because of this, we have made the decision to retire him from competitive sport," Schut stated. "We have learned so much together and he has always been there for me, and I keep this in my heart as we make this difficult but also exciting decision to let him finish his performance career on a high, with happiness, memories, and while he is in good health."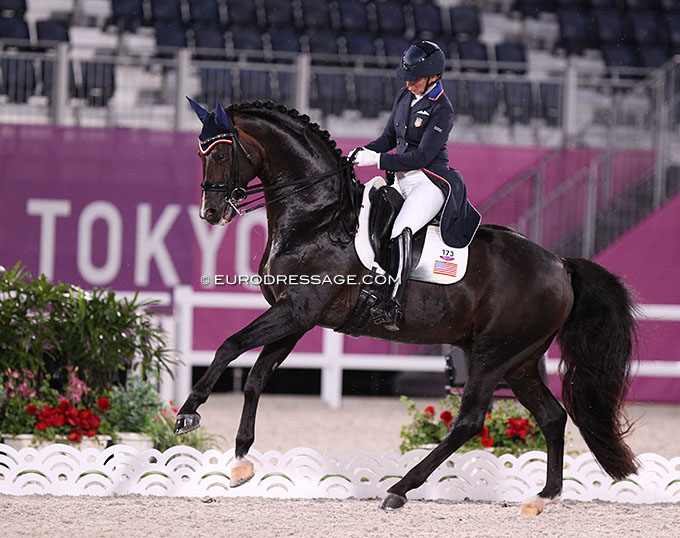 Sabine continued, "a retirement with them (the Heitmans), on their beautiful 1000 acre ranch just feels right for our one in a million. They have such love for the sport, but Sanceo's happiness has always come first and I'm so grateful for their belief in us and their friendship through these wonderful years."
Photos © Astrid Appels - Diana de Rosa
Related Links
Eurodressage Photo Database: Sanceo
Sabine Schut-Kery and Sanceo Drop Out of Race for U.S. Team Selection for Herning
Germany Repeats Supremacy and Clinches Team Gold at 2021 Olympic Games
U.S. Olympic Dressage Team for Tokyo Announced
Schut-Kery Continues Winning Streak at 2021 CDIO Wellington
Peters and Schut-Kery In the Blue in 5* Grand Prix Classes at 2021 CDI Wellington
Photo Report: America's Got Talent? In Search of It at the 2020 CDI 5* Wellington
Schut-Kery's Sanceo Out of 2018 U.S. WEG Team Contention
Double Gold and Individual Silver for USA at 2015 Pan American Games
U.S.A. Wins Team Gold at 2015 Pan American Games and Ticket to 2016 Olympic Games
U.S. Team Selected for 2015 Pan American Games
Ripline and Sanceo Earn Titles to Close Out 2014 U.S. Young and Developing Horse Championships
American Horses Qualified for 2012 World Young Horse Championships