The Netherlands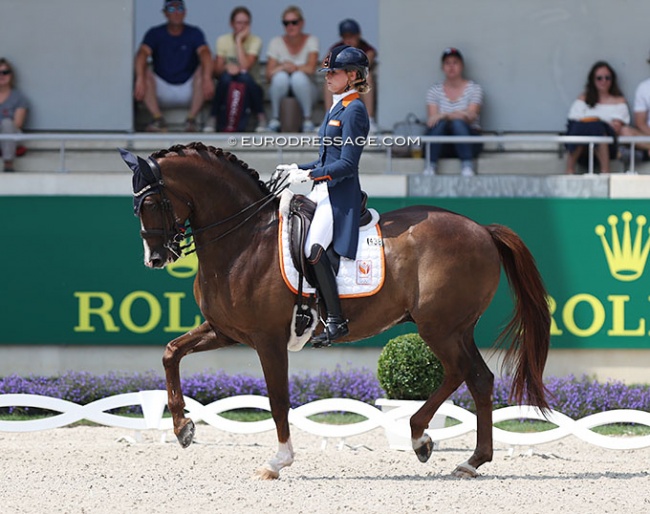 The 2023 Dutch Dressage Championships in Ermelo, The Netherlands, will be an action packed weekend with national championships for the youth levels through the small tour and up to Grand Prix. 
The feature division is of course the senior Grand Prix but this year some of Holland's leading ladies with their top horses are absent from the Nationals.
No Hermes, Foundation, Indian Rock, Titanium
The biggest absentee is the title defending combination Dinja van Liere and Hermes (by Easy Game x Flemmingh). The pair recently travelled to the 2023 World Cup Finals in Omaha (USA) but had to withdraw before the Grand Prix as the stallion, owned by Jan Anker and Joop van Uytert, was not fit to compete. The bay hasn't recovered sufficiently and with a busy breeding career as well as the Paris Olympics as ultimate goal, he won't appear in Ermelo.  Van Liere will be riding her number two, Hartsuijker, instead. 
After years having been Holland's top young horse rider, Kirsten Brouwer has made her big break through at international Grand Prix level this past winter aboard Foundation RR (by United x Jazz). The pair was well in the running to make it to Omaha, but right before the CDI-W 's Hertogenbosch had to withdraw because of an injury and the horse has not yet made a come back. 
Emmelie Scholtens is on the road to recovery after injuring her knee at the 2023 KWPN Stallion Licensing so Dutch team horse Indian Rock is a no show.  Marieke van der Putten's Torveslettens Titanium (by Totilas) is still recovering from colic surgery.
Back on Track
Hans Peter Minderhoud and his Olympic mount Dream Boy are back on track since this winter and will compete at the Nationals. Minderhoud will also bring his rising GP hope Invictus. Minderhoud won the national title last time twelve years ago.
Edward Gal, who announced he is to make a come back to the arena this year, is not entered and many questions are still raised whether the former World Champion is ready for a relaunch of his competition career. His two Grand Prix horses Toto Jr and Total U.S. have not been shown under saddle in public, nor on videos on social media recently, which raised rumours about their fitness level.
The podium places will therefore be heavily contested by Van Liere with Hartsuijker, alongside team mate Thamar Zweistra on Ich Weiss and riding star of the spring, Marlies van Baalen on Habibi.
Other well known names on the entry list are Adelinde Cornelissen, Lynne Maas, Denise Nekeman, Diederik van Silfhout and Laurens van Lieren.
-- Ermelo press release, edited by Eurodressage
Related Links
Dinja van Liere and Hermes Win 2022 Dutch Grand Prix Championships with All Girl Podium
Jonkers, Van Rooij, Luiten, De Koeyer and Gal Win 2021 Dutch Dressage Championships
Raaijmakers, Heiden, Van Peperstraten, Nieuwenhuis, Gal Win 2020 Dutch Dressage Championships
Gal and Toto Jr Take Comfortable Lead in 2020 Dutch Dressage Championships
Van Nek, Luiten, Rockx, Van Silfhout, Nieuwenhuis, Gal Win 2019 Dutch Dressage Championships
Buijs, Van Peperstraten, Rockx, Nieuwenhuis, Gal Win 2018 Dutch Dressage Championships
Van Peperstraten, Donkers, Maas, Meulendijks, Gal Win 2017 Dutch Dressage Championships
Oudhof, Nieuwenhuis, Gal, Meulendijks, Van Silfhout Crowned 2016 Dutch Champions 
Scores: 2015 Dutch Dressage Championships
Scores: 2014 Dutch Dressage Championships
Scores: 2013 Dutch Dressage Championships
Edward Gal and Undercover Win 2012 Dutch Dressage Championships
Minderhoud, Witte-Vrees, Krooswijk and Te Riele Proclaimed 2011 Dutch Dressage Champions
Gal Prolongs Grand Prix Champion's Title at 2010 Dutch Championships
Edward Gal and Totilas Conquer 2009 Dutch Championships
Adelinde Cornelissen, 2008 Dutch Dressage Champion
2005 Dutch Championships: Van Grunsven Star of Holland for 12th Time