Germany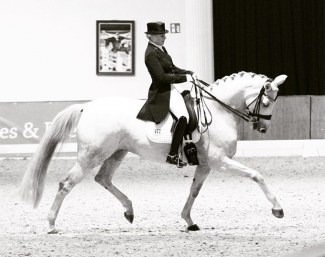 The same accident which recently befell Dorothee Schneider and Rock 'n Rose has happened to German dressage rider Ilka Boening at the 2021 Oldenburg regional dressage championships in Rastede on 24 July 2021.
Boening was warming up her horse, 9-year old Weisse Rose (by De Niro / Fürst Heinrich), for the first round, the Intermediaire II, of the regional championship at big tour level when suddenly the horse collapsed and died from a suspected aortic rupture, crushing her rider while falling over. 
Helpers, doctors and veterinarians, led by team doctor Hans Hermann Lagershausen (a breeder himself) immediately ran to the scene and provided first aid. Boening, who rode with a helmet, was unconscious and transported to the hospital. 
The 51-year old rider from Telgte was in shock but recovered in the hospital by the evening.
The body of the mare was transported to the equine clinic of Hanover for a necropsy. The results will be known in a few weeks.
Related Links
Dorothee Schneider: "I Battle Against a Flood of Tears"
Fohlenhof's Rock 'n Rose Dies Unexpectedly, Dorothee Schneider Hospitalized
Terhi Stegars on the Road to Recovery
Tina von Block's Lautrec Died Unexpectedly, Rider Injured
Simone Pearce Injured in Riding Accident
Isabel Freese's Sam Ass Died Unexpectedly
Krack C Passed Away