2022 British Dressage Championships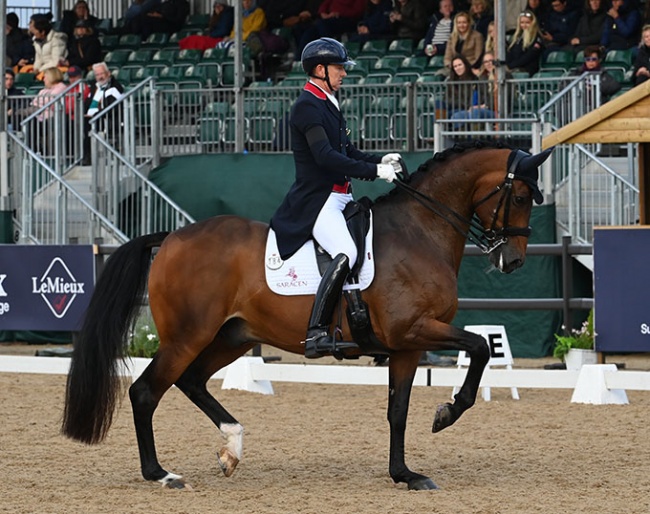 Gareth Hughes claimed the 2022 British Grand Prix Champion's title at Somorford Park on Sunday 18 september 2022. Hughes has come close the last two years but finally he was able to add the title British National Champion to his CV, by the skin of his teeth as German Kathleen Kröncke was breathing down his neck. 
The Overall British Grand Prix Championship is decided over two rounds: the Grand Prix and the Grand Prix Freestyle.
Britain's World Championship team silver medal winning combinations  - Fry (Glamourdale), Dujardin (Imhotep), Hughes (Briolinca), and Davison (Bubblingh) - were all absent from the Nationals, although Dujardin had a busy schedule competing younger horses and Fry was in attendance for press and publicity. 
Kröncke Came Close
Kröncke (née Keller) led the pack on San Royal (by San Remo x Grand Royal) in the Grand Prix, unanimously placing first with 74.47% while Hughes on his 2021 European Championship team ride Sintano van Hof Olympia (by Sandro Hit x Silvano N) was third with 73.10%%. On Freestyle day, the all British judges panel made sure that a Brit would be crowned champion and with a nudge from the judge at C, Peter Storr, the pair achieved the lead to claim the title that had eluded Hughes' illustrious career so far.
Kröncke rode a beautifully presented and uplifting programme, showing a magic mix of power and elegance from the 15-year-old Oldenburg gelding, and earned the British-based German duo a score of 79.55%. Two judges ranked the pair first with 80.375% and 80,000%, while Storr had her second on 80.375%. Judges Burton and Wessels also put her second with 78.500% 
Hughes Takes the Title
The Warwickshire based Hughes, who helped Great Britain to team silver at last month's World Championships in Herning aboard his number one Briolianca (by Trento B x Royal Dance), piloted his own and Judy Firmston-Williams' Sintano Van Hof Olympia through what British Dressage called "a spellbinding freestyle performance. As the performance unfolded, showing harmonious riding and the horse answering every question asked, it became evident that we were witnessing something special. Riding to Classic Briolinca's World Championships Madonna compilation, Sintano Van Hof Olympia showed super softness and elasticity throughout. The score sheets were awash with eights and the canter pirouettes and half passes had the judges reaching for the nine button. Pulling out all the stops, Gareth rode his piaffe on the final centre line one-handed into the final halt."
The judges panel comprising Stephen Clarke (E), Fiona Wilson (H), Peter Storr (C), Nick Burton (M) and Isobel Wessels (B) awarded a final score total of 79.87% for the well-executed and crowd-pleasing ride. Clarke and Wilson had the pair third with 78.750 and 79.250%, but the other three panellists put them first; Burton with 78.625%, Wessels with 80.375%, Storr making the difference with 82.375%.
Hughes succeeds Emile Faurie as the new British Grand Prix Champion.
"To Have That on the Shelf at Home"
"I've been really lucky, and I've probably achieved every ambition I've set out for," said Gareth afterwards, clearly delighted. "I've been on championship teams, I've won medals, I've won championships here before, but at the lower levels... but to become National Champion - it's so nice to have that on the shelf at home.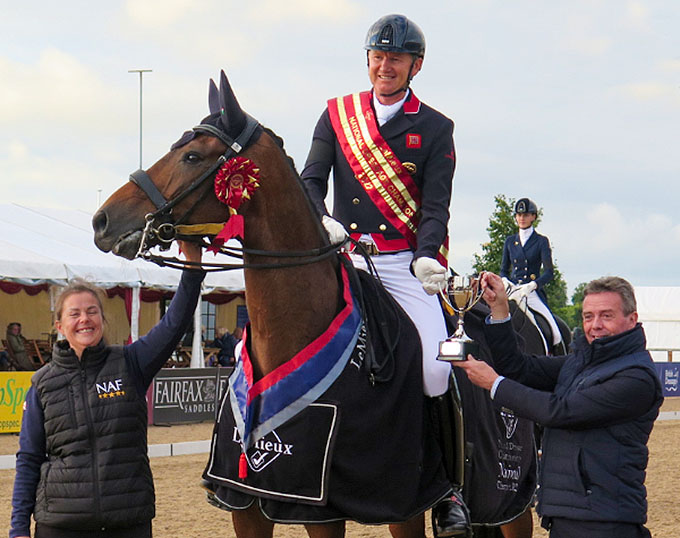 "I'd noticed the scores for the first half, and I knew with Sintano that he finds it quite difficult here because everything is so close, so he gets quite nervous. The test that I decided to ride was the test that I rode out at the World Championships with my mare [Classic Briolinca]. It was the hardest test he's ever done. I thought, you've just got to go for it so we did. He pulled out all the stops and tried so hard to stay with me. I couldn't be more proud of him."
About Sintano, Gareth said; "Sintano...he loves to eat, loves to eat and then eats again. In the stable he's a sweetheart, the girls call him Piglet because he loves to eat. Outside, he's a real talented horse, though sometimes his nerves get the better of him. But he's getting better, and better, and better. He's been on a European Championship team last year where we got a medal and he's sort of starting to learn to hold it together on a big occasion. You can go down to a small show and give him a run before you come to these, but these are very different. You need something really special, and they've got to pull it out of the bag - and he did that today.
"He'll have a little break now and we'll see what happens through the winter. We'll try and do a World Cup show, maybe London Excel, but we won't be doing the World Cup circuit. Before we know it we're into next year and we start again, there's a Europeans in 2023 and that's always the aim."
Andrew Gould Third
Andrew Gould put up an impressive challenge with Tatiana Milne-Skillman's gifted young stallion, Indigro. Nine-year-old Indigro (by Negro x Jazz) shows incredible highlights in the piaffe and passage work, and is without doubt a very exciting prospect for the West Sussex-based rider.
They accumulated a plethora of eights, plus two nines for 'music and interpretation of the music', earning a final mark of 77.95% - plenty enough to put them in the running for a podium place, but in the end they were third in the freestyle. 
-- Text by British Dressage, edited by Eurodressage - Photos © Kevin Sparrow
Results - 2022 British Dressage Championships
Grand Prix
1. Kathleen Kroencke - San Royal - 74.478
2. Lara Butler - Kristjan - 73.869
3. Gareth Hughes - Sintano Van Hof Olympia - 73.109
4. Andrew Gould - Indigro - 72.239
5. Hayley Watson-Greaves - WG Rubins Nite - 71.674
6. Laura Tomlinson - Fallatijn Van Kairos - 71.196
7. Daniel Sherriff - I'm Bayford Hall Incognito  - 69.891
8. Andrew Gould - Genie - 69.435
9. Lisa Marriott - Valucio DHZ - 68.739
10. Paul Friday - Hawtins Horatio -  68.413
11. Lucy Amy - Rudy - 67.587
12. Alice Oppenheimer - Headmore Diffinity -  66.891
13. Samantha Thurman-Pickett - Gerardo - 66.304
14. Dan Greenwood - Chevalier-O -  65.956
15. Matt Frost - Helga  - 65.696
16. Robyn Smith - Francesco -  63.783
Lewis Carrier - Diego V - RET
Grand Prix Kur to Music
Judges: Clarke, Wilson, Storr, Burton, Wessels
1. Gareth Hughes - Sintano Van Hof Olympia - 79.875
2. Kathleen Kroencke - San Royal -  79.550
3. Andrew Gould - Indigro - 77.950
4. Daniel Sherriff - I'm Bayford Hall Incognito - 76.100
5. Hayley Watson-Greaves - WG Rubins Nite - 75.325
6. Laura Tomlinson - Fallatijn Van Kairos -  74.700
7. Andrew Gould - Genie -  72.825
8. Lara Butler - Kristjan -  70.700
9. Paul Friday - Hawtins Horatio - 70.350
10. Lisa Marriott - Valucio DHZ - 69.975
Related Links
German Kathleen Kröncke Wins Grand Prix Title at 2022 British Dressage Championships
Moody In the Mood for Double Victory on Day Two of 2022 British Dressage Championships
Dujardin and Pidgley, Trainer and Student, Take First Titles at 2022 British Dressage Championships
British Dressage Championships Move from Stoneleigh to Somerford for 2020-2022
Previous Winners
Emile Faurie is the 2021 British Grand Prix Dressage Champion
Charlotte Dujardin Cruises to 2020 British Grand Prix Champion's Title
Carl Hester is the 2019 British Grand Prix Champion
Lara Butler Wins the 2018 British Grand Prix Championship
Hayley Watson-Greaves is the 2017 British Grand Prix Champion
Carl Hester Wins 2016 British Grand Prix Championships
Charlotte Dujardin Wins 2015 British Grand Prix Championships
Michael Eilberg Wins 2014 British Grand Prix Championships
Carl Hester Brings Tally to 66 at 2013 British Dressage Championships
Carl Hester Wins 2012 British Grand Prix Championships
Bechtolsheimer, Woodlander Farouche and Carinsio Dominate Final Day of 2011 British Championships
Laura Bechtolsheimer Wins 2010 British Grand Prix Championships
Carl Hester and Liebling II Grab 2009 British Grand Prix Champions' Title
Maria Eilberg, 2008 British Dressage Champion
Spencer Wilton and Dolendo, 2007 British Dressage Champions
Sandy Phillips and Lara, 2006 British Grand Prix Dressage Champions
Laura Bechtolsheimer and Douglas Dorsey Win 2005 British Grand Prix Championships
Hester and Escapado Win 2004 British Grand Prix Championship
Richard Davison, 2003 British Dressage Champion with Ballaseyr Royale
Nicky Barrett Claims Her First Grand Prix Champion's Title at 2002 British Dressage Championships