History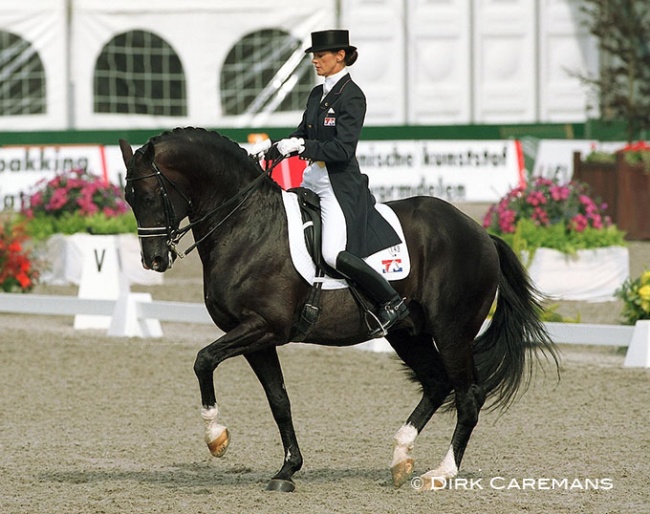 Dutch Olympian and acclaimed dressage trainer Coby van Baalen is still a very active dressage rider at age 63. In a recent interview she looks back on her active competition career of twenty years ago.
Together with daughter Marlies she runs Van Baalen Dressage Stable in Brakel, The Netherlands, while son Arie Jr has Van Baalen Farms, a state of the art rearing farm for foals and youngstock across the road. She is also in charge of the Van Baalen Foundation to support para dressage sport. 
Van Baalen has ridden an innumerable amount of horses and stallions, but her career maker was KWPN stallion Ferro, which took her to the 2000 Olympics in Sydney, alongside Anky van Grunsven, Ellen Bontje, and Arjen Teeuwissen. She won team silver and finished fifth individually. The black stallion also took her to team silver at the 1998 World Equestrian Games in Rome and 1999 European Championships in Arnheim. 
The press staff at CHIO Rotterdam recently interviewed Van Baalen and asked her was her "Best Memory" of Rotterdam in her sport career was, she replied:
"My most beautiful memory dates back to 1998. I rode Ferro onto the Dutch team there. Sven and Gonnelien Rothenberger and I were fighting for two spots on the team, so one of us would drop out. My test (at the CHIO Rotterdam) went super and I was second behind Anky and Bonfire. Rarely have I been so happy as when I walked through the forest back to the stable. That was so cool."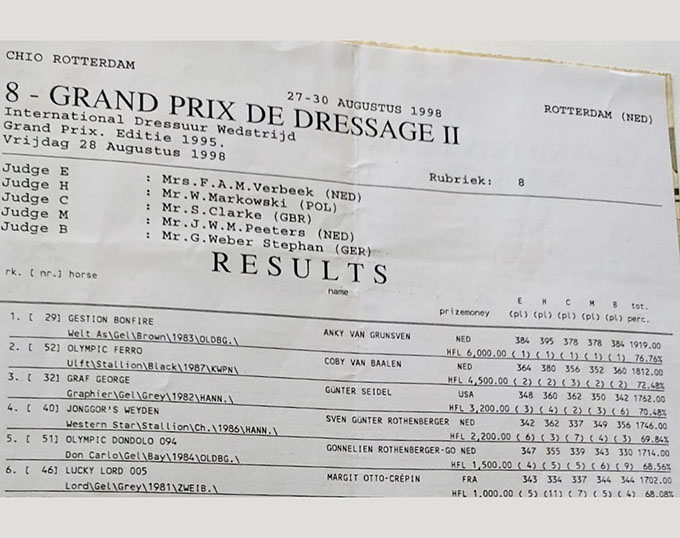 Van Baalen also reminisced that her young son Arie Jr came along one time to Rotterdam and saw Dr. Reiner Klimke competed. Arie said "Wow, that's nice that this old gentleman remembers how to ride the test by heart."
She also recited a story that she competed Commodore in Rotterdam and entered with a whip. 
"I will never forget that I rode the Grand Prix with Commodore. I was used to riding him with a whip, if I just had it in my hand it went well. In Rotterdam you had to ride without. Fortunately it was raining so hard, that the vision was really bad and nobody saw it. I still got good points."
Read the complete interview on chio.nl
Photos © Dirk Caremans - private
Related Links
Dressage Stable Van Baalen, Cultivating Talent from Grassroots to Grand Prix
Ferro Returns to Coby van Baalen
Coby van Baalen Back in the Show Ring
Olympic Ferro to Return to Lamers and Van der Goor
Ferro Back in the Arena With Hélène Aubert
Olympic Ferro Conflict Resolved
Olympic Ferro Vet Checked
Olympic Ferro Makes Come Back at 2002 Dutch Dressage Championships
Ferro Back in Competition?
Olympic Ferro Passed Away Unexpectedly
KWPN Foundation Sires and Their Get: Uniform, Cocktail, Ferro