The Netherlands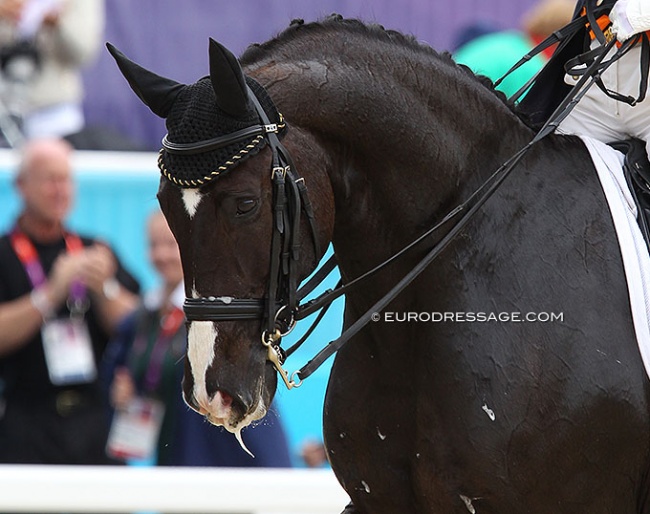 Salinero, Anky van Grunsven's 2004 and 2008 double Olympic champion, has passed away on 6 December 2022. He was 28 years old. 
Salinero was a 1994 born Hanoverian gelding by Salieri out of Luna (by Lungau x Pik Bube II x Weingau). He was bred by Horst Bunger. 
Show jumper 
Salinero started his career as a show jumper and first competed in Germany as a 4-year old under Natasja Kleinpenning. In the summer of 1998 Kurt Maier took over the ride and jumped him at A-level.
In 1999 Holger Schulze climbed aboard and saw dressage potential in the hot bay gelding. He competed him in A-level dressage horse tests and qualified him for the 1999 Bundeschampionate. In Warendorf the pair was 7th in the first round, second in the small finals behind Ulf Möller on Festrausch, and in the finals they were 15th.
In 2000 Holga Finken competed Salinero at M-level through June.
Ashley Holzer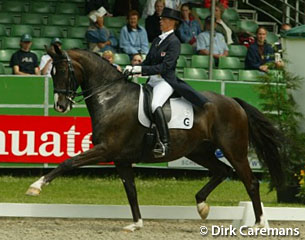 The gelding was purchased by Tess Guilder Coast Riders Ltd in Finken's barn as an FEI future hopeful for Canadian Olympian Ashley Holzer.
Holzer first trained Salinero under Anky's supervision in The Netherlands, in 2001, but the pair did not seem to click. Anky, however, saw potential in the horse and together with her friend Fransje Murphy-Arts acquired Salinero. As part of the ownership transaction, Guilder received a new small tour horse, Jeanine Fiechter's Bertolucci, but this horse was returned after a while. Guilders sued but a settlement was reached. 
She made her show debut on Salinero, riding him in 2002 at Prix St Georges level in Aachen  and moving him up to Grand Prix level by the summer of 2002 with a first international big tour start in Lingen.
Success from the Start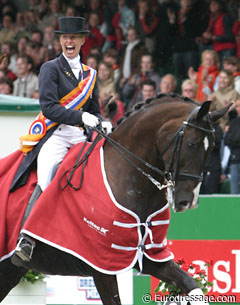 After the retirement of Bonfire, Salinero had big shoes to fill but he took on his role with even more brio than his Oldenburg stable mate. 
Anky pushed forward and made her debut with Salinero on the world cup circuit at the 2002 CDI-W Dusseldorf. In 2003 they became the Dutch Grand Prix Champions and Anky would continue to win the Dutch title on Salinero two more times, in 2005 and 2007.
Quadruple World Cup Winner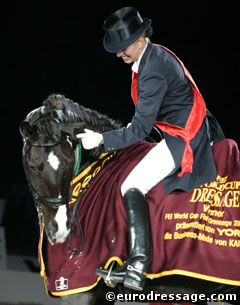 Anky and Salinero began taking the dressage world by storm when they won the 2004 World Cup Finals in Dusseldorf. It would be their first World Cup title and three more were to follow in 2005, 2006 and 2008. 
The early 2000s were still an era in which Anky van Grunsven ruled the roost although Ulla Salzgeber on Rusty were her biggest rival at the start of their partnership, with Isabell Werth temporarily sidelined after she left long-time sponsor Uwe Schulten-Baumer and could not maintain a top position in international dressage sport, for a while. She returned quite fast with her next super star, Satchmo. 
Anky made a big bang when she won the 2004 CDIO Aachen in the lion's den and shook the Germans to their core, once again.
Second Olympic Gold for Anky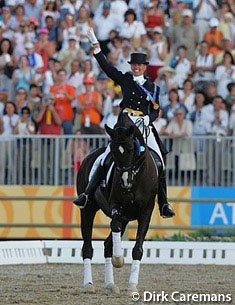 At the 2004 Olympic Games in Athens, Anky van Grunsven, who was pregnant with her first child, rode Salinero to a third place in the Grand Prix (74.208%), a second place in the Special (76.004%) and the victory in the Kur to Music (79.278%).
Riding to the tunes of one of the best freestyles ever composed for dressage, L'Esprit Chanson by Cees Slings and Viktor Kerkhof, van Grunsven wrote history and claimed her second individual Olympic gold medal on two different horses. 
At the 2005 European Championships in Hagen it was team silver and individual gold.
Unphased by Adversity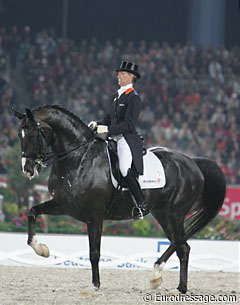 In 2006 new rivals emerged as Satchmo (Isabell Werth) and Elvis (Nadine Capellmann) had gained momentum, but at the 2006 World Equestrian Games in Aachen, Anky once again demonstrated that she was the Queen of the Kur. After team and Grand Prix Special silver (in the prize giving ceremony Salinero infamously bolted out of the stadium), she picked up Kur gold on a magical night in a packed Aachen stadium. Anky won miles ahead of the competition (86.100% kur score) but it were Andreas Helgstrand and the grey mare Blue Hors Matine who became the sensation of the event (81.500% kur score). 
At the 2007 European Championships in Turin, the Dutch team wrote history by winning team gold, but Anky and Salinero felt Isabell Werth and Satchmo breathing down their neck. Just like Isabell and Gigolo were Anky's biggest competitors in the Bonfire days, would Werth on Satchmo become their nemesis.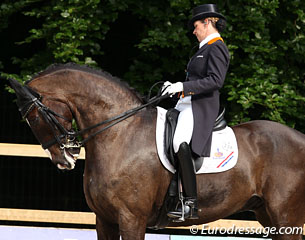 Anky van Grunsven also faced strong opposition at the time, especially in the German press who disagreed with her trademark rollkur riding style on Salinero. It led to an FEI workshop held in 2006, where it was decided to changing the name of the training methord to hyperflexion and later on the terminology "Low Deep and Round" was added to the mix. 
In addition, Anky's major success was an eye-mote for many rivals. The fact that her horse refused to stand immobile in halt at the beginning and end of the test, yet consistently got winning scores from the judges nonetheless, ignited a successful lobbying campaign with the FEI to reintroduce the halt and rein back into the Grand Prix as an extra movement in the programme to test submission, obedience and harmony.
Triple Olympic Champion, Second Gold with Salinero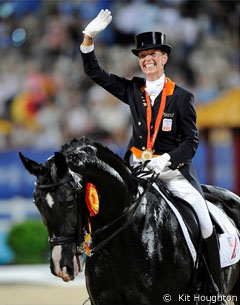 Unphased and with an iron will to succeed, Van Grunsven moved forward towards the 2008 Olympics in Hong Kong and was determined to beat Werth and Satchmo to write history as the first and only dressage rider to ever achieve three Olympic gold medals in a row. 
In Hong Kong Anky and Salinero placed second in the Grand Prix (74.750%) and secured team silver for the Netherlands. Individually she placed second in the Special with 74.960%. In the Kur to Music, however, the pair prevailed and won the freestyle with 78.680% as Satchmo sabotaged his own golden victory by refusing to piaffe.
Van Grunsven rode the freestyle "Dance of Devotion," a Kur which Dutch Indonesian pianist Wibi Soerjadi had composed for her in 2007.
Anky became the most successful Olympic dressage rider with three individual gold medals, a feat Isabell Werth never accomplished, even though she has collected more Olympic medals than Anky ever did. 
A New Era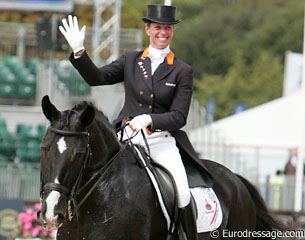 A new era for Dutch dressage began in 2008 when the rise of Parzival (Adelinde Cornelissen) and in 2009 with the emergence of Totilas (Edward Gal).
In 2009 Anky wanted to compete Salinero in the World Cup Finals in Las Vegas but had failed to ride him in the required two shows despite being title defender. The FEI rejected her entry with Salinero and Anky had to take Painted Black instead.
At the 2009 European Championships in Windsor, Anky and Salinero won team gold, but was off the podium with a fourth place in the Special, yet climbed up to bronze in the freestyle on the all-Dutch podium behind Totilas and Parzival. Anky  relied on her Slings & Kerkhof's "Esprit Chanson" freestyle instead of Dance of Devotion to clinch this medal.
Salinero Gets Sidelined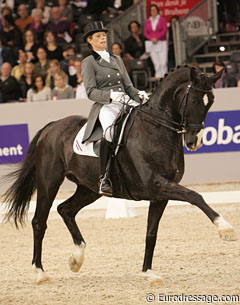 At the end of 2009 Anky drafted a plan that 2010 would be her last competition year on Salinero as expressed in interviews.
However, in the early spring of 2010 after winning the World Dressage Masters in Palm Beach and the CDI 3* in Den Bosch, Salinero got sidelined due to an injury to the withers, which ended up keeping him home for 14 months. Anky rode at the 2010 World Equestrian Games in reining, a little fun side project she enjoyed for a while.
Salinero returned to the arena in May 2011 but Anky clearly stated she did not want to qualify for the 2011 European Championships in Rotterdam. 
Swan Song
With the sale of Totilas to Germany in October 2010, the Dutch team had to rely on Adelinde Cornelissen and Parzival as their torchbearers in top sport.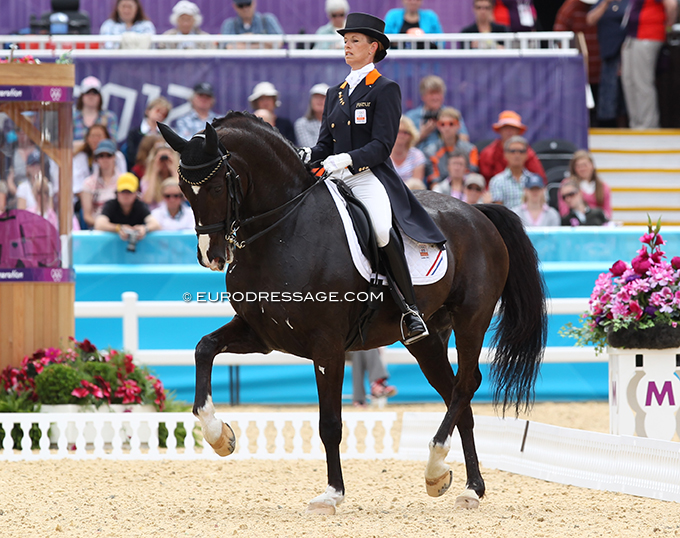 However in April of 2012 Anky officially decided that she would try for her third Olympics on Salinero in London in an effort to help The Netherlands secure a team medal with the British and German team being on strong form that year. Salinero was 18 years old at the time and had done his last major championship in 2009. 
Good old Salinero was still a force to be reckoned with but had lost his spark a bit. At the 2012 Dutch Championships he got silver behind Edward Gal on Undercover, but a heavily emotional Anky was thrilled with the result. 
At the 2012 London Olympics Salinero fulfilled his duty and assisted in The Netherlands winning Olympic team bronze. He was 16th in the Grand Prix (73.343%), 12th in the Special (74.794%) and 6th in the freestyle (82.000%). 
The 2012 Olympic Games at Greenwich Park brought Salinero's spectacular career to a fitting conclusion.
Retirement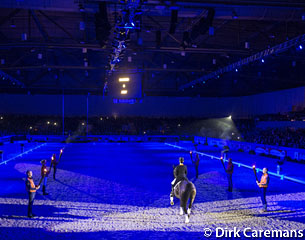 After the 2012 Olympic Games in London, Salinero was retired from sport. 
He was celebrated in public one final time on 6 March 2013 at the World Cup qualifier in 's Hertogenbosch - Anky's home show - with a special ceremony. Anky van Grunsven rode her Dance of Devotion freestyle, played live by Wibi Soerjadi, in front of a sell-out crowd. The audience said good-bye to Salinero by waving white handkerchiefs, copying the traditional Aachen style for the "Abschied der Nationen".
Salinero first spent his time in light training at home before being fully retired to the field at her yard in Erp, The Netherlands. Anky continued to share videos, footage and snap shots of the aging Salinero on her social media account.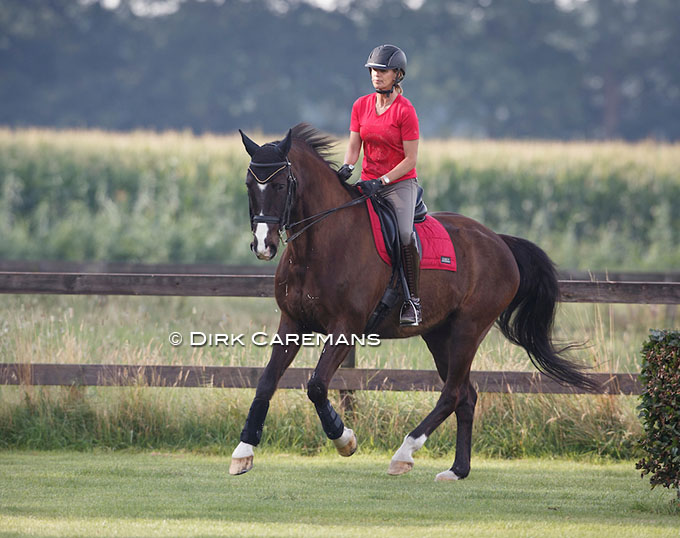 Today she posted, "My heart is broken. Salinero , my hero, left us in tears behind. Memories will never fade away."
Text and Photos © Astrid Appels - Dirk Caremans - no reproduction allowed
Related Links
Anky van Grunsven's Salinero Celebrated in Retirement Ceremony at Den Bosch
Glory and Gold for Charlotte Dujardin in Kur to Music Finals at 2012 Olympic Games
Van Grunsven Decided on Salinero for 2012 Dutch Olympic Selection Process
Recovery of Salinero's Injury Takes Longer than Expected
Anky van Grunsven Claims Third Consecutive Olympic Champion's Title
Van Grunsven Confidently Wins Ninth World Cup Finals
Riders React to their 2008 Olympic Grand Prix Ride
Anky van Grunsven and Salinero Win 2005 Las Vegas World Cup Finals
Anky van Grunsven Wins Second Individual Olympic Gold
Scores: 1999 Bundeschampionate