Ireland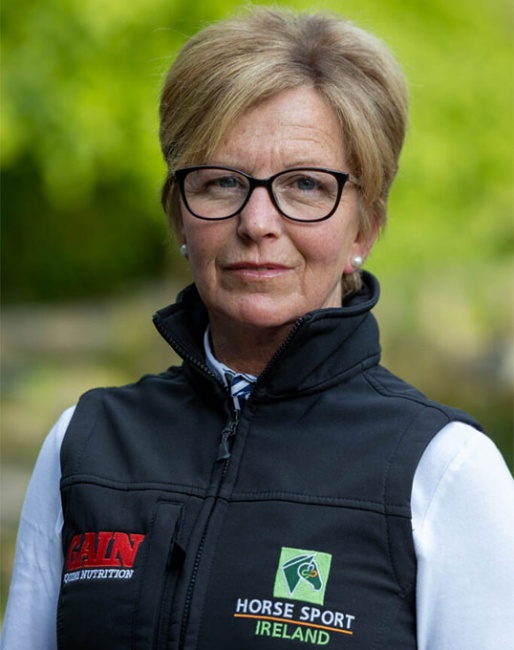 Horse Sport Ireland (HSI) has appointed Anne Marie Dunphy as High Performance Director for Senior Dressage.  She replaces Johann Hinneman in the role with immediate effect.
Based in Co. Kilkenny, Dunphy is one of Ireland's leading dressage coaches and one of only ten HSI Level 3 Dressage coaches, having progressed through the HSI Coaching Programme. 
Dunphy has had a successful career as one of Ireland's top dressage athletes, competing in International Small Tour and Big Tour and was crowned Irish National Grand Prix and Grand Prix Kur Champion in 2016 and 2017. 
From Youth to Senior Dressage High Performance Director
She brings a wealth of experience to the table and has played an influential role in the growth and development of youth dressage in Ireland. She was appointed HSI Youth Dressage High Performance Director when the programme began in 2013 and will remain in this position. 
Through her role within the youth dressage programme, Dunphy is responsible for devising the high-performance pathway and programme structures for the development of Irish youth dressage athletes to international and European Championship level.
Irish teams have now competed at consecutive European Pony Championships and there has been a significant rise in the number of athletes progressing through to Junior and Young Rider ranks. In recognition of her work with Irish youth dressage, Dunphy was awarded the HSI Coach of the Year Award in 2016. 
Target Riesenbeck
The immediate focus for the Irish Senior Dressage squad will be on the pool of athletes who have qualified, or have yet to achieve qualification, for the European Dressage Championship for Seniors in Riesenbeck, Germany this year.
These championships serve as the final opportunity for team qualification for the Paris Olympics, with Ireland campaigning against nations from Group A and Group B, who are not already qualified, which includes the likes of Belgium, Switzerland, Portugal and Spain. The qualification spots will be hotly contested by all nations.
Speaking about the appointment, Dunphy said: "I'm very much looking forward to taking up the position as the High Performance Director for Senior Dressage. We have some great combinations on the circuit at the moment and I am excited to be working with each of these athletes and building up a strong team.  Alongside qualified combinations some of our athletes secured the first of their qualification scores for the European Championship recently and we will be putting a plan in place to maximise our potential for the European Championship and beyond."
Replacing Johann Hinnemann
Dunphy is replacing "team trainer" Johann Hinnemann effective immediately. 
"HSI would like to thank Johann for his contribution to Irish dressage and the senior high-performance programme. He has played a pivotal role in growing Irish senior dressage since his appointment in August 2019 and has been instrumental in bringing new combinations into the squad – HSI would like to wish him success in the future," the HSI press release stated. 
Hinnemann coached the Irish team to obtaining an Olympic team slot at the 2019 European Championships, but then he and the Irish equestrian federation (HSI) sailed into turbulent waters during the corona years when they made the decision not to send a team to the 2021 Tokyo Olympics. It led to lawsuits, mass resignations, and a renewal of the board.
In the press release, Dunphy stated, "I would like to thank Johann for his work over the last number of years, I was fortunate to have observed and availed of his coaching during his tenure and we also had a number of very beneficial collaborations with my youth squads. Also thank you to Horse Sport Ireland for this opportunity."
Related Links
Interim Board Appointed to Horse Sport Ireland After Resignation Chair Joe Reynolds
Six Board Members Resign from Horse Sport Ireland Amid Governance Turmoil
Joe Reynolds Moves Up, Appointed Chairman of Horse Sport Ireland
David Stickland Resigns as Advisor on Horse Sport Ireland Dressage Committee
Reynolds, Stickland Appointed on Irish Dressage High Performance Committee
Joe Reynolds Appointed Chair of Dressage Ireland
Horse Sport Ireland Decides not to Send Team to Tokyo, Three Spots Released
Marguerite Kavanagh: Not Sending Irish Team to Tokyo is a National Embarrassment
HSI Makes U-Turn after Legal Pressure: Rawlins and Connor Get Certificate of Capability
Rawlins and Connors Lodge Appeal Against HSI's Decision not to Send Team to Tokyo
Independent Arbitrator Rules in Favour of Horse Sport Ireland Concerning Olympic Dressage Team
Silver Lining for Ireland: Heike Holstein Gets Individual Olympic Slot