Van Olst Sales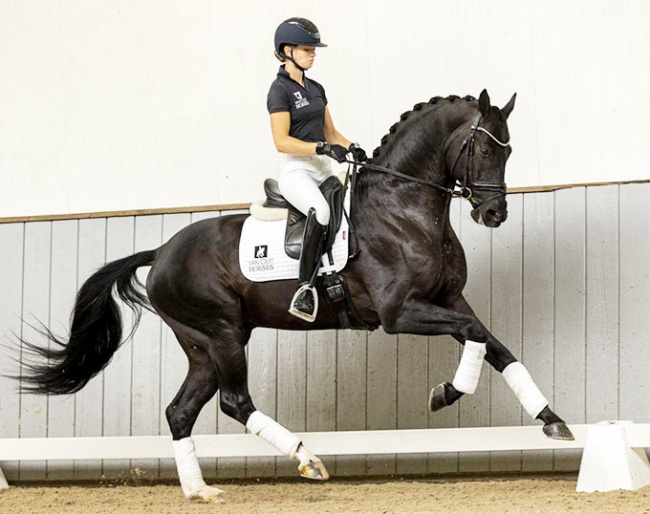 The 4-year old licensed stallion Guinness became the best seller of the 2021 Van Olst Sales of ridden horses of which the online bidding concluded on 1 November 2021. 
Guinness (by Glamourdale x Johnson x Haarlem) fetched 130,000 euro and found a new owner in Belgium. Also moving to Belgium is the 4-year old stallion Monsieur Rava (by Danone x Negro) for 17,500 euro.
Both horses were acquired by Marc Geerts' jumper brood farm Tommelberg in Loenhout, who have decided to widen their scope and include dressage in their programme. Both horses will initially stay in training at Van Olst in The Netherlands. 
International Customers
The second most expensive horse was the 3-year old KWPN mare Noire NA (by Painted Black x Lord Leatherdale), which sold for 90,000 euro to the U.K..
A German customer held the highest bid of 60,000 euro for the 4-year old stallion Depay (by Don Joe x Hohenstein) but that did not meet the reserve set by Van Olst and the horse didn't sell.
The oldest horse in the collection, the 7-year old small tour level trained Jack (by Negro x Flemmingh), stays in Holland for 65,000 euro.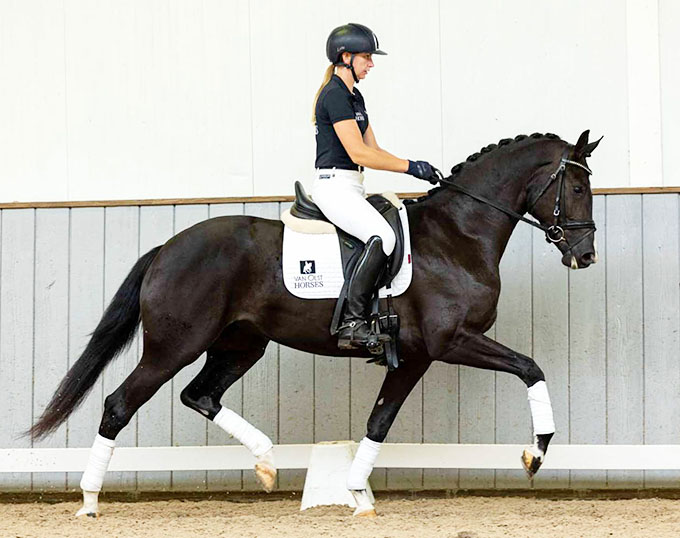 The 4-year old ster mare Mabel (by Dettori x Lord Leatherdale) sold for 35,500 euro to the U.K. She will be joined by 3-year old gelding Njaib (by Four Legends KS x Lord Leatherdake) for 24,000 euro.
 A Canadian bought the 4-year old KWPN gelding Mistral (by Fiamingo x Haarlem) for 22,000 euro.
Dutch Interest
Dutch buyers invested the most at the Van Olst auction.
They bought Liberty (by Negro x Montreal) for 55,000 euro, Irvin (by Inspire x Negro) for 33,000 euro, the 3-year old stallion Pinot Noir (y Painted Black x Chippendale) for 31,000 euro, the 3-year old Nic-Nac (by Everdale x Gribaldi) for 25,000 euro, the 4-year old Mauritz (by Inspire x Don Renoir) for 19,500 euro, the 3-year old Nirvana (by Glamourdale x Rousseau) for 16,000 euro, the 3-year old Navarro V (by Everdale x Ferro) for 14,000 euro, and Noir (by Painted Black x Lord Leatherdale) for 12,500 euro.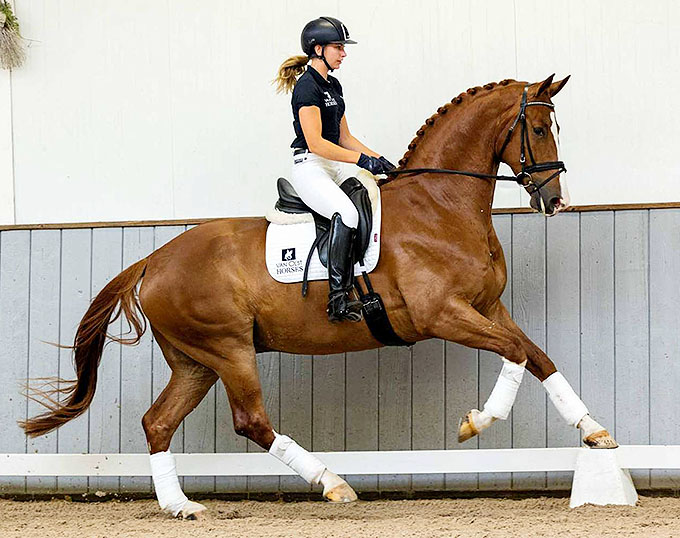 Related Links
Eye-Catching Collection of 18 Young Sport Horses in 2021 Van Olst Sales 29 Oct - 1 Nov 2021
Glamourdale, Negro, Painted Black Sire Stars in 2021 Van Olst Auction of Ridden Sport Horses
Try Out your Next Future Star from the 2021 Van Olst Sales Auction Collection
Time to Bid on your Future Star Sired by Van Olst Stallions Glamourdale, Everdale, Negro
Previous Van Olst Sales
Nico, Best Seller of the 2021 Van Olst Sales Gelding Auction
British Buyer Secures Brood Mare Madonna T in 2020 Van Olst Sales
Promes, High Flyer in Second Online Foal Auction of 2020 Van Olst Sales
Princeville JT, Best Seller of the 2020 Van Olst Sales Foal Auction
Luckybird, Best Seller of the 2020 Van Olst Sales Online Auction
Loverdale W, Top Seller of the 2019 Van Olst Sales
Crosby, Price Highlight of the 2018 Van Olst Sales
Kayenne M, Top Seller of the 2017 Van Olst Autumn Auction
Fireball, Price Highlight of the 2017 Van Olst Sales
Jefferson, Price Highlight of the 2016 Van Olst Sales
Halegro van het Trichelhof, Price Highlight of 2015 Van Olst Sales