Swedish warmblood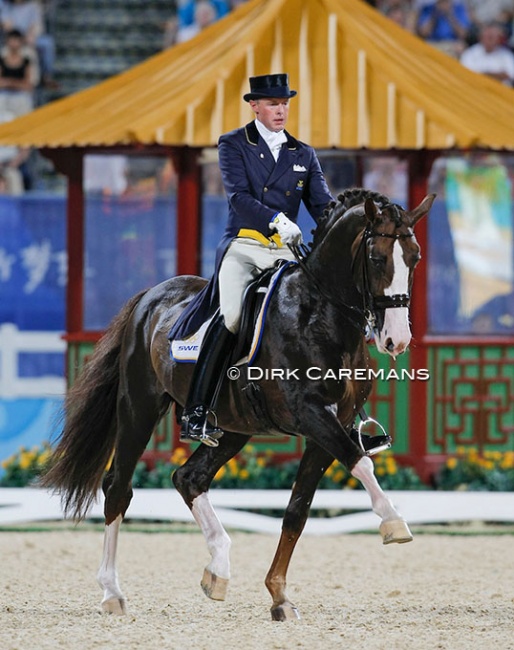 Jan Brink's career making Grand Prix horse and Swedish warmblood licensed stallion Bjorsells Briar has passed away on 11 January 2022. He would turn 31 in spring. 
Bjorsells Briar was a 1991 born stallion by Magini out of Charis (by Krocket x Illum x Gaspari). He was bred by Hans-Yngve Göransson.
Licensed Stallion
The liver chestnut stallion was licensed for Swedish Warmblood as a 4-year old having produced a good performance test. His first season at stud was in 1995.
"During the test he was presented by Jan Brink in dressage and Rolf-Göran Bengtsson in showjumping," Goransson reminisced. "They were very delighted and both wanted to continue with him. At the time, Rolf-Göran competed the father of Briar, Magini at the international showjumping arenas."
For the rest of his sport career, Briar would be ridden and competed by Brink. Throughout his sport career Briar was on double duty, being collected three times per week from the middle of March until the middle of August.
Illustrious Sports Career
In the national young horse classes, Briar was second and third in the Swedish Breeders Trophy when he was five and six years old. He placed 2nd in the 7-year old championships.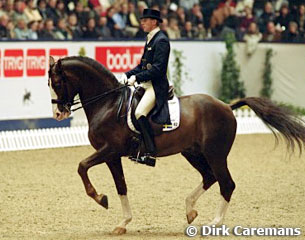 With no time to waste, Briar was produced to Grand Prix level. He made his Aachen debut at small tour level in 1998 and in 1999 the stallion did his first Grand Prix tests at age 8. The stallion became a fixture on the Swedish team in the next 9 years. 
He was the youngest horse to compete in the Sydney 2000 Olympic Games, which was his fifth start at Grand Prix. At the 2002 World Equestrian Games in Jerez he finished 13th. He got silver at the 2003 European Championships in Hickstead, and placed seventh in the 2004 Olympic Games in Athens. In 2005 he became the Aachen Grand Champion. He won team and individual bronze at the 2005 European Championships in Hagen. He was 8th and 9th at the 2006 World Equestrian Games in Aachen. In the autumn of 2006 Brink scooped up his fifth national Grand Prix champion's title, but shortly afterwards he was pulled out of the world cup circuit due to an injury. He returned to full fitness quickly and won team bronze at the 2007 European Championships in Turin. He was 12th at the 2008 Olympics in Hong Kong and finished his sport career with an 8th place at the 2009 World Cup Finals in Las Vegas. 
In 2008 Brink won the Swedish Nationals for the 8th time, seven times on Briar.
Retirement from Sport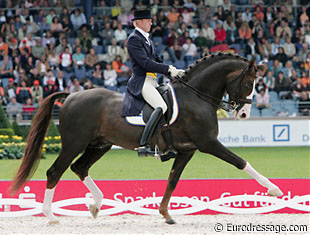 In 2009 both Jan Brink and Briar retired from international competition sport. The 18-year old Briar was celebrated on home turd at the 2009 CDI-W Gothenburg, one show before his last (World Cup in Las Vegas). Brink would continue as a trainer and still do some national shows, while Briar turned to breeding. 
He was the highest ranked dressage stallion on the WBFSH ranking for almost 10 years in a row. 
"He was an utterly intelligent and clever individual," said Goransson. "Kyra Kyrklund soon gave him the name "the Professor" as he was extremely easy to teach and very talented."
Briar continued breeding and in 2011 he stood at stud in The Netherlands and in 2013 he moved to Great Britain. He spent the last years of his life retired to the field at his breeder Goransson's Dalhem Farms in Trelleborg, Sweden.
Amazing Health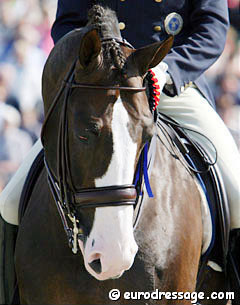 Briar's strength and amazing health, coming from old sturdy Swedish warmblood bloodlines (as well as management), shone through in the fact that the horse competed at top level for 10 years in a row. He participated in every single World Cup final between 2001 and 2009 as well as doing all summer Championships!
Only in 2006 he had a few issues: a colic scare at the CDI Lingen and in October 2006 he was withdrawn from competing at the CDI-W Aarhus due to an injury. His owner recollected the following about the horse's physical strength:
"Only once Briar became injured during his career," said Hans-Yngve. "This happened in 2006 in Germany some month before the World Championships in Aachen. As always when Briar entered the stable at the competition he laid down and rolled around. This time though, there was a piece of wood in the shavings that caused Briar a crack in a rib. The combination of good matching in both work and competing together with strong genetics and upgrowing gave Briar a long healthy life."
Celebrated Sire
He was the Swedish Warmblood Stallion of the Year in 2010 and 2011. 
He sired little over ten licensed sons, including Berlioz, Biggles, Agastrofos, Blitzlicht, Briar Junior, Meges and Mentes.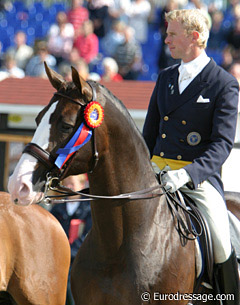 Famous offspring include Grand Prix horses Bukowski (Anders Dahl, Dong Seon Kim), MacBrian (Amy Stovold), Biggles (Kristian von Krusenstierna, Lina Dolk), Brisbane (Emma Hindle), April 4Cible (Kristian von Krusenstierna), Ciwi (Charlotte Esping), Briman (Emilie Brolin), Dorazio (Kira Kanerva), Briar Junior (Florian Artner), Barland I.M. (Michelle Gibson), and Charleston (Patricia Sarasin).
Briar passed away in the morning of 11 January 2022.
"Until the end Briar was still the same horse, energetic, curious and very excited," said Hans-Yngve. "Briar now rests directly to the pastures at the Dalhem Farm where he once grew up."
"Briar is a legend and for that he will always be remembered," Jan Brink told Eurodressage. "For me he was so much more. We were a perfect match mentally and we knew each other inside out. He thought me a lot on horsemanship and with care and proper management we have experienced and achieved so much together - memories that will last a lifetime. I am thankful that I got to be such a big part of his life and grateful that so many people including my own kids got to know him and understand his greatness. He has made a great impact on the world of dressage and he will be missed."
Photos © Dirk Caremans - Astrid Appels - Catharina Brink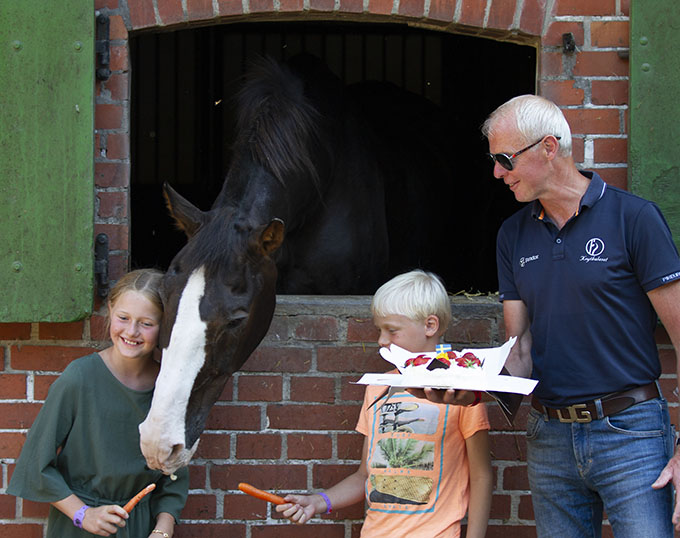 Related Links
Eurodressage Photo Database: Bjorsells Briar
29-year old Briar Inducted into Gothenburg Horse Show Hall of Fame
Bjorsells Briar Accepted for the KWPN Studbook
Briar to Move to Great Britain
Briar Named Swedish Warmblood Stallion of the Year 2011
Briar Named Swedish Stallion of the Year 2010
Jan Brink Retires from International Competition Career
Emotional Last Home Victory for Brink and Briar at 2009 CDI-W Gothenburg
Brink and DueBoje Win 2008 Swedish Dressage Championships
Bjorsells Briar Proclaimed Horse of the Year at 2007 Swedish Riders' Gala
Bjorsells Briar Suffers From Colic at CDI Lingen
Jan Brink, Swedish Dressage Champion for the Fifth Time
In a Class of their Own, Standing Ovation for Brink and Briar
Bjorsells Briar, World's Best Dressage Sire of 2004
Jan Brink and Bjorsells Briar